Update: The S&P 500 (NYSEARCA:SPY) hit a new intraday bull market high as of 10:45 AM ET.
The S&P 500 is now just 12 basis points away from its bull market high reached on February 18th. Below we highlight how the ten S&P 500 sectors have done since 2/18. As shown, 8 sectors are actually outperforming the S&P 500 as a whole since 2/18, but it's the two biggest sectors in the index -- Financials and Technology -- that are underperforming. The Financial sector makes up 15.5% of the S&P 500, and it's down 6.10% since February 18th. The Technology sector makes up 18.3% of the S&P 500, and it's down 2.92% since 2/18. The Health Care sector has done the best since 2/18 with a gain of 5.40%, followed by Telecom (3.90%) and Consumer Staples (3.71%).
(Click charts to expand)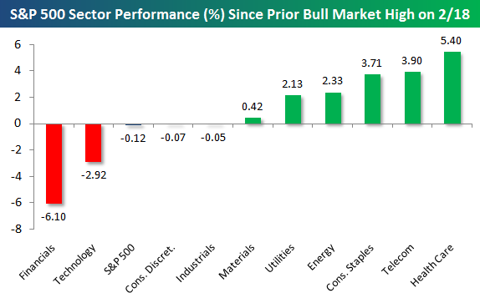 Below is a list of the S&P 500 stocks that have done the best since the S&P 500 made its bull market high on 2/18. As shown, Biogen (NASDAQ:BIIB) is up the most with a gain of 48.34%, followed by Cabot Oil & Gas (NYSE:COG), GameStop (NYSE:GME), and Lorillard (NYSE:LO).