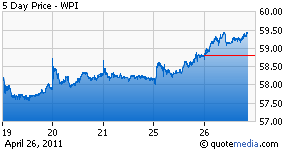 Watson Pharmaceuticals Inc. (WPI) is expected to release its first quarter fiscal 2011 financial results on Wednesday, April 27, before the market opens. The Zacks Consensus Estimate for the quarter is 86 cents, representing a year-over-year increase of 6.2%. The performance of Watson Pharma has fluctuated over the last four quarters. The company surpassed estimates in two of the four quarters of 2010 while reporting in line in one of the quarters. While the trailing four-quarter average is -3.73%, the surprise potential for the upcoming quarter is -2.33%.
For fiscal 2011, Watson Pharma expects earnings to range from $3.85 to $4.15 per share, on revenues of about $4.2 billion.
Fourth Quarter 2010 Recap
Watson Pharma reported fourth quarter 2010 earnings (excluding special items) of 93 cents per share, in line with the Zacks Consensus Estimate and 8 cents above year-ago earnings. Earnings, however, dropped 70.6% to 15 cents per share on a reported basis (including special items) because of legal charges.
Revenues increased 21.2% to $952.7 million, mainly due to the strong performance of the generics business. Fourth quarter revenues surpassed the Zacks Consensus Estimate of $921 million.
Agreement of Estimate Revisions
Estimates for first quarter 2011 demonstrate a lack of activity over the last week with just one analyst (out of 20 total) raising a forecast. Additionally, over the past 30 days, only three of the 20 analysts covering the stock for the first quarter of 2011 have revised their earnings estimates. While two analysts have increased their estimates, one has made a downward revision.
The annual estimates for 2011 have not been revised by any of the 22 covering analysts in the last seven days. Moreover, only one of the 22 analysts following Watson Pharma for 2011 has revised the estimate upward in the past 30 days.
Magnitude of Estimate Revisions
Estimates for the first quarter of 2011 have remained static over the last 30 days due to the lack of significant revisions by the analysts following Watson Pharma. The current Zacks Consensus Estimate for the first quarter of 2011 is 86 cents. However, earnings estimates for 2011 have gone up by a couple of cents to $4.14, following the upward revision by one analyst.
Neutral on Watson Pharma
We currently have a Neutral recommendation on Watson Pharma. We believe that new product launches over regular intervals will help drive the generics business segment of the company. Further, the launch of generic versions of Johnson & Johnson's (NYSE:JNJ) Concerta and Pfizer Inc.'s (NYSE:PFE) Lipitor in the U.S. in 2011 will help boost generic segment revenues.