Revlon (NYSE:REV) is expected to release Q1 2011 earnings on April 28. We value Revlon stock with a $14.88 price estimate, roughly 5% below market price. Revlon competes with other consumer goods and beauty product companies like Procter & Gamble (NYSE:PG), Unilever (NYSE:UL), Colgate-Palmolive (NYSE:CL), L'Oreal (PINK:LRLCY.PK), and Estee Lauder (NYSE:EL).
We were pleasantly surprised with Revlon's 2010 performance, with sales rising 2%, a moderate turnaround from the 4% year-on-year drop in sales over 2007-09. The company also sustained margins despite tough market conditions. [1] Given Revlon's heavy indebtedness, we're still very cautious with regards to its course of action – we're paying particular attention to its EBIDTA margins, overhead corporate expenses and operating working capital. Here we highlight why these are crucial for Revlon.
What About Revlon's Heavy Debt Burden?
Revlon's balance sheet carries net debt of $1.14 billion. Compare this to Revlon's total sales of $1.32 billion in 2010 and the magnitude of its indebtedness is evident. We've previously discussed our concern regarding Revlon's gradual reduction in leverage that has restricted funds allocated to R&D and advertising in our note titled "Despite Debt, Revlon Should Spend On Branding Color Cosmetics."
(Click charts to enlarge)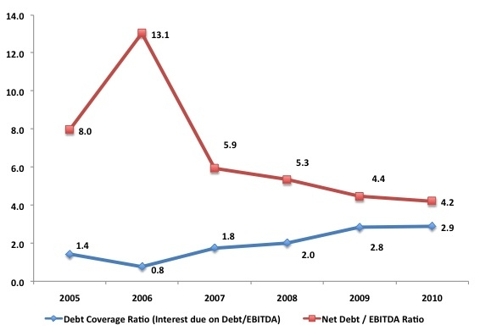 While we do expect Revlon to reduce leverage in the future, doing so at the expense of its advertising budget could have an adverse impact on market share.
What About Revlon's EBITDA Margins and Overhead Corporate Expenses?
Revlon increased its advertising expense by $34 million in 2010. The added expense was partly offset by roughly $19 billion worth of savings in cost of goods sold, leading to improvements in gross margins. As a result, Revlon's EBITDA margin remained relatively flat at around 19.7% over 2009-10.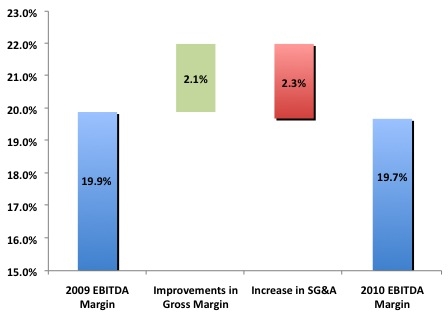 But here's our biggest concern. With rising commodity prices in the current inflationary environment, we expect gross margins to be strained further. Hence, Revlon must realize savings in operating expenses to maintain EBITDA margins going forward.
Revlon's corporate expenses primarily include restructuring costs and amortization of debt issuance costs (the expense incurred while raising its mammoth debt load). While these can't be entirely kicked aside, we would certainly expect Revlon to tighten its purse strings a little – particularly when it comes to restructuring costs.
Chart created using Trefis' app
Revlon Sustains Margins In Another Tough Year, Trefis, March 2′ 2011
Disclosure: No positions