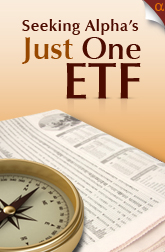 Several times a week, Seeking Alpha's Jason Aycock asks money managers about their single highest-conviction position - what they would own (or short) if they could choose just one stock or ETF.
---
David Garff is president of Accuvest Global Advisors and heads its Investment Committee, Portfolio Management and Research teams. He began his investment career in 1992 with Merrill Lynch, and spent 10 years as a consultant with Smith Barney, serving the needs of affluent families, foundations and endowments.
Which single area are you most bullish (or bearish) about in the coming year? What ETF position would you choose to best capture that?
Our highest conviction position at the moment is a Russia ETF. Currently, we use Market Vectors Russia ETF Trust (NYSEARCA:RSX) for our implementation vehicle.
How does this ETF fit into your overall investment approach? Tell us a bit about your strategy and goals.
Our strategy is to choose the countries that are most attractive on a relative basis, and overweight those countries in our portfolios. Our four-step investment process is consistent, disciplined and repeatable.
Step 1 is to qualify countries for inclusion in the model. To be part of our analysis, a country must meet three criteria: First, they must be part of the MSCI All Country World Index. Second, we must be able to get reliable monthly data on each country. Third, there needs to be a liquid ETF that represents an investment in that country's stock market. There are 77 stock markets in the world, and 40 single-country ETFs. Of those 40 single-country ETFs, Vietnam and Argentina are filtered out because they are frontier markets. That leaves 38 ETFs, of which 29 meet our qualifying criteria.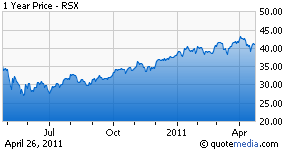 Step 2 is to analyze country data every month. We use 40 individual factors in four major groups. Each factor allows us to compare the countries in the universe on an apples-to-apples basis. This results in analysis of around 1,200 datapoints each month. The four groups of factors are: Fundamental, Momentum, Risk and Valuation. We know that each of these factor groups represents a type of investment strategy that has been successful over time. We also know that these factors will outperform the markets at different times. Therefore, we benefit from risk-reducing diversification as the factor returns are not 100% correlated to each other.
Step 3 is to create our rankings. In this step we create a numeric measure of relative attractiveness. Countries with higher scores are more attractive, while those with lower scores are less attractive. In general, we weight the factor groups fairly evenly. The default weight is 25% in each group. We will slightly overweight or underweight individual factors from time to time, but we will never have more than 30% of a weight in any group, and never less than 20% in any group.
Step 4 is to create portfolios. Once our attractiveness scores are calculated, then we use those rankings to create a variety of portfolios for clients. In some cases, we create diversified global and non-U.S. portfolios. In other cases, we create more concentrated, benchmark-agnostic portfolios.
Tell us a little more about your method. What makes Russia your top pick?
All of our investments are based on selection of individual countries out of our 29-country universe. As of March 31, Russia is ranked No. 2 in Fundamentals, No. 1 in Momentum, No. 19 in Risk, and No. 2 in Valuation. Russia has extremely strong economic and earnings fundamentals.
Russia is the strongest country in our entire universe in terms of short- to intermediate-term momentum. Russia is the second-cheapest country in the universe. The only real negative is on the risk side, where it is 19th out of 29 countries. Some of the areas where it currently ranks as more risky are in sector concentration, currency overvaluation and competitiveness, political risk, downside volatility, and in elevated and widening CDS.
Are there alternative ETFs that could be used to get the same exposure? What makes this specific ETF your first choice?
There are other ETFs that could be used to capture this same theme. State Street's SPDR S&P Russia ETF (NYSEARCA:RBL) and iShares' MSCI Russia Capped Index Fund (NYSEARCA:ERUS) have similar exposures to RSX. There are some differences in the sector weights, capitalization ranges and style exposures of each of the ETFs.
In addition, although it is misleading in many ETFs, dollar volume of trades does count for something. RSX trades approximately three million shares per day. RBL trades approximately 125,000 shares. ERUS was launched in January, and is trading approximately 125,000 shares per day as well. For the moment, RSX is the best way for us to implement our strategy.
Does your view differ from any consensus sentiment on Russia?
For the most part, there is not a lot of research on specific-country investments. The best way to understand consensus is to look at recommendations of developed markets (DM), emerging markets (EM), or BRIC investments in particular. The jury seems to be out right now as to whether EM is going to suffer some sort of downturn or mean reversion, or whether it will continue to outperform DM.
I would say that the main strategists seem to be leaning towards EM (and BRIC) outperformance over the next 12 months. So to that extent, our view is in line with consensus.
I also want to contrast RSX with the brand-new Market Vectors Russia Small Cap (NYSEARCA:RSXJ). They're obviously not comparable investments right now (RSXJ is days old, while RSX has a $4B market cap), but with your research into Russia, what do you think about the future of small-company investments vs. large caps?
RSXJ is very interesting to us. There are 10 small-cap single-country ETFs right now, and seven of them are in the Asia-Pacific region. We have a second model that we run in which the small-cap indexes in each Asia-Pacific country compete for capital as if they were another country. Once RSXJ shows a little bit of regular volume, we will be adding it to our Asian Advantage model.
We expect that to happen in the next couple of months, so feel free to contact us again in 30-60 days, and we'll have a much better idea of how attractive Russia small caps are.
What catalysts, near-term or long-term, could move investments in the country significantly?
We believe that Russia is poised to continue its outperformance relative to the rest of our universe. Its fundamentals, momentum and valuation are extremely attractive. Until we see signs of economic slowdown, or momentum starts to slow down, Russia will probably continue to be highly ranked by our model.
What could go wrong?
Russia has an above-average risk ranking in our view. As in any single investment, concentration risk is a big issue. Russia has a huge exposure to Oil & Gas/Energy (45%), Financials (14%) and Telecom (12%). A large decline in the price of oil could hurt Russia disproportionately. In addition, a slowdown in economic growth or profit growth in Russia would hurt its relative performance.
A deterioration in the political situation between [President Dmitry] Medvedev and [Prime Minister Vladimir] Putin could hurt Russian markets, as would any further moves to nationalize private assets. Russia suffers from significant issues related to shareholder rights, as foreign passive investors are sometimes put at a disadvantage to local investors.
We believe that these reasons, and more, are the reasons that the Russian market is so cheap.
When it comes to political risk: With both Medvedev and Putin possibly running in next year's presidential election, is there a chance of disruptions to the market reform process, or are they equally likely to keep that on track?
On the political risk score, Russia is very high. In part, this is due to the issues that you are describing. We see it unlikely that the market reform process is derailed in any significant way. It is too risky for Russia, which already has a reputation for not protecting shareholder interests, to have additional negative press.
If oil prices remain elevated, then perhaps the risk of reform disruption increases because the politicians might feel more satisfied with the riches that are created from the resource/energy-heavy economy.
Thanks, Dave, for sharing the thesis today.
Disclosure: Accuvest Global Advisors is long RSX.
Read more Just One ETF interviews »
If you are a fund manager and interested in doing an interview with us on just one stock or ETF position you'd hold, please email us at Just One Stock.