While most people attempting to profit from a housing recovery have done so by buying homes and real estate, betting on housing through stocks requires considerably less time invested, is free of maintenance costs, has the potential for much higher returns, offers enormously greater liquidity, and even greatly reduces risk.
Housing Bubble Revisited
Following the recent devastating recession brought about by massive credit and real estate bubbles, is it time to invest in housing again? With the broader stock market up over 100 percent from the 2009 bottom while the housing market is still near its lows, down 30+ percent, does real estate present a tremendous buying opportunity if the economy continues to recover? Is the worst of the housing debacle behind us? And if housing does provide a great investment opportunity, which option offers the greatest rewards - physical real estate or housing stocks?
Home prices surged nearly 83 percent from 1997 to 2006 according to the Case-Shiller Index created by Yale economist Robert J. Shiller (click to enlarge images):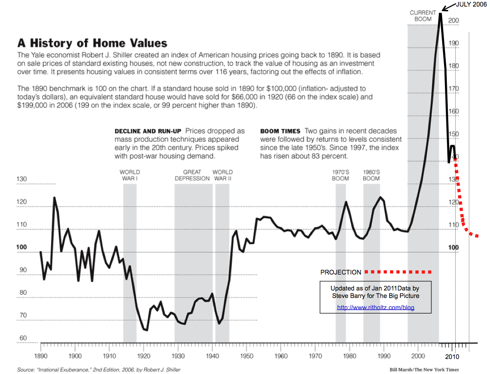 With the advantage of the long-term perspective offered by Shiller, it's much easier to see how dramatic the housing bubble actually was – and how sharply and rapidly prices have since collapsed.
Bubbles tend to overextend and overreact to the downside in much the same way that they overreacted on the way up. They even tend to correct to pre-bubble levels or below. In other words, just as housing prices skyrocketed above long-term averages in the formation of the bubble, they could very well plunge below current levels and even drop an additional 25 or so percent to the lows of the 1970s and 1980s (as depicted in the above graph).
According to the chart below, prices are still above the pre-bubble trend: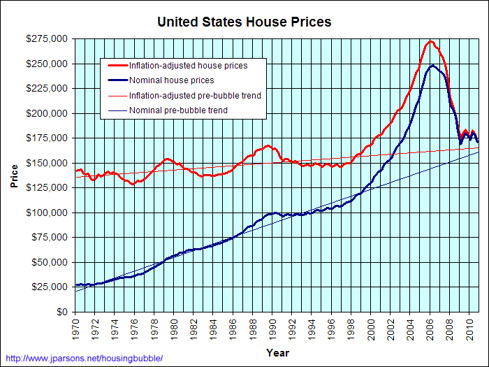 As you can see, prices diverged significantly from the price trend-line from 2000 to 2006 only to come crashing back down.
Recovery or Double-Dip?
Questions remain, however: Have we seen the worst of the housing market collapse? Or is this just a temporary pause before the next leg down? With seven straight months of price declines leading into March there is a growing concern over a continued drop – what many, including Shiller himself, expect to be a 'double-dip' in housing.
Is the recent decline in home prices on a year-over-year basis just a temporary and minor correction or the beginning of the double-dip?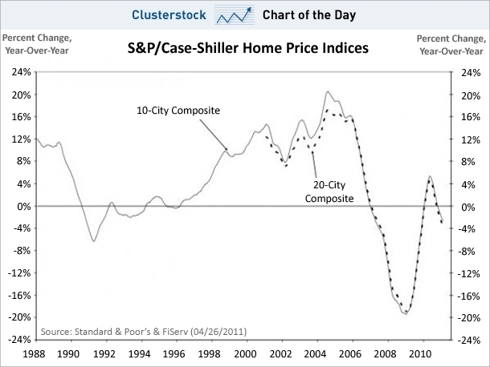 On the positive side, housing may improve with the recovering job market, low mortgage rates, and highly-depreciated prices, which increase affordability and make purchasing a home much more attractive at these levels. The verdict is also still out as to whether the Fed's Quantitative Easing programs will be successful in reflating the housing market; inflation is visible in energy, food, and commodity prices (though largely ignored by the Fed), but is still missing in housing. If the Fed's plan works in creating enough inflation to spur housing growth, the housing double-dip may be avoided.
On the negative side, however, a huge inventory of foreclosed homes, massive existing supply, high unemployment, high gas and food prices, difficulties in qualifying for a mortgage, potentially rising interest rates, and the overall lack of confidence in the housing market could all weaken the consumer and severely hamper any near-term growth.
It is therefore very hard, if not impossible, to truly predict the future direction of housing. The double-dip could be underway, which would likely bode poorly for the economy as a whole. And with China and others raising rates in order to combat the dangerous inflation that has been recently surfacing, among many other warning signals – an overheated tech startup sector, housing bubbles in China and other emerging markets, toxic bank balance sheets, the threat of war, and more – the potential for an economic slowdown and a global economic double-dip is growing. On the other hand, with so much widespread pessimism regarding housing, now may be the perfect time to buy – when few dare.
So for those looking to bet on a housing recovery, as there are companies and individuals purchasing real estate in hopes that their investments are made at bargain prices, what is the best way to do so?
Physical Real Estate vs. Housing Stocks
While most people attempting to profit from a housing recovery have done so by buying homes and real estate, betting on housing through stocks requires considerably less time invested, is free of maintenance costs, has the potential for much higher returns, offers enormously greater liquidity, and even greatly reduces risk.
Buying Physical Real Estate
Pros:
It's physical, tangible property. A house, building, or land is a tangible asset. Unlike many investments around, such as stocks, a house or the land it sits on will always have value. That value can, of course, fluctuate significantly; but at least you can safely bet that the value won't drop to zero. Moreover, owning property or a house offers the buyer a place to live or go on vacation.

Potential income from rent.

Buying physical real estate allows the owner to rent it out while he or she waits for the property value to increase in order to sell it. Owning physical property, then, is a good way of generating supplemental income while awaiting higher real estate prices. Finding people to rent that house or property is not always easy though.
Cons:
Large monetary outlays required.

Buying land or a house generally requires a significant investment. Though there are ways to purchase real estate as part of a group investing together, buying a house easily requires an investment of upwards of $100,000 – money which the average investor or speculator does not always have and most times does not want to risk, even if a loan or mortgage is involved.

Non-liquid investment.

A house is not easy to sell, especially with current market conditions. Selling a house requires a real estate agent, interested buyers, and time – all factors that make a house fairly illiquid. If the owner needed money immediately, selling his property may pose big problems; many times, desperate selling results in a much lower selling price – if a buyer is even found.

Requires considerable input of time.

Buying and owning a house takes time. If you want to make sure you find a good house, in the right location, for the right price, you're going to have to spend a lot of time researching and visiting different properties for sale. Once you find the house you like, you're going to have to spend time involved in the negotiation and buying process, dealing with the bank, and taking care of all the laborious details involved. Then, once you buy the house, you're going to have to spend time and/or money looking for renters, maintaining the property, and checking up periodically. If you don't have much patience for tasks and long processes, buying a house as an investment is not for you.

Extra costs for maintenance, property tax, and insurance.

Owning a house will require additional capital for the costs of maintaining the property, fixing what needs to be fixed, paying property taxes, and buying insurance. The costs don't just end the day you buy the house.

Generally requires good credit.

If a buyer purchases a house with the help of a mortgage or loan, he generally needs good credit for mortgage qualification. Since not everyone has acceptable credit, buying a house as an investment is sometimes difficult if not impossible.

Selection, location, and house risk.

Not all houses are created equal. If the housing market improves and home prices increase, there is no guarantee that all areas will benefit. Depending on the specific selection and purchase made by the owner, the increase or decrease in price over time could vary significantly. Since there is a risk that the buyer chooses a weak location, poorly or improperly built home, or just a hard house to sell down the line, investing in physical real estate poses more risks than many assume.
Investing in Homebuilder Stocks
Pros:
Low investment minimum required

. Unlike buying physical property, investing in stocks does not require upwards of $100,000. Individuals or companies looking to profit from a housing recovery through stocks can invest whatever sum they see fit, even as low as a few hundred dollars. Rather than having to take out loans or make a sizeable cash outlay, which many cannot afford or simply do not want to undertake, investing in housing stocks allows the investor to choose the proper investment amount.

Highly-liquid investment.

Betting on housing through stocks allows the investor to buy and sell whenever he or she wishes, without the risks, costs, or time associated with selling a house. Rather than having to wait a considerable amount of time until the property is sold or having to lower the asking price in order to sell it sooner, investing in housing stocks or ETFs is generally highly liquid and leaves the power in the hands of the investor to buy and sell almost instantly.

Requires a lot less time. Though monitoring one's stock portfolio and the individual companies involved requires some time and is highly recommended, it does not even come close to the time and painstaking labor required in searching for suitable property, negotiating the purchase, maintaining and physically visiting the property, and eventually selling it. A few hours a week, at most, and you could monitor and manage a housing stock portfolio. You could even just buy housing stocks or ETFs and let them sit; just remember to establish some stop-loss points to limit losses if you do so. Regardless, you can invest in housing stocks from the convenience of your own home – without all the hassle involved in purchasing physical property.

No maintenance, property tax, or insurance costs.

Unlike physical property or housing, a stock investment incurs no costs other than capital gains taxes if you profit.

No credit barriers or approval necessary.

Anyone can invest in stocks, regardless of credit score or financial history. All you need is an online brokerage account.

Eliminates selection and location risk.

Since housing and homebuilder companies own many properties across a relatively wide range of locations, investing in their stock eliminates the risks associated with a single property investment. By buying homebuilder stocks, you are essentially investing in a basket of real estate properties; and, in doing so, you limit or eliminate the risk of picking a poor location, damaged house, or hard-to-sell property.

Allows for diversification.

Instead of risking a huge sum of money on one house or property, investing in housing through stocks allows for both diversification and risk protection. By having the ability to spread your total investment among several housing stocks, you will not be at risk of losing it all if one company struggles while others grow. Buying physical property, on the other hand, leaves you heavily invested in one or few locations and highly increases risk.

Allows for protection and risk control.

If you buy a house, your money is essentially trapped until you sell it. And if home prices begin to plunge, you may be stuck with a rapidly depreciating property that becomes hard or impossible to sell. In other words, you can easily lose a large percentage of your investment value even if you try selling the property before prices really begin to fall; it's just too hard to quickly sell a house as property values decline.

On the other hand, if you invest in stocks, you can limit your risk as well as buy protection. By setting stop-loss points, you can quickly sell out of your position if housing or the stocks begin to fall further than you're willing to risk. If, for example, you decide that you're only willing to risk ten percent, you can simply enter a stop-loss limit order to sell your stock if it drops to a price below a ten percent loss. Additionally, if you want protection from a steep decline in price, you can buy put options as a hedge against your long stock position. With a cost of only a few percentage points or a few cents or dollars per share, you can protect your entire portfolio from disaster. You can't really do that with physical property or housing.

Potential for much greater returns.

If housing does recover, the right stock investment could generate a much greater return than a physical property or house investment. Realistically, home prices will gain 50 to 100 percent at most if a recovery takes hold. You could even stretch it and argue that a property's value may double or triple in value if the housing market makes a strong comeback. But bet on the housing market through stocks or options, and you could easily see returns of a few hundred percent if the housing market recovers. Add to that the possibility and ability to lock in profits by selling at highs and buying again near lows, and you could increase those returns even more. Why work so hard, spend so much time and money, and take so much extra risk by buying physical property when it probably won't even increase your return?
Cons:
No rental income.

Unlike physical property, housing stocks don't generate rental income while you wait for home prices to increase. Investing in stocks would therefore limit your supplemental income in the interim. Certain stocks do pay dividends, however, and will supplement you with some income to offset the lack of rental payments.

May not mirror actual home price changes.

Though I strongly believe that homebuilder stocks will benefit even more than actual home prices, I am still open to the possibility that housing prices could outperform the homebuilders and that homebuilder stocks may stagnate while home sales pick up. The reason for this is that there is currently a huge supply of homes due to foreclosures and lack of buying. Since homebuilders benefit mainly from new housing, an overhang of supply could limit their growth and profits.
I will point out, however, that while home prices rose 83 percent from 1997 to 2006, homebuilder stocks TREMENDOUSLY outpaced them – with all major homebuilder stocks gaining more than 1000 percent!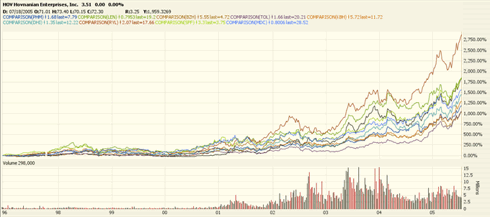 Investing in homebuilders instead of actual property makes way too much sense: limited risk, high liquidity, little or minimal time investment, no extra costs, diversification, and exponentially higher returns. Why do it any other way?
How To Play It
We are currently managing private accounts and are offering investors an opportunity to invest in a "Housing Recovery Fund" which will create a basket of housing stocks from a select group of homebuilders, retailers, and housing-related companies. We will then actively manage the fund in order to maximize profits from stock price fluctuations and implement risk-protection through hedging and options strategies.
As for the homebuilder stocks we're currently watching:
DR Horton (NYSE:DHI)

: Market cap of $3.9B, forward P/E of 17.46, and 1.3% dividend.

Pulte Homes (NYSE:PHM)

: Market cap of $3B, 22.91 forward P/E, and near an all-time low.

Lennar Corp (NYSE:LEN)

: Market cap of $3.59B, 18.11 forward P/E, a high 21.9% short interest, a huge 74% insider holding, and a dividend.

Hovnanian (NYSE:HOV)

: Market cap of $325M and tremendous 35.7% short interest.

Beazer Homes (NYSE:BZH)

: Market cap of $360.48M and a large 24.6% short interest.

Toll Brothers (NYSE:TOL)

: Market cap of $3.37B and a decent CNBC interview by the CEO recently.

KB Homes (NYSE:KBH)

: Market cap of $902M, 26 P/E, large 34% short interest, and a 2% dividend.

Ryland Group (NYSE:RYL)

: Market cap of $780M, 20.3 forward P/E, 15.4% short interest, and a dividend.

Standard Pacific Corp (SPF)

: Market cap of $737.4M, 19.74 forward P/E, and a 20.5% short interest.

MDC Holdings (NYSE:MDC)

: Market cap of $1.35B, 20.69% insider holding, and a nice 3.6% dividend.
Disclosure: We are long HOV and may initiate positions in any of the stocks mentioned