No doubt most investors and traders would agree that analyst earnings forecasts and a company's ability to meet those expectations are vital to profitable investing. Much research has been carried out in this regard to lower risk and raise the chances of a company hitting its target.
Analyst Accuracy is One Method
Selecting highly transparent companies that are broadly covered by analysts is one technique to profitably trade earnings forecasts.
The analysts should have their targets tightly grouped together.
The company should have low earnings surprises.

Thus, if the earnings forecast consensus is bullish, you have low dispersion of estimates and low error as to the company hitting that target. You are essentially on the hunt for analysts that have 'group accuracy' and historical precision, much like Robin Hood consistently hitting his bull-eyes.

You can read more about this method in the article called "Lower Risk and Higher Reward? 6 Picks That Ignore Beta"
Big Surprises Can Cause Earnings Drift
A recent paper on Canadian stocks by Chudek, Truong, and Veeraraghavan has a different approach.

They find that post-earnings drift is quite prominent in Canuck stocks with the following criteria:
High positive earnings surprises as compared to analyst estimates
High positive earnings growth when compared to corresponding quarter of previous year
By purchasing the stocks with the highest earnings surprises and shorting the stocks with the most negative earnings surprises, they were able to create excess gains of more than 6-7% in 60 days. This is 6-7% in excess of the TSE60 in 2 months time. If you extrapolate the gains for the year, you can clearly see the potential in this strategy.

Either one of the two criteria provide drift, but the combination of the two create a stronger excess gain.
Some interesting details of the highest earnings surprise stocks are as follows:
Mean surprise = 1.2%
Mean market value = $1.65 billion
Median earnings = 7.9 cents per share (basic)
Number of analysts = 3.28
Mean forecast standard deviation = 5.35%
Canadian-Based Earnings Surprise Stocks
Our list of stocks will be those with headquarters in Canada, but that are also listed on American exchanges. This will allow American traders to take advantage of the Canadian drift.

LULU – Lululemon Athletica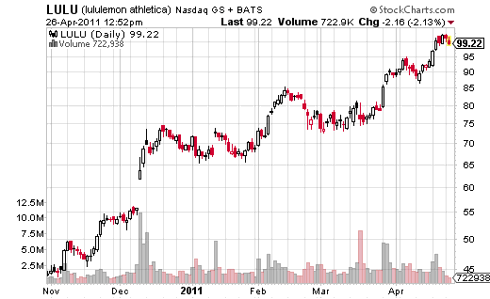 This clothing company has headquarters in Vancouver, British Columbia, Canada, with a strong presence in the USA and some franchise stores in Australia. The quarterly earnings surprise reported in March was 12.3%. This stock has a high amount of analyst coverage, but with the stock listed on both Canadian and US exchanges, we would expect broader coverage than some smaller stocks listed solely on the TSX.
The past 5 years have seen earnings gains of over 61% on average per year, and looking forward the next 5 years they are anticipated around 25.29% per annum.

Remember that we want to see earnings that are higher than the corresponding quarter for the previous year and a positive earnings surprise. The strategy is to buy two days following earnings and hold for 2 months. While the 2 month window is quickly closing for the past earnings announcement, another opportunity will present itself in less than 2 months when EPS is reported. Any earnings above 38 cents in the next quarter would satisfy both criteria.
MERC – Mercer International Inc.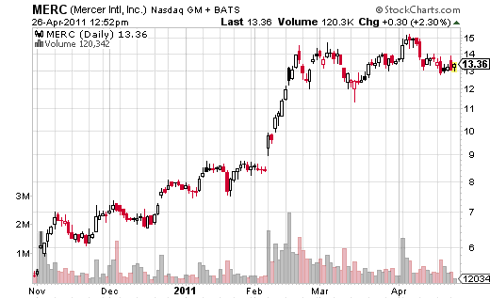 MERC operates a pulp business with the head office in Vancouver, Canada. The most recent earnings announcement had a whopping 34% surprise. The PEG ratio is less than one indicating that the growth in this stock compared to current prices is not yet overvalued, despite positive momentum over the past 6 months. However, the post-earnings drift window has largely closed and the next earnings announcement will be on May 5th. We should see over 47 cents per share to be a candidate for positive earnings drift.
Having high return on equity ratios and better than industry averages for liquidity ratios, this stock could really run with another string of positive earnings surprises. Having less than $600 million market cap and 10% of the float short, it is a good stock to watch…especially with only one analyst covering this quarter.
Other Canadian Stocks (Listed on American Exchanges) With Upcoming Earnings
UXG – US Gold Corporation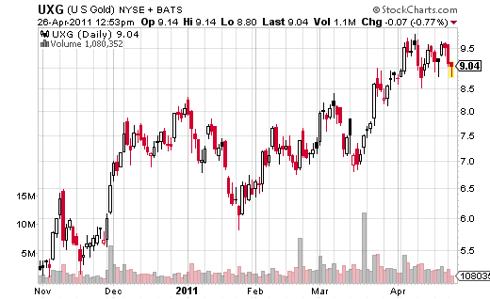 Despite the name, the company is based in Toronto, Canada. To have a positive earnings surprise, the company would need to report more than the -0.06 cents per share (basic) from last year, and more than the one analyst who forecasts -0.07 cents. On May 2nd this earnings announcement will come out.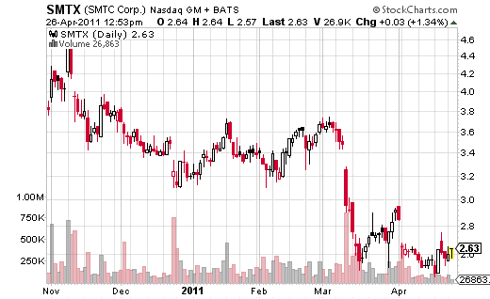 Based in Markham, Canada, SMTC provides advanced electronics manufacturing services to OEMs around the world. There are no analysts providing coverage for a forecast. This is a very tiny company with only $41.90 million market cap and a trailing PE of 3.33.
With little to go on, we can use quarter over quarter growth as our one criteria while lacking the analyst forecast surprise. This means that if the company reports 15 cents per share or higher, there could be some positive earnings drift. However, I'd like to see the number more like 20 cents per share or greater since the most recent quarter is at 29 cents per share.

The earnings announcement is out May 5th. While the prices have hit a temporary bottom, the negative momentum will weigh heavily on any positive news. The higher the surprise the more likely a reversal can take place.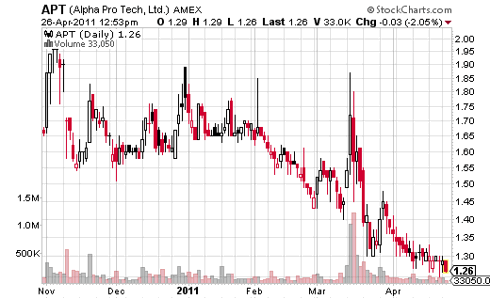 This company protects people, products, and environments through such items as clothing, masks, face shields, and roofing wraps. EPS growth over the past year is down 85%, and sales are down almost 30%. The one firm covering the stock (Dougherty & Company) gives this a neutral rating but a $2.50 price target despite the current price only being half of that. Perhaps they forgot to change the target numbers on this opaque stock.
Again, without an earnings forecast, the stock only has the corresponding quarter from last year to go by. This means that they would need to earn 4 cents per share or greater to warrant a potential post-earnings drift. On May 5th the report comes out, but I wouldn't be too hopeful as prices have been hitting 52 week lows.
Wrap Up
I can see the difficulty with thinly covered stocks. It is difficult to come up with an expectation of earnings, and simply basing it on last year's corresponding quarter is not as profitable as using the earnings growth in conjunction with beating analyst estimates.

While this inefficiency is more widely apparent in the TSX, the effect should remain in cross listed stocks, as it is present in US listed stocks also (although in lesser degrees). Trading the drift is one strategy to capitalize on earnings surprises

Disclosure: I have no positions in any stocks mentioned, and no plans to initiate any positions within the next 72 hours.