Internap (NASDAQ:INAP) will be reporting Q1 2011 earnings after market close on Thursday, April 28. On average, analysts expect the company to report revenues of $60.5 million and a profit of $0.02 per share. In Q4 2010, Internap reported revenues of about $60.0 million, and a GAAP net loss of $0.4 million.
To properly analyze the company's latest data, it may be necessary a brief explanation about the proactive churn that Internap implemented in 2009, and how it's related to its low-margin colocation customers hosted in partners sites. Internap cut down the number of non-owned data centers from 40 (in Q1 2010) to 29 (in Q2 2010), and was using only 28 partner sites at the end of 2010.
As a result of this initiative, the company has been improving margins in its data center segment, at the expense of revenue growth:
[Click all to enlarge]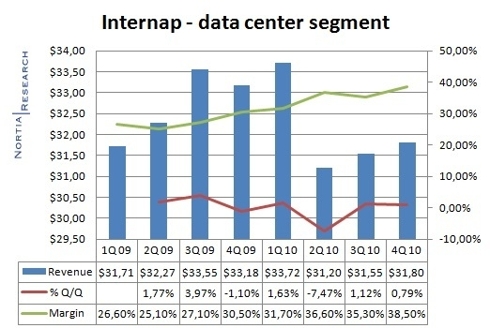 While the data center segment experienced a specific reason for its reduced revenue performance, the IP segment has been steadily declining in the last few quarters, while still enjoying strong margins: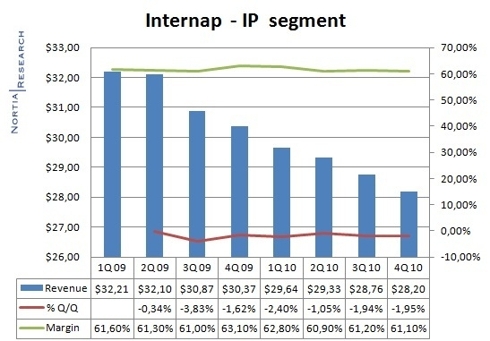 As a result, Internap's revenues have been stable (2009) to slightly declining (2010) in the last few quarters: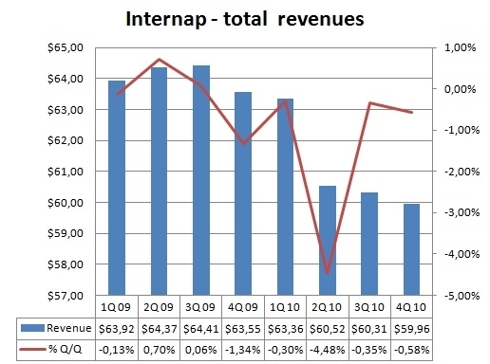 While the company is not giving guidance, during the last conference call management hinted at some improvements possible in the top line:
Robert Dezego - SunTrust Robinson Humphrey, Inc.

I have a question on the IP Services side of the business here. The revenue continued to slide and it looks like the sequential losses accelerated a little in the quarter on a year-over-year basis. You spoke on the call about getting this back to growth. And I'm just wondering if you could just give us a little bit of more color on what gives you the confidence here to get to this growth? And really kind of how quickly you think this can make that churn? And is this churn you're going to think you're going to see in 2011 or is it more of a longer-term path?

J. Cooney

Without giving a lot of details, we indicated in the prepared remarks the metrics we're following are, of course, traffic in the IP Services segment, bookings and churn. George did specifically mentioned churn in IP Services segment reached its lowest level in about two years, at about 1.1%. And as we look forward into 2011, this is clearly one of the key questions for the business, and without giving explicit guidance, what we are prepared to say is that when we look at the first half of 2011, we do expect that we will be able to deliver sequential growth across both of the company's business units during the first half of 2011. So again, without giving explicit guidance, that's as close as we're prepared to come, but again, reiterate the point that we do clearly expect we can drive top line growth in the IP Services segment.
Recently, Internap introduced a new service called Accelerated IP (XIP), that is aimed at improving performance of enterprise web services and applications by up to four times. The service is now available across the company's global data center footprint.
To implement this service across its content delivery network, the company chose to offer it to its CDN customers, as explained by Pete Mastin, Internap senior director of CDN engineering, in an interview published by DatacenterDynamics:
"We had two choices – we could figure out a way to charge for it, or deliver it to all customers," Mastin said. "We chose to deliver to all customers which costs us more but we see it as being differentiator in the market. It only costs us in development time, expense and operational roll out time, but once it is rolled out it won't cost us any more to operate externally, because we already manage the boxes."
With proactive data center churn now completely behind the company, new company data center expansions open, and several new services introduced in the market, Internap should be positioned to return to top-line growth in 2011; this is what analysts are expecting the company to start delivering for the next few quarters.
Disclosure: I have no positions in any stocks mentioned, and no plans to initiate any positions within the next 72 hours.