It's been some quarter for Capstone Turbine (NASDAQ:CPST), with the company stock reaching highs of over two dollars after opening the new year trading for under a buck. The share price increase was even accompanied by some good news and a Presidential mention mixed in as well.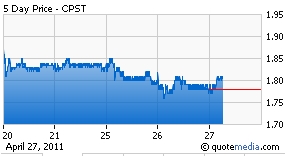 The positive developments materialized on a very positive earnings report from the third fiscal quarter of 2011 that saw a 51% revenue increase over the same quarter of the previous reporting year.
Units shipped were up significantly as well, and "Capstone's backlog at the end of the third quarter was $84.7 million, up 8% from the same period last year," according to company statements in the third quarter earnings press release.
With results from the fourth fiscal quarter now expected and upon us, investors will be looking for additional evidence that Capstone is a company inching towards the long-time-coming goal of profitability.
The increasing backlog has been a comforting sign that profitability is drawing closer, but the revenue numbers will speak for themselves.
With multiple new orders announced during the just-completed quarter, it's likely that we'll see another increase in the orders backlog, and we should again get a better indication of how quickly the company is turning backlog into revenue.
The operating losses were also shown to be shrinking during the last earnings announcement, another key figure at which analysts and investors will be looking.
Capstone continues to be an intriguing clean energy play, with its low-emission microturbines gaining traction in the marketplace at a time when geopolitical tensions and natural disasters have world leaders looking for cleaner energy sources and alternatives to nuclear power.
The wall right now stands at two dollars, a symbolic mark that CPST has yet to breach for a significant period of time. Another positive earnings report that indicates that the light at the end of the profitability tunnel is near, and maybe another analyst upgrade thrown in, could send shares of CPST north of the two dollar barrier for good.
It is worth noting that there has been significant short interest in this stock for the duration of the recent quarter, and other stock market commentators remain skeptical about Capstone's ability to turn orders into profitability, so the company and its investors are not out of the water just yet.
That said, shares should be trading significantly higher by the time (if) profitability ever does materialize, and I still believe that a larger entity like GE - or even a big oil and natural gas company - could scoop Capstone up for chump change right now.
Still worth buying the dips, in my opinion.
Disclosure: I am long CPST.