NCR Corp. (NYSE:NCR) is scheduled to release its first quarter 2011 results Thursday (April 28), and we do not see too much variation in analysts' estimates at this point.
Fourth Quarter Recap
The company reported fourth quarter 2010 earnings per share (EPS) of 55 cents, surpassing the Zacks Consensus Estimate of 51 cents.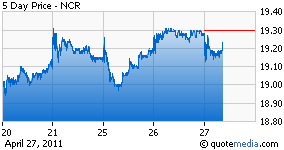 NCR delivered revenue of $1.40 billion, up 4.5% from $1.34 billion in the year-ago quarter. The reported revenue was slightly ahead of the Zacks Consensus Estimate of $1.39 billion. The company also witnessed robust growth in orders and backlog.
NCR reported fourth-quarter income from continuing operations (attributable to NCR) of $32.0 million, or 20 cents per diluted share versus $41.0 million or 25 cents in the year-ago quarter. Moreover, NCR is sitting on a cash pile attributed to its cash and cash equivalents of $496 million, which went up from $360 million during the quarter.
During the fourth quarter conference call, management projected non-pension operating income in the range of $45.0 million to $50.0 million for the first quarter of 2011. For full-year 2011, NCR Corp. continues to expect revenue to increase 5.0% to 7.0% on a constant currency basis.
Operating income on a GAAP basis and non-pension operating income are projected in the range of $160.0–$180.0 million and $370.0–$390.0 million, respectively. On a per share basis, GAAP earnings are expected in the range of 71 cents to 81 cents, while non-GAAP earnings are projected at between $1.65 and $1.75.
Agreement of Analysts
Out of the seven analysts providing estimates for the first quarter, none have revised their estimates over the last 30 days, despite estimates increasing over the last 90 days. Eight and seven analysts providing estimates for fiscal year 2011 and 2012, respectively, have not changed their estimates over the last 30 days, although estimate for fiscal 2011 and fiscal 2012, has moved up substantially over the same period.
Analysts believe that an upturn in global ATM markets will help NCR exceed its expectations, while an increased visibility into its pension service business will help to close the gap between Diebold and NCR.
Moreover, a study published by Retail Banking Research (RBR) suggests that NCR has been the world's largest supplier of multi-vendor ATM middleware and applications for 23 consecutive years.
The report also states that a large number of financial institutions in North America rely on NCR's software suite compared to the next three providers taken together. So the company has managed to retain its #1 position in the self kiosk and ATM business.
On the other hand, NCR's sales are affected by seasonality, with the first quarter bringing lower revenue and the fourth quarter generating higher revenue each year. Such seasonal nature of the business leads to fluctuation in cash flows and makes it difficult for the company to determine working capital requirements to a certain extent. These factors hinder the company's outlook and negatively affect its ability to project financial results accurately.
Magnitude of Estimate Revisions
The magnitude of revisions for the first quarter of 2011 is minimal, since the company reported upbeat fourth quarter results. Overall, estimates for the upcoming quarter have moved up 1 cent over the last 90 days to 23 cents, although they underwent no change over the past 30 days.
The estimate for fiscal 2011 has not been revised over the last 30 days, although it has moved up from $1.54 to $1.73 over the last 90 days.
For fiscal 2012, estimates did not move over the last 30 days, although they moved up from $1.76 to $1.92 over the last 90 days.
Recommendation
We believe that the upward revisions for fiscal 2011 indicate that NCR Corp. is well positioned to deliver solid momentum across its businesses. We are encouraged by the company's market leadership, successful acquisitions, new product introductions and continued customer wins. However, we believe that the company's robust business model and restructuring initiatives will take some time to positively impact results.
We currently have a Neutral recommendation on NCR Corp. The company has a Zacks #4 Rank, which implies a short-term Sell rating on the stock.