Shares of Jazz Pharmaceuticals (NASDAQ:JAZZ) opened the trading day on 04/27/2011 at $33.59, which is roughly 4% below its 52 week high of $34.97. The stock went on to trade down slightly with normal volume until approximately 10:00 AM EST, when it plummeted for approximately two minutes before finding a hard floor at $23.50.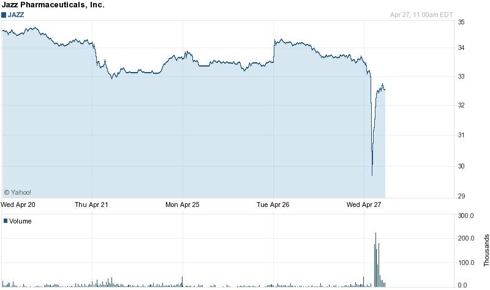 The nearly 29% drop in share price in less than five minutes was perplexing and certainly exceeded the U.S. Securities and Exchange Commission's [SEC] 10% Stock-by-Stock Circuit Breaker rules, adopted on June 10, 2010, which makes clear that:
"Under the new rules, a U.S. stock exchange that lists a stock is required to issue a trading "pause" in a stock if the stock price moves up or down by 10% or more in a five-minute period. The same pause will be in effect on all other U.S. stock and stock option markets, and the single-stock futures market, resulting in a uniform halt. After five minutes, the exchange that issued the pause may extend it if there are still significant imbalances between orders to buy and sell shares of the affected stock. After a ten-minute pause, other exchanges are free to resume trading in the stock and once that occurs, trading may resume in the over-the-counter markets."
The rules were enacted in response to a market-wide flash crash that occurred on May 6, 2010, when the Dow Jones Industrial Average dropped roughly 900 points within minutes, only to quickly bounce back to near pre-crash levels.
It has been "officially determined" that the crash in May of 2010 was initiated when a single large trade set in motion a computer-generated-high-frequency-market-wide-sell-off, in which many investors' stop-limits were "unintentionally" triggered.
Much like in previous flash crashes of other stocks, JAZZ almost immediately completely recovered from the sudden and unexpected drop, but not before quick-handed traders could take advantage of the situation. It has been speculated that some of the day's trades will be negated.

Thus far, there has been no official word from the SEC.
Disclosure: I have no positions in any stocks mentioned, and no plans to initiate any positions within the next 72 hours.