Sirius XM Radio (NASDAQ:SIRI) is quickly developing a fiercely loyal following among investors. In addition, the company has growing revenues, cost advantage because of its perpetual satellite license, and improving financial health. It was for these reasons that we listed SIRIUS XM among 5 Stocks That Could Double in Price.
Here is a list of some specific potential upside catalysts for the satellite radio provider:
1. Addition to the S&P 500 Index
The S&P 500 is the most commonly-used benchmark for US equities. Some may consider the S&P 500 Index the most important and watched equity index in the world. The SPDR S&P500 ETF (NYSEARCA:SPY) has $88 billion in assets and, in 2011, has had average daily dollar-traded volume of $21.262 billion. While inclusion into the benchmark index is largely a lagging fundamental indicator, SIRI would still benefit going forward from a more stable investor base and increasing institutional demand. We previously discussed the possibility of SIRI's inclusion in the S&P 500 Index. While we think it is a likely event if the company continues on its current trajectory of progress, it is still at least a year away.
2. Great Earnings
The satellite radio provider's highly anticipated earnings release is scheduled for May 3. While valuations are the most commonly mentioned flaw in the SIRI investment thesis, it is hard to argue against the significant improvements in the company's financial health. Between 2009 and 2010, revenues grew 12.2% and earnings grew from a $538 million loss to a $43 million gain.
In the quarter ending March 31, 2010, the company had gross margins of 50.27% and operating margins of 18.85%. While the gross margins have generally been stable, any improvement in the operating margins could be very bullish and any erosion could be bearish. In addition, investors should watch for net subscriber additions as well as the churn rate.
3. Increased Institutional Ownership
For a large and prominent company in a unique industry, SIRI has a modest institutional ownership share. According to Yahoo Finance, 34% of SIRI's shares outstanding are held by mutual funds and institutional investors. Some investors may face technical restrictions because of the low stock price. Many institutional investors are artificially constrained from stocks for various reasons, including stock price, lack of industry classification, market capitalization or daily volume. When I worked at a large bank's statistical arbitrage desk, explicitly stated in risk limits that we attested to every day was a prohibition in trading of shares that priced below $5. If this limitation existed for our proprietary trading desk, I'm sure it is in full force among most mutual funds.
While stock price is one limiting factor, liquidity is also another issue. Below is a time series of SIRI's 20-day moving average of dollar value of daily trading volume (in millions). The graph starts at the official merger date between Sirius and XM Radio. As you can see, after the initial elevated trading volume around the merger date, the dollar volume drops rapidly. This is in large part due to a severe decline in the stock price, but it is also partially because of a decline in volume of shares traded.
Starting in 2010, average daily notional value traded is on a steady trajectory higher. This rising liquidity and trading interest is an important factor that will likely increase institutional ownership going forward. An increase in institutional interest should be bullish for SIRI's stock price.
[Click to enlarge]
Click to enlarge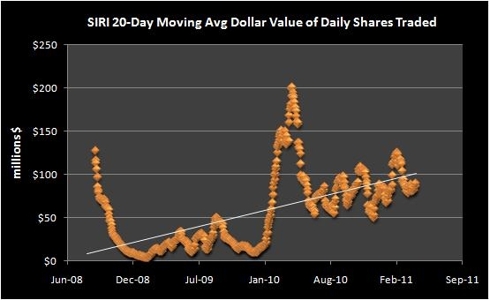 Click to enlarge
4. Howard Stern Lawsuit Settlement
For many casual stock market watchers, Howard Stern is the face of SIRI. But despite his importance to the company, the firm is currently embroiled in a major disagreement with the popular entertainer. In March 2011, Stern filed a lawsuit in the New York State Supreme Court against SIRI, claiming that the company failed to pay him stock awards that were triggered by higher subscription levels.
SIRI has officially replied, saying that it was surprised by the lawsuit and that it met all terms and obligations under its contract with Stern.
While it is difficult for investors to gauge the validity of Stern's claims, what is clear is that the disagreement between Stern and SIRI is a cloud over the company's stock. As long as a settlement between the two parties is a reasonable amount, it should be considered a bullish catalyst for the stock.
Going Forward
SIRI is not trading at attractive valuations based on trailing performance and, as such, this stock is not appropriate for many investors. Despite the valuations, there are attractive aspects to the SIRI story. Potential SIRI investors should pay close attention to the possible catalysts mentioned above.
Disclosure: I have no positions in any stocks mentioned, and no plans to initiate any positions within the next 72 hours.