There are two ways to own limited partner stakes in Kinder Morgan Partners (NYSE:KMP):
KMP

units

:

these

are

conventional

MLP

units

which

generate

quarterly

cash

distributions

.

KMP

unit holders

receive

K

-

1

forms

each

year

.

KMP

units

may

be

subject

to

Unrelated

Business

Income

Tax

(UBIT)

if

held

in

tax

-

deferred

accounts

.
Kinder Morgan Management (NYSE:KMR)

shares

:

KMR

shares

are

known

as

I

-

shares

.

They

are

pari

passu

with

KMP

units

,

with

the

only

real

difference

being

that

distributions

are

paid

in

additional

shares

rather

than

cash

.

KMR

shares

can

be

more

tax

efficient

and

are

well

suited

for

tax

-

deferred

accounts

.

KMR

shareholders

do

not

receive

K

-

1

forms

.
In theory, KMP units should trade on par with KMR shares. Even if you prefer a cash payout, you can hold KMR and simply sell the paid-out units for the cash. However, for reasons that evade most MLP experts and Kinder Morgan insiders, KMP trades at a consistently large premium to KMR. Over the last 12 months that premium has ranged from $5 to $13.
This is all the more puzzling since the only other MLP I-shares available - Enbridge Energy (NYSE:EEQ) - track the corresponding MLP units (Embridge Energy Partners) (NYSE:EEP) very closely. In fact, EEP and EEQ rarely trade more than a percent or two apart and EEQ sometimes trades at a premium to EEP.
Kinder Morgan management has emphasized in several conference calls and presentations that they think the KMR-KMP spread should not exist. In fact, company insiders have largely favored KMR over KMP for their own purchases. At least two major brokerage firms have higher ratings for KMR than for KMP. Why buy KMP when you can buy Kinder Morgan at a 12% discount with KMR shares?
The KMP-KMR spread presents some promising trading opportunities. We know that it "should" eventually converge on 0 and that it has declined over time. Moreover, it exhibits a consistent cyclicality around distribution dates. This is apparent from a chart of the KMP-KMR spread:
Click to enlarge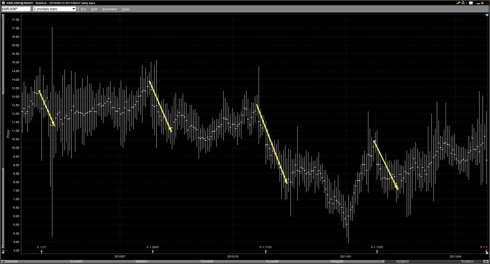 Note: This chart shows the bid-ask ranges for KMP-KMR, so you need to focus on the little white centerpoints rather than the ranges.
In general, the KMP-KMR spread has declined over the last two years in both percentage and absolute terms (the anomalous dip around January 2011 was caused by speculation that Kinder Morgan might act to eliminate the spread). The yellow arrows show the declines in the spread from the day before ex-dividend to several days afterward. On average, the spread has dropped over $3 within 10 trading days of the ex-date.
If the chart pattern continues, the trade is to go long KMR and short KMP on - or around - the ex-dividend date. From there, you can either bet on the long-term decline of the spread, or close a short-term trade within a week or two of the ex-dividend date. KMP puts are relatively cheap, so they can be used for this strategy.
Disclosure: I am long KMR. I am also long KMP puts.