While awaiting release of its 10Q, I was leafing through Netflix's (NASDAQ:NFLX) filings at the SEC website. I came across one pertaining to the company's upcoming June shareholder's meeting. Alongside the typical business, I stumbled upon something shareholder activist John Chevedden managed to get on the ballot. It's worth reading the whole excerpt before I summarize it and Netflix's response.
Click to enlarge: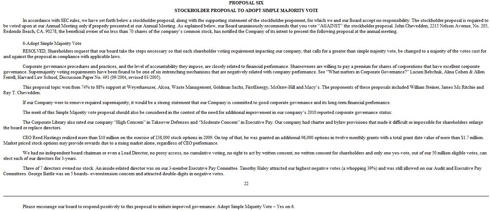 Click to enlarge
When I worked in radio, every station I knew of was dogged by a handful of people who would complain about what a host said or did whenever they had the chance. Another closely-related group would show up at radio station remote broadcasts, send emails, call into talk shows and request lines obsessively. We referred to many of these folks as "trolls." Sort of like the groupies who wait outside the "secret exit" after a concert or sporting event. I am sure that Netflix and other corporations consider folks like Chevedden trolls. They have also been labeled "gadflies." Whatever you want to call them and whatever you think of people like Chevedden, they can have an impact.
Chevedden is part of a network of individual investors crusading for better corporate governance and related goals. They manage to get all kinds of things up for vote at the shareholder meetings of companies across sectors throughout the country.
The NYSE Euronext (NYSE:NYX) website, boardmember.com, published research from the Manhattan Institute of Policy Research that details the impact of initiatives put forth by people like Chevedden. When you consider that NYX intends the website as an extension of its publication, Corporate Board Member, which "acts as the leading information resource for senior officers and directors of publicly traded corporations, large private companies, and Global 1000 firms," it becomes obvious that this form of shareholder agitation triggers at least a little bit of concern inside corporate walls.
This excerpt from the Mahattan Institute research that NYX published shows that Chevedden and several other individuals and families account for a significant chunk of corporate governance proposals and that this legion of activists has seen some success.
Click to enlarge:

Click to enlarge
On April 27, 2011, I conducted my own updated search at Manhattan Institute's Proxy Monitor website. I filtered the search by date (2010 and 2011), proposal type (corporate governance or executive compensation) and proponent (limited to the names and families mentioned in the above research). My search delivered 62 results with proposals aimed at companies ranging from Citigroup (NYSE:C) to American Express (NYSE:AXP) to International Business Machines (NYSE:IBM). These actions called for everything ranging from stricter disclosure rules surrounding executive compensation to giving shareholders the power to call special meetings.
As it relates to the Netflix proposal brought by Chevedden, three of the 68 sought a vote that would force companies to require only a simple majority on matters of concern to shareholders. Given the results published at boardmember.com and the ones from my search, Netflix might lose this battle.
Three companies -- Walgreens (WAG), McDonald's (NYSE:MCD), and Time Warner (NYSE:TWX) -- faced this vote, according to Proxy Monitor, between 2010 and my April 2011 search query. In all three cases, the companies recommended that shareholders oppose the proposals, yet in all three cases more than 70% voted in favor. As Chevedden noted, in what amounts to his complaint against Netflix, "This proposal topic won from 74% to 88% support at Weyerhaeuser (NYSE:WY), Alcoa (NYSE:AA), Waste Management (NYSE:WM), Goldman Sachs (NYSE:GS), FirstEnergy (NYSE:FE), McGraw-Hill (MHP) and Macy's (NYSE:M)." Of course, Netflix opposes and recommends voting against the proposal as well.
After a review of several of the aforementioned companies' responses, Netflix's statement against the proposal is pretty much boilerplate stuff. Here's the company's response, which you can find in the same filing as the above-referenced argument by Chevedden:
Click to enlarge:

Click to enlarge
I am not sure what to make of these sagas, including the one involving Netflix. It's certainly the type of thing companies wish would never see the light of day, lose, and then go away. On several counts, it's difficult to take Chevedden seriously. For example, he points to Netflix CEO Reed Hastings' stock options, noting that he could reap benefits thanks to a bull market and not his own performance. Like him or not, Hastings probably deserves to be paid among the nation's top Internet company leaders. If it ends up being the case that he was less than honest as Netflix CEO, he deserves to be taken down. But until then, I don't begrudge him the benefits. To be perfectly honest, at this point, I don't have enough information to comment on Chevedden's other grievances.
On the general idea of corporate governance, however, I agree with Chevedden or, more so, his sentiment. While I don't have a problem with the notion of stock options for Hastings or any other executive (take a look around you, they're quite common), I have no problem with closely tying them to performance metrics other than share price. On this count, Hastings would still receive them anyway. You cannot argue with his historical performance. I do have a problem with the very real possibility that Netflix uses its share buyback program as a way to cancel out the impact of insider selling. Along similar lines, if another Chevedden win here forces Netflix to run a more open and transparent shop in several areas with relation to its financial reporting and investor relations, I am all for it. I am surprised that Chevedden did not include Netflix's conference call format in his gripe.
Many investors merely poke in the dark when they make their investments, sinking cash into a company because they like the product or service it offers or because an analyst or television talking head called the stock a good buy. This serves as a major obstacle to success. If you are going to put your money on the line, you need to know more. In fact, you need to know as much as is practically possible.
While a move by a shareholder activist like Chevedden in and of itself certainly would not stop me from investing in any of the companies mentioned in this article, it becomes part of the story. In the case of Netflix, it somewhat slightly adds to my going concerns surrounding the way the company runs its business from a financial reporting and investor relations standpoint. What's more interesting is what could come of this type of salvo. While it might be too early to tell, I intend to start conducting research on the impact these actions have had against the companies discussed in this article.
Disclosure: I am short NFLX via a long position in NFLX put options.