Yum! Brands, Inc., (NYSE:YUM) the operator of such popular fast food restaurants as KFC, Pizza Hut and Taco Bell, experienced a 6% pop after announcing earnings before the bell last Thursday, April 21. The report told a story of explosive growth in China, yet the stock has since given up most of its gains. So what could be eating YUM?
While YUM handily beat top line revenue estimates, delivering $2,425 million versus a consensus estimate of $2,379 million, the company missed earnings by a penny, coming in at 63 cents per share. Higher wages in China and the continued rise in commodity prices could be the culprit, and these forces do not appear to be receding any time soon.
The following 1 year price charts for sugar, wheat and corn tell a grim story.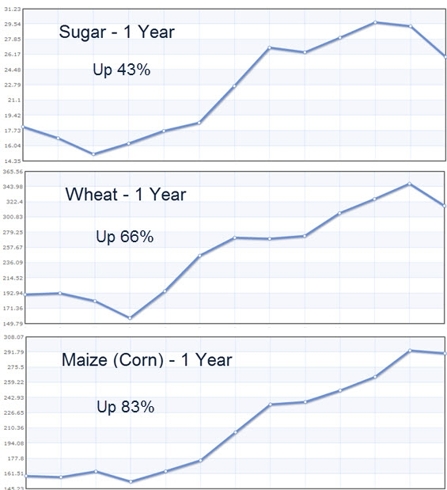 (Click to enlarge)
YUM has performed well, gaining 22% over the last year and 6% year to date, but now may be a time for caution. Yum triggered its SmartStop on Wednesday, April 27, indicating abnormal trading to the down side and a sign of above normal risk. Investors should consider protecting any gains by hedging their position or placing tight stop loss orders.
Disclosure: I have no positions in any stocks mentioned, and no plans to initiate any positions within the next 72 hours.