Eaton Vance's (NYSE:EV) Tax-Managed Global Diversified Equity Income fund (NYSE:EXG) is Eaton Vance's flagship Closed-End fund (CEF) and at $3.8 billion in assets, is the 2nd largest CEF out of all 600 or so funds. After going public in 2007 at $19.06, EXG suffered a roughly 50% haircut in Net Asset Value (NAV) by the time the bear market was over in March of 2009. Since then through 2010, EXG's NAV had improved but not nearly as much as the broader market since a large annual dividend, an underperforming portfolio and an income strategy that does not perform as well in a ramp up market combined to keep EXG's NAV from any substantial recovery.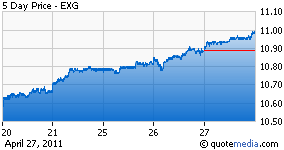 Eaton Vance could not allow EXG to fall too far behind its benchmarks without affecting the confidence in all of their funds so after a series of dividend cuts, the first in January of 2010 and the latest last December, Eaton Vance was determined to get the fund turned around. Initially, investors punished EXG as well as all of the Eaton Vance option-income funds, sending them to wider and wider discounts as 2011 progressed. Even now, most of Eaton Vance's option-income CEF's are still at 10%+ discounts, the widest of all fund families.

However, even as investors seemed to be giving up on the Eaton Vance option-income funds, many were actually showing much better NAV performance and none more so than EXG. As of April 27, 2011, EXG's NAV is up a robust 9.4% YTD on a total return basis, outperforming its benchmark indices which are a blend of 40% S&P 500 and 60% FTSE Eurotop 100 index. Only Eaton Vance's leveraged CEF's have had better NAV performance YTD which should be expected in a bull market environment.

EXG, as an option-income CEF, sells index call options on its global stock portfolio to generate income which it passes on to investors in the form of a high dividend and yield. Though option-income funds don't typically perform as well in a ramp up market, EXG has been able to outperform its benchmarks through a combination of lower option coverage on its portfolio (roughly 48%) as well as an improved selection of global stocks.

For awhile it seemed like this outperformance was going to go unnoticed as the discount levels for all of the Eaton Vance option-income funds continued to hover around the 10% to 11% discount levels. Then a research report from Morgan Stanley (NYSE:MS) on April 19, which again stressed the advantages of option-income funds and EXG in particular, seemed to ignite the fund's market price. Though EXG's discount level has not been reduced substantially, the fact that the fund has had a strong upward move since April 19 on larger volume is a welcome sign, one that all of the Eaton Vance option-income funds could use right now.

The question is, will other Eaton Vance option-income funds start to attract investor interest now that the largest of the funds seems to be turning the corner. There is little doubt that Eaton Vance needs to attract institutional interest in their funds as well as retail investors. The fact that EXG is so large and liquid certainly makes it a strong selling point to institutional investors. A 10.3% current yield going ex-dividend next month probably helps as well. Here are the other Eaton Vance funds I believe could also make a strong upward move if investor interest expands.

Eaton Vance's Enhanced Equity Income fund II (NYSE:EOS) - No other Eaton Vance option-income fund receives as high a valuation as EOS and yet it's market price continues to struggle at a much wider than normal 8.5% discount even though it's NAV has been quite strong YTD for a NASDAQ and technology heavy fund, up 6.2% through April 27. EOS also has a relatively low option coverage on its portfolio, around 69%, so it also can capture alot of market upside. The other selling point for EOS is that it is a monthly pay CEF, which is usually more attractive than the quarterly pay funds.

Eaton Vance's Tax-Managed Diversified Equity Income fund (NYSE:ETY) - EXG's sister fund, ETY, is also global, sells a low 48% option coverage on its portfolio like EXG, and is currently at an extraordinarily wide 11.2% discount and a 10.4% yield. Also goes ex-dividend next month along with EXG and EOS the third week of May.

Eaton Vance's Tax-Managed Global Buy/Write Opportunities fund (NYSE:ETW) - ETW won't go ex-dividend for another two months, but its strong NAV performance YTD, up 7.1% and its wide discount at 10.7%, make it extremely attractive for a fund offering a 9.7% yield. ETW is more defensive selling 100% option-coverage on its global stock portfolio which includes a large exposure to NASDAQ information technology stocks.

I don't know what its going to take for investors to realize that many of the Eaton Vance option-income funds are performing much better with sustainable 9% to 10% yields, but in my experience with these funds, this underperformance won't last. And if institutional interest finally starts to step in, like I believe it has already for EXG, then I would recommend retail investors jump along for the ride.


Disclosure: I am long EXG, EOS, ETY.