The bears are saying, "AHA! Kimberly Clark (NYSE:KMB) missed earnings big time this week on higher costs." And there it is: Evidence that inflation is going to kill the consumer stocks!
But the developed world is unlikely to switch to one-ply bathroom paper overnight. And until it does, or until real incomes hit the floor, there's reason to think there is more money to be made going long energy than shorting consumer staples like Kimberly Clark.
If the bears had it right, you'd expect to see the damage in discretionary stocks first, not staples. And here is what you see with the XLY, the discretionary ETF that counts Disney (NYSE:DIS) and McDonalds (NYSE:MCD) as its big components: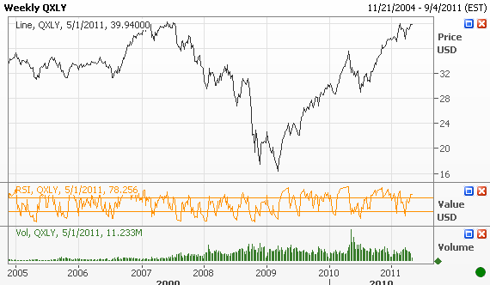 Click to enlarge
The bears will say,
gotcha!
It's at a double top. And look, the RSI here at the bottom is saying it's overbought. Couple that with the fact this is the most expensive group on forward PEs, and the most heavily shorted, and well it has to go down, Right?
Even that is not a given.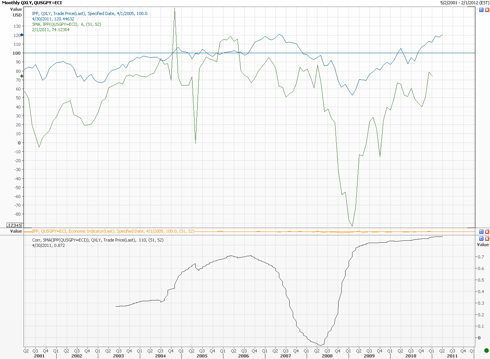 Click to enlarge
Above, you see a smoothed chart of real consumer discretionary income in green, and the discretionary
ETF above it in blue (my
video
makes this easier to follow). You'll notice three things. One, there's a strong 87% correlation between these two indicators (the line at bottom). Two, the green economic indicator tends to lead the blue stock line, contrary to the idea that stocks always lead. Three, the green line is still rising, and it has a ways to go to get to this horizontal line marking the long-term average.
So for now, consumer discretionary stocks still get the benefit of the doubt.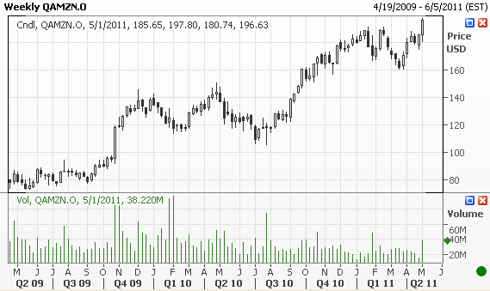 Click to enlarge
So do its components like Amazon (NASDAQ:AMZN), which missed earnings in a major way this week, but mostly got a pass due to strong sales growth and the need for more investments. It's now pushing to all-time highs, and there are few worries about consumers unwilling to click the button on frivolous purchases. And there are seemingly not many concerns about its 50 PE, for that matter.
Now, if you can't make a strong enough case for shorting discretionary stocks, why are you going to short the staples? A group that's among the most resistant to inflation?
There's a reason the stocks in the staples ETF here are near all-time highs. People might cut back on their Starbucks lattes, but they're not going to switch to cut-rate diapers instead of Huggies or Depends. Good news for Kimberly Clark. Which by the way, for all you long-term holders, trades at less than 13 times forward earnings, the cheapest among its peers, and offers a 4% dividend yield.
You have to put the Kimberly Clark miss in perspective.
Consensus was $4.96, before the report, and it barely budged just after it: We're talking about a two-cent drop for the entire year. It's clear the analysts already saw this coming.
And here's what else they see: The likelihood of additional cost savings this year. Fairly low sales expectations for a bunch of planned products. And a decent ability to pass along prices.
Now what of the other staples companies?
There is a chart in the video that shows Kimberly Clark may be the most economically sensitive of its peers, based on its high cost of goods sold as a percentage of revenue. So if even Kimberly Clark can stay pretty much on the long-term track after a big earnings miss -- I'm starting to think the upcoming
Colgate-Palmolive (NYSE:
CL
) and Clorox reports (NYSE:
CLX
) and their outlooks will be just fine.
The inflation bogeyman will just have to come back later.
Disclosure: I have no positions in any stocks mentioned, and no plans to initiate any positions within the next 72 hours.