PART I. THE APPROVAL
This Friday, April 29, 2011 Spectrum Pharmaceuticals (NASDAQ:SPPI) will announce whether the FDA will approve its supplemental new drug application (sNDA) for Fusilev (levo-leucovorin) which is indicated for metastatic colorectal cancer (mCRC).
As argued back on February 16, 2011, I think the FDA is likely to approve the treatment.
Last Thursday, April 21, SPPI announced that the FDA approved the company's sNDA for a ready-to-use version of Fusilev (RTU) under the approved osteosarcoma indication.
With a serious short supply of generic leucovorin, it looks like US regulators decided to go ahead and approve the RTU version several months in advance in order to offer additional supplies to a very needy market. Presuming supplies of Fusilev RTU exist, patients will now have access to treatment. From my view, the early RTU approval is a big deal and suggests that Friday (April 29) will likely be a good day for SPPI and their shareholders.
click to enlarge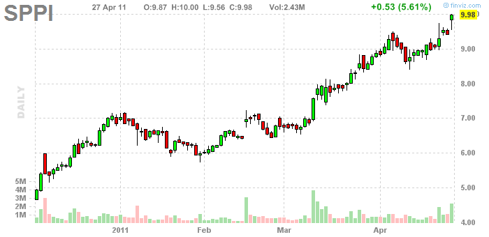 Click to enlarge
PART II. THE SHORTAGE
In April 2010, Teva Pharmaceuticals (NASDAQ:TEVA) voluntarily stopped making generic leucovorin and other injectable cancer drugs due to manufacturing issues at the company's plant in Irvine, California. As result, the second leucovorin shortage within the past three years was ignited. According to the FDA, the current shortage began in June 2010.
Fast forward one year later – the leucovorin shortage continues to be a major problem. Patients are not receiving adequate treatment. Last month, the FDA characterized the current leucovorin shortage as "severe" and indicated it will likely continue for some time.
Leucovorin for Colorectal Cancer
In an April 1, 2011 report, Kate Murphy of Fight Colorectal Cancer.org noted, "[m]ost of the medicines with shortages are necessary for emergency care, sedation, or chemotherapy — including leucovorin which is a backbone of most colorectal cancer treatment regimens."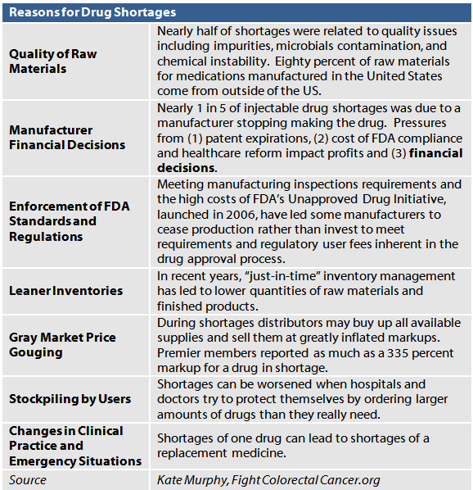 Click to enlarge
Contaminated Supplies
As I understand it, TEVA's leucovorin supply was contaminated by a form of bacteria that is potentially harmful to patients receiving the treatment.
It appears that the FDA and not the company discovered the bacteria during a routine inspection of the company's plant. It should be noted that the FDA has stepped up plant inspections in recent years. For patients, that's a good thing.

Click to enlarge
TEVA Cuts Jobs in 2011
Due to contamination and other manufacturing issues, TEVA is scaling back their workforce at the Irvine plant.
On January 20, 2011, In-Pharma Technologist reported:
Teva has confirmed it will cut 200 jobs this year after a voluntary hold was placed on all manufacturing at its Irvine, California, US facility.

Denise Bradley, a Teva spokesperson, told in-PharmaTechnologist that manufacturing and distribution was put on pause at the site in April 2010 and remains at a standstill.

The decision to suspend production and lay off employees at the Irvine plant was prompted by quality control after the company received an FDA warning letter for violating current good manufacturing practice (cGMP) regulations.
With TEVA eliminating jobs, it now seems likely that the leucovorin shortage could continue through year-end 2011.
A Severe Shortage
Just last month, Captain Valerie Jensen, RPh, Associate Director of the FDA's Drug Shortage Program told OncLive:
Many of the shortages of chemotherapy drugs that occurred in 2010 are being resolved by the manufacturers; however, the leucovorin [and cytarabine] shortages continue to be severe.

Leucovorin has been in shortage due to one firm having manufacturing issues and the remaining firm has not been able to meet demand.

For leucovorin . . . and the others, FDA continues to offer assistance to all of the manufacturers and is exploring all possible options to help with supplies.
By characterizing the leucovorin shortage as severe, it appears the FDA expects leucovorin to remain in short supply for the foreseeable future.
The Bottom Line
As result of the shortage, demand for SPPI's Fusilev, a pure form of leucovorin, has increased dramatically. On March 16, the company reported Q4 2010 Fusilev sales at a whopping $23 million and crushed analyst expectations.
According to recent sales data I obtained through a premium service provided by Bloomberg, it appears Fusilev sales might have surged in January 2011. The increase was likely due to stockpiling. As SPPI's supplies were already limited due to the Cangene plant closing in early December 2010, I was not surprised to see that Fusilev sales had settled a bit in February and March 2011. Looking ahead to the Q1 2011 results, SPPI is likely to hand shareholders another good report.
As was expected, the company knocked it out of the park. On Wednesday, April 27, SPPI reported Q1 revenue at $40 million and crushed analyst estimates again. Oorah!
While the leucovorin shortage drags on, SPPI should continue to benefit. I estimate Fusilev sales to come in at or near $40 million+ for 2011. SPPI's total revenue for 2011 should hit the $100 million mark.
PART III. THE OPPORTUNITY
Now, let's get to the main point of this article. I now believe that TEVA may be planning to acquire SPPI after Fusilev is approved. Again, that decision will be announced on or before this Friday, April 29, 2011.
Here's why TEVA buys SPPI:
#1 Due to disappointing earnings and a recent setback, shares of TEVA have taken a beating this year (reference chart below). The company needs to act soon. I believe that TEVA may already have a plan in place and could take meaningful action in the near future.
#2 During the ongoing leucovorin shortage, one thing has become clear – TEVA controls and/or touched most of the leucovorin sold in the US. That said, revenue derived from generic leucovorin sales is less than impressive.

Click to enlarge
That's one BIG hurdle the nay-sayers, short sellers, and their BFFs can't get over. There is absolutely NO good reason for TEVA to make and sell leucovorin AFTER Fusilev has been approved.
Acquiring SPPI and securing control of Fusilev would be a smart move, enabling TEVA to immediately boost their product revenue. This is a move that I believe many TEVA shareholders would welcome.
#3 Back in 2010, many investors were puzzled when - out of nowhere - SPPI just decided to replace two of their top-level executives. One of the two replacements was Mr. James Shields, who prior to joining SPPI had worked for TEVA. His expertise involves marketing and selling injectable cancer drugs.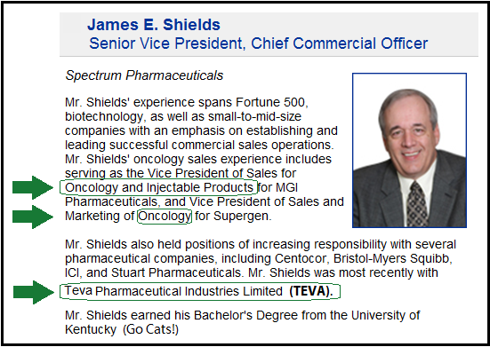 Click to enlarge
Shields began working at SPPI sometime in May 2010 just one month after TEVA voluntarily stopped production of leucovorin and other injectables in Irvine. After the leucovorin shortage was officially declared by US regulators in June 2010, SPPI announced that Shields had joined the company later that month.
Interestingly, SPPI hired Shields to improve product sales. However, their sales were already growing quarter over quarter during that time.
Mere coincidence? Possibly.
Alternatively, TEVA may also be executing a plan which they would have been forced to devise following the Irvine plant shutdown in April 2010.
(a) By acquiring SPPI, TEVA gets four cancer drugs - Zevalin, Fusilev, Belinostat, and Eoquin. Both Zevalin and Fusilev are approved in the US and generating an attractive revenue stream for SPPI. Looking ahead, both of these drugs also have excellent growth potential.
For 2011, I conservatively estimate SPPI's total revenue will come in at or near $100 million – Zevalin sales at $50 million+, Fusilev sales at $40 million+, and $10 million from the company's collaboration with Allergan (NYSE:AGN) and other foreign drug makers.
(b) In addition, TEVA would also receive the rights to make a bio-similar version of Rituxan (rituximab). Even if TEVA already has the rights to make generic Rituxan, acquiring SPPI is a win-win. Here, TEVA will either (i) obtain rights that they didn't already have OR (ii) eliminate one of their potential competitors.
Rituxan is currently made and sold by partners Biogen Idec (NASDAQ:BIIB) and Roche (OTCQX:RHHBY).
From my view, this is a no-brainer for TEVA. With a favorable decision on Friday, TEVA could move to acquire SPPI.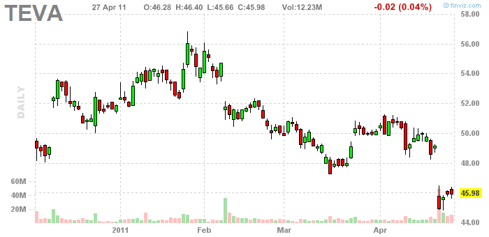 Click to enlarge
What would TEVA likely pay for SPPI?
In this space, the standard metric used to calculate an acquisition is 10X revenue. As previously indicated, I think SPPI is likely to bring in revenue of $100 million in 2011. So, TEVA's offer would likely be in the area of $1 billion or $20 per share of SPPI's common stock.
With the Fusilev approval, a fair value for SPPI is $15 OR with a market cap of $750 million. That's 75% of the $20 acquisition target (10X 2011 revenue).
Targets
For the reasons detailed above, I believe SPPI is likely to hit $15 at some point after the Fusilev approval. My acquisition price target for SPPI is set at $20 per share.
Disclosure: I am long SPPI.