The Commerce Department reported that increasing consumer spending and rising inventories more than offset reduced spending by state and local governments and for national defense as the U.S. economy expanded at a seasonally adjusted annualized rate of just 1.8%, the weakest growth rate since the second quarter of 2010.
Click to enlarge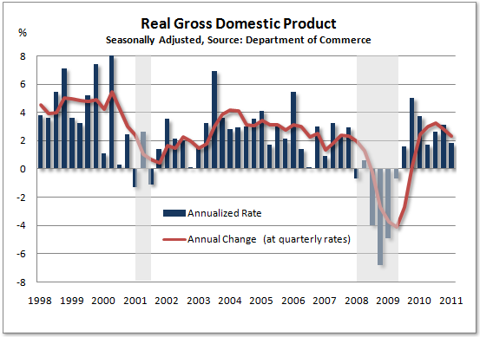 This was the "advance" estimate for economic activity, from January to March, the first of three estimates for the period, to be followed by the "preliminary" estimate in late-May and the "final" reading a month later.
Personal consumption increased at a 2.7% rate in the first quarter, down from a torrid 4.0% pace late last year but still making a major contribution to overall economic growth as shown below. Private domestic investment expanded at an 8.5% rate after contracting by almost 20% in the fourth quarter, the bulk of these two big recent moves a result of changes in inventories.
Click to enlarge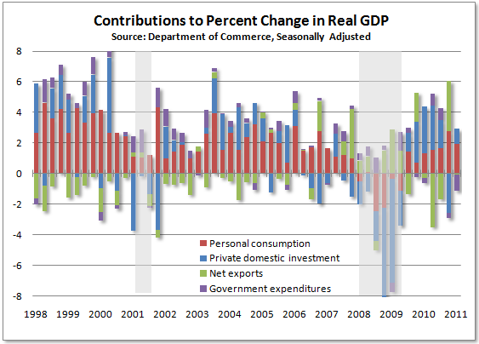 Rising imports and exports nearly canceled each other out early in the year and the 5.2% rate of decline in government spending subtracted 1.1 percentage points from overall economic growth, its biggest negative contribution since 1983 and, perhaps, a sign of things to come.