Automotive -- especially suppliers -- was one of the biggest bull market sectors of 2010. While results continue to impress for many of these names, the Japanese situation (supply chain), and specter of ever-increasing commodity costs are weighing on the shares.
BorgWarner (NYSE:BWA) is a fine example of this situation. The company beat estimates by 4 cents ($1.00 v $0.96) and increased revenue guidance for the year, but the stock is non-responsive. Indeed, BWA has been range-bound for over two months, trading between $70 and $82. For now, it appears the hot money has left the sector, and in a market dominated by HAL9000 and his automated trading friends, the sector is only good for some range-bound trading.
[Click to enlarge]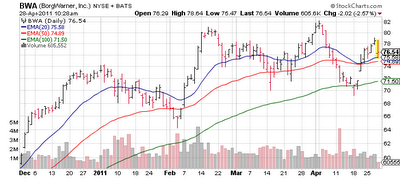 Per Briefing.com:
Revenues rose 34.4% year/year to $1.73 bln vs the $1.63 bln consensus.
The company reaffirms EPS guidance for FY11, sees EPS of $3.85-4.15 vs. $4.13 Thomson Reuters consensus.
Revenue growth in 2011 is now expected to be 19% to 23% compared with 2010, up from the previous guidance range of 16% to 20%, primarily due to the Haldex Traction Systems acquisition that closed in January.
Full report here.
Excluding the impact of currency and sales related to the Haldex and ENSA acquisitions, sales were up approximately 26% in the first quarter, compared with a global market that grew only 5%. BWA successfully managed costs while growing sales during the quarter, resulting in a solid operating income margin of 10.4%.
"Clearly there is great deal of concern regarding the disasters in Japan and their impact on the global automotive market," the company said. "While uncertainty remains, we expect that the impact on our business will be limited. Vehicle demand remains strong in our largest markets and should offset the volume declines in Japan."
Disclosure: No position