No matter where you live, what you do, or what you consume, Dow Chemical (NYSE:DOW) has a part in it. That being said, we can look to its results and outlook as a gauge of both US and worldwide economic health.
First Quarter 2011 Highlights
• Earnings per share were $0.82 (or $0.54 on a reported basis). This compares with earnings per share of $0.43 (or $0.41 on a reported basis) in the year-ago period.
• EBITDA rose more than $600 million to $2.4 billion, the second highest quarter in the company's history. Health and Agricultural Sciences reached a new EBITDA record, while Performance Products and Chemicals and Energy each posted increases of greater than 50 percent, and Coatings and Infrastructure rose more than 30 percent.
• At the company level, EBITDA margin expanded 300 basis points. This represents the eighth consecutive quarter of year-over-year margin expansion.
• Margins expanded in Chemicals and Energy and Plastics as the company benefited from U.S. Gulf Coast feedstock and energy fundamentals. Performance Products and Coatings and Infrastructure also drove margin gains in the quarter.
• Sales rose 20 percent to $14.7 billion versus the year-ago period, with double-digit increases in all operating segments and all geographic areas. Health and Agricultural Sciences reported record sales of $1.6 billion in the quarter.
• Volume increased 8 percent versus the same quarter last year, with gains across all geographic areas and all operating segments. Double-digit growth was reported in Health and Agricultural Sciences (14 percent) and Electronic and Specialty Materials (11 percent).
• Price was up 12 percent and rose in all operating segments, more than offsetting a $700 million increase in purchased feedstock and energy costs. Double-digit price gains were achieved in all geographic areas and in Performance Products (16 percent), Chemicals and Energy and Plastics (each 14 percent), Coatings and Infrastructure (13 percent) and Performance Systems (10 percent).
• Equity earnings were $298 million, with Dow Corning, MEGlobal and the company's joint ventures in Kuwait being the largest contributors.
• The company retired $2.5 billion of gross debt in the quarter, accretive to shareholders by reducing interest expense nearly $200 million on an annual basis going forward.
Comment
Andrew N. Liveris, Dow's chairman and chief executive officer, stated:
This quarter's performance showed once again that we remain firmly on our earnings growth trajectory. Our focus on execution was clear as we drove significant sales increases across all geographies and all operating segments through rigorous price and volume discipline. As a result, we achieved yet another quarter of margin expansion and delivered EBITDA growth of more than 30 percent.

With our transformed business portfolio and broad geographic presence, we have now achieved eight consecutive quarters of margin growth. This marked the second best quarterly EBITDA in our Company's history. We also further enhanced our financial flexibility by paying down $2.5 billion in debt, which will reduce our interest expense and be immediately accretive. And our recently announced dividend increase is yet another proof point of how we are delivering increasing value for shareholders.

We also advanced our innovation pipeline, bringing to market technologies that answer the needs of a changing global economy. Our whole focus at Dow is on execution to deliver profitable, sustainable growth, and this quarter's performance shows we remain right on strategy.
Much of this is due to the oil/gas spread we mentioned a few weeks ago. That spread shows no sign of seriously changing anytime soon. There is a probable chance oil prices fall. Even if that happens, the effect on DOW will be a positive one, as we should see global demand continue its acceleration as oil prices fall.
So what does the global picture look like?
We can discount the Japan deceleration as a result of the disasters there. That aside, global demand remains strong and at elevated levels. To see this in more of a visual, see this post from last October to compare where we are now. Important point: Green means accelerated demand over previous levels, so green boxes that stay green quarter after quarter mean demand continues to accelerate over previous levels.
[Click all to enlarge]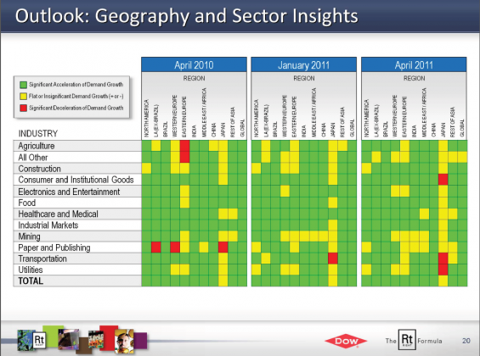 Operating rates remain elevated and at levels that will allow Dow to increase capacity as demand continues to increase. It should also be noted Dow is going to build two more U.S. Ethylene/Propylene Plants in 2011-12.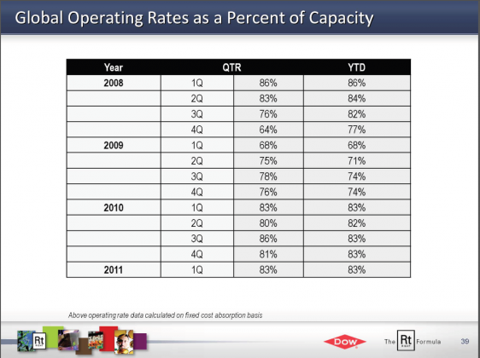 With products, we see demand increases are not only across the board geographically but also across the board in terms of products. Not a single product segment is showing any weakness. Looking forward to Q2, Dow said it expects to see pricing momentum and demand growth to continue across all its businesses.