Not that long ago, I wrote an article titled A Great Google Idea Leads to Investor Insanity. My take on Identive Group (NASDAQ:INVE) can be easily confirmed by reading my article on Seeking Alpha. My insight once again proves spot on. I was able to combine my deep subject matter knowledge, expertise in technology and business, and over 30 years of experience with the markets to generate profits over 42.6% or 5184.78% annualized. As the chart shows, I sold short Identive at $5.84 and covered at $3.38.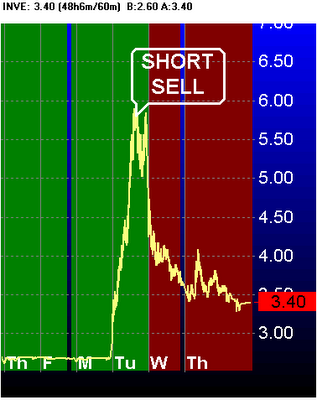 Over the years, press releases from companies promoting pacts with Google (NASDAQ:GOOG) have resulted in an unending stream of profit making opportunities both on the long side and on the short side. There is another such opportunity at hand in ReachLocal (NASDAQ:RLOC). Yesterday, the company reported earnings and announced a pact with Google. After inputting the earnings data and potential impact of the Google pact, the Quantitative Screen of the ZYX Change Method showed a fair value of $21.00. Experience shows that on pacts with Google, stocks tend to over shoot their fair value by about 10%. This observation gave us a target range of $21.00 to $23.00. The stock had closed at $17.99. If the $21.00 target hit, the return would have been 16% in a very short time. Alas, this was not meant to be a long as uninformed gurus and their followers once again went insane. Here is a description of how the insanity developed.
Google has a great idea – to not spend its own cash with a boots on the ground strategy to serve small businesses that may not be profitable and instead offload such accounts to resellers. Resellers work with a lower overhead and often add their own services to Google's AdWords and thus usually manage to squeak out a tiny profit.
Google has lots of resellers. Becoming a reseller is relatively easy compared with most reseller programs in the technology industry. Those readers with experience as a reseller can verify the above statement here. The excitement about ReachLocal started from a news release announcing that the company would be the first premier reseller for Google AdWords. I have either started or have been instrumental in starting over 50, mostly technology related ventures. In the process, I have gained substantial experience in developing and managing reseller programs.
A typical company starts out with a reseller program and then at some point it proceeds to the next step of designating its best resellers as premier resellers. There is nothing special about this evolution. Such evolution has been common place for decades.
It appears that bulls on ReachLocal did not quite understand several key points. First, the pact with Google is not exclusive. It is likely that Google will continue to add premier resellers. Second, the company has been a large reseller of Google for several years and this is an evolutionary extension of the existing arrangement between the companies. Third, reselling AdWords is a dog-eat-dog commodity business. Companies such as ReachLocal try to differentiate themselves by adding advertisement management systems and a suite of services.
The problem is that there are a large number of competitors in the business and they all take a similar approach to differentiation. The situation is akin to putting lipstick on a pig and stating that this pig is different from other pigs.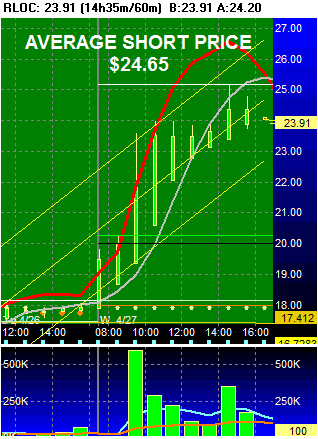 Finally the new path with Google does not appear to have any meaningful financial impact, at least not over the next year. Neither Google nor ReachLocal have publicly disclosed the financial details but they hint at financial incentives. Fortunately for us, it takes only rudimentary detective work to figure out the numbers. ReachLocal just gave us guidance for Q2 revenues of $92.5 - $94.5 million. The consensus prior to the news release was $93.74 million. This shows that there is no impact of this new pact in Q2. The company also guides FY11 revenues of $380 - $400 million. The consensus before the pact is $392 million. This indicates that without this pact, the company would not have made its numbers.
I am neither belittling the company nor casting a shadow on its long term fundamentals. ReachLocal seems to be a fine company blocking and tackling every day in a highly competitive commodity business. My point is simple – 33.57% increase in the stock price on this news is the height of insanity.
The readers will find the following excerpts from Google's website instructive in view of the 33% gain in the stock price:
To advertise with Google, businesses can set up an account directly with Google or they can opt to work with a third party, such as a Google AdWords Authorized Reseller™, to manage their advertising for them.

Companies who are Authorized Resellers range from yellow page publishers to newspaper companies to online media companies to companies who work with specific verticals. Their backgrounds are varied, but they all strive to help local businesses efficiently tap into the power and reach of the Google AdWords™ online advertising platform.
The following FAQ's from Google's website will also help readers in their analysis:
Q: Do I have to use an Authorized Reseller?

No. Many agencies offer Google AdWords to small businesses.

Q: Do Authorized Reseller accounts perform better than self-service accounts?

All AdWords accounts have the same opportunity to achieve a high quality performance regardless of who is managing the account.
There is nothing here to warrant 33% increase valuation in this company in one day. I started out to buy this company's stock this morning and gave a buy signal to the subscribers of ZYX Buy Change Alert. I follow the rigorous discipline of the ZYX Change Method. As the stock rocketed to a 33% gain, all six screens of the ZYX Change Method gave a signal to short the stock. Now I am short the stock with an average price of $24.65.
ReachLocal is a great short right here.
Disclosure: I am short RLOC from $24.65 as documented on my blog. I will add to my short position as dictated by the six screens of the ZYX Change Method.