OpenTable's (NASDAQ:OPEN) stock price has enjoyed outstanding performance over the past year. It has risen from a $40 stock to a solid triple-digit stock (currently $110) over the past 12 months. While I think OPEN has a great business, I believe it does not make a great investment from the long side.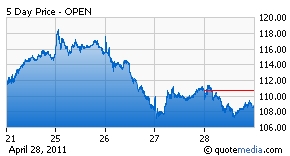 Momentum is obviously in OPEN's favor. However, at current valuations, the rubber band is stretched too far and will snap violently when it does. Aside from the well-publicized short case based on valuation that can easily be found on Seeking Alpha (I happen to agree with these valuation concerns), I am focusing on three less public, but no less important, pieces of information that make long investors nervous and short sellers smell blood.
EARNINGS SMOOTHING
Earnings smoothing is an insidious trap in which companies entangle themselves because it makes the company's underlying business seem less volatile than it really is, thereby increasing the multiple that investors pay for the shares. When the inevitable earnings miss occurs, the result is dramatically more painful than if the smoothing never occurred.
OPEN has three sources of revenue: installation and training (8%), monthly subscription fees (44%), and per-guest seating fees (48%). Installation and training seems to be an event that occurs between one day and one month. However, OPEN recognizes the revenue from this activity over three to six YEARS. This revenue smoothing activity accomplishes two goals: it makes installation revenues look less lumpy, and it shows accelerating growth on this line where there may or may not be any.
One may object that this revenue is only 8% of total revenue and therefore, a moot point, but if they recognized the revenue immediately, it could easily become 25% of their total revenue which would make it a very significant source of revenue. I feel that looking at OPEN's operating cash flow is a better barometer of the true growth of this company than just looking at revenue or EPS growth.
On the expense side, stock-based compensation accounts for about 10% of OPEN's total operating expenses, but the cost of the stock options that management receives is amortized over a multi-year period which makes OPEN's quarterly EPS number almost meaningless. We do know that the company has reserved 3.4 million shares (16% of float) for future issuance because of the tremendous number of options that they grant management. At best, this will result in shareholder dilution.
INSIDER SELLING
Another major red flag that is waving for investors in OPEN is the constant selling that insiders and executives are engaged in. It seems like twice a week, an insider is filing a form 4 showing that they sold a few thousand shares. Just because a founder/insider is selling some shares is not a cause to panic, but when a stock is trading at 190 times last year's earnings, and much of the valuation is based on the possibility that the company will be bought by a Google (NASDAQ:GOOG), Facebook, or Microsoft (NASDAQ:MSFT), this tells investors two things: 1) Shares are fully valued in management's opinion and 2) Google or Microsoft are not calling with offers to buy the firm. Both of these are not positives for the share price of OPEN.
GROWTH POTENTIAL
OPEN has recently expanded its operations in Europe with its acquisition of Toptable. In my opinion, they significantly overpaid for this asset, and traded cash on the balance sheet earning .25% for a goodwill asset that loses $5 million a year. This acquisition also points to the slowing organic growth in the U.S. which is not a positive for share prices.
Additionally, the theory of OPEN is that it helps customers avoid waiting on lines for dinner, but the paradox is that busy restaurants don't need OPEN to fill their tables, and patrons of restaurants that have OPEN don't need reservations because there are no lines. Therefore, in the long run (who knows how far away that is?), marginal revenue will converge to marginal cost (slightly more than zero), and OPEN will become another Fandango.
Disclosure: I have no positions in any stocks mentioned, and no plans to initiate any positions within the next 72 hours.