Yet another quarter has passed and nearly all of the analyst and media discussions have focused on whether Apple (AAPL) met earnings estimates. Beyond that, these experts have focused on the amount of iPads sold with mind numbing focus on that particular estimate miss. Not much of the focus has been on AAPL beating earnings estimates by a mile, or more importantly, the growth rate. Just imagine how fantastically good earnings will be with ramped up production of iPads. Does anybody really doubt the growth path for the iPad regardless of any issue in Q1?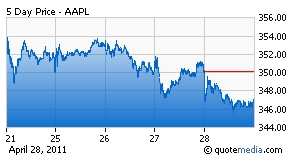 This all brings up the question of whether growth rates and earnings potential even matter anymore. Stocks are now completely valued based on estimates and whether those numbers were beat or not. Actually, this isn't really a new phenomenon, but rather it's just reached absurd levels with AAPL.
AAPL grew revenue in Q1 by an astonishing 83%. Don't get hung up on estimates. Focus on whether AAPL is trading based on that growth rate. Sure, they deserve a certain discount for being so massive, but then again they are attacking a couple of massive markets in PCs/tablets and mobile internet. Now, why wouldn't the dominant player in both those markets have the largest market cap?
Of course, it makes sense for a stock to be valued based on estimates and then trade based on how actual numbers stack up to those estimates. AAPL, though, doesn't trade off estimates. If it did, the stock would already be at $600 or $800, or even $1,000. After all, aren't they expected to make roughly $24.5 this year and growth will be what - 50%, 75%, or even 100%? In 2010, AAPL made $15.15. The 2011 high end estimate is now $26+. This estimate should rise after the Q1 beat by $1.03. That's at least 73% growth, folks, all while the company hardly trades at 10x ex-cash earnings.
Just a year ago AAPL didn't even sell a tablet computer, nor did the category even exist. Now AAPL is selling 4.7M in a single quarter that faced supply disruptions. Instead of focusing on the incredible success of the iPad platform and envisioning its future potential and growth path, the analyst community spends more time focusing on whether the iPad is somehow a failure if it can't sell 6M units as some estimated. Or dare we spend another moment questioning whether AAPL will be impacted by supply disruptions due to the Japanese earthquake. Yet, another worthless effort to garner an impact that has zero long term implications to the AAPL or iPad franchise and hence stock valuation.
More importantly for AAPL, it all comes down to competition, or the lack there of. As the Forbes blog points out, the iPad is still waiting for a real competitor to stand up. The three main competitors from the likes of Research in Motion (RIMM), Motorola (MOT), and Samsung (OTC:SSNLF) have all been busts in comparison. The only apparent competitive option is to price tablets lower then AAPL and that's typically not a winning option, especially this early in the tablet market.
Fortune has a good summary of analyst comments from Q1. While most of the analysts are generally upbeat about AAPL, its products, and future growth, very few of the analysts actually give AAPL a reasonable valuation based on the earnings growth they themselves expect. Many nitpick on iPad volumes or iPhone 5 delays, or future margins.
Only Ticonderoga's Brian White is willing to give AAPL a 20x estimate with a $612 price target. As an example of the hidden negativity, Citigroup's Richard Gardner though relatively bullish on AAPL, was only willing to raise his target to $435, basically giving AAPL a 10x ex-cash forward P/E. Why is it that a bullish analyst would give one of the fastest growing tech stocks a below market valuation?
When valuing AAPL's stock, focus on the actual numbers below and don't get caught up on the estimates. Numbers via AAPL's press release:
Record March Quarter drives 83 percent revenue growth, 95 percent profit growth

Apple sold 3.76 million Macs during the quarter, a 28 percent unit increase over the year-ago quarter.

The Company sold 18.65 million iPhones in the quarter, representing 113 percent unit growth over the year-ago quarter.
We are extremely pleased with our record March quarter revenue and earnings and cash flow from operations of over $6.2 billion," said Peter Oppenheimer, Apple's CFO (on pace to delivery an astonishing $25B in cash flow)
Disclosure: I am long AAPL.

Additional disclosure: Long AAPL in client and personal accounts.