The high PE/FPE stocks have been flying into the stratosphere, using QE2 and the second big stimulus package as fuel. With QE2 almost over, part of that fuel is disappearing, and the rest will disappear by the end of the year. Many will now flee the weaker or more outrageously-priced momentum stocks in favor of solid fundamental values. I have prepared a list of reasons investors might think Salesforce (NYSE:CRM) is one of these.
CRM's PE is 293.30 and its FPE is 74.51.
A recent massive Sony (NYSE:SNE) PlayStation Security breach has marred the cloud's reputation for the near term. A recent Amazon (NASDAQ:AMZN) massive cloud outage has further marred the cloud's reputation for the near term.
CRM's products have become more numerous and more complex. They require more training for the sales people and for customers' staffs. This translates directly into more expense for both, and hurts both margins and sales. One of CRM's original selling points was its relative simplicity or "ease of use" for customers (less training). With that disappearing, so is one of the main selling features.
The Yahoo Finance EPS results for the last four quarters (adjusted) total $1.22. The estimate for all of the current fiscal year ending in Jan. 2012 is only $1.27. This is not fast growth or accelerating EPS, and is not the behavior needed to justify a PE of nearly 300 in a growth stock.
The adjusted EPS figure is not even close to the GAAP EPS figure. The TTM PE would be $137.85/$1.22 = 122 (not 293) if you used the adjusted figures. This means the GAAP EPS were actually 137.85/293.30 = $0.47 -- a huge difference. If you are making this kind of "one time charges adjustments" every quarter, they are no longer "one time charges." In short, the adjusted EPS that CRM management has been touting are merely so much hand-waving.
Not surprisingly, insiders have sold about $100M in CRM stock in the last 12 months. They know what is going on. It sure doesn't sound like they think the stock will be going up a lot in the near future. It sounds more like they are afraid it will be going down.
The analysts' EPS estimates for the coming year have been lowered significantly in the last 90 days. The FY2012 (through Jan. 2012) earnings have specifically been lower $0.10 within the last 90 days. Momentum stocks are supposed to have upward revisions, not downward revisions.
Cramer has recently cited Accelerated Revenue Growth as a reason to keep buying this stock. However, the TTM Revenue Growth Rate is 29.47%. Revenue was approximately $1.66B for FY2011, which ended in Jan. The FY2012 estimated Revenue is $2.11B, and the FY2013 estimate is $2.59B. These translate into Revenue Growth Rates of ($2.11B- $1.66B)/$1.66B = 27% growth for FY2012 and ($2.59B - $2.11B)/$2.11B = 23% growth for FY2013. This is decelerating, not accelerating, revenue growth.
The Price/Cash Flow = 130.94 -- extremely poor. The Price/Book is 14.48. CRM won't maintain its price based on book value. However, high Price/Book values are not unusual for software companies.
Short interest is 8.93% of the float. This is actually less than the prior month. However, that may just mean it will be harder for those HFT short squeezers to push the stock upward. Still, it does indicate that a large number of people think CRM is over valued.
All the above add up to one conclusion: CRM is a good short. It may beat on revenues in the coming Q1 report on May 18. It may even beat on adjusted EPS. It has for several quarters in a row. This may even be easier since EPS estimates have decreased in the last 60 days from $0.31 to $0.27. However, I hope I have made it clear that GAAP EPS have been a different story. I hope I have made it clear that there is a huge amount of hand waving going on. At some point, investors will start to see the hand-waving for what it is. The nearing of the end of QE2 is likely to be an apt time for that to happen.
I am not saying that CRM is a bad company or that it will not continue to grow. However, it does not have accelerating revenue growth or increasing analysts' EPS estimates, as Cramer claims. Instead, it seems to be in a fierce battle with bigger competitors for customers. This battle appears to be making the acquisition of those customers more expensive. This may be a good long term strategy, but it is likely to have a negative effect on the bottom line over the near term. Plus there is no guarantee that the negative margin effects will reverse themselves within a year or two.
CRM quite simply does not deserve to trade at a multiple of nearly 300. At the rate it is going, it could take quite some time to bring that down to a respectable 20-50. The predicted next five years' EPS growth per annum is only 24.50%. Oracle (NASDAQ:ORCL), by comparison, has a next five years' growth per annum of 15.18%. That is only 10% lower than CRM's, yet it trades at a PE of only 23.39. That's more than a factor of 10 less than CRM's. You could say ORCL is big and unwieldy. However, CRM, after growing to a $2B company, now is increasingly big and unwieldy itself. Shorting CRM at this point should prove to be profitable.
The two-year chart of CRM below echoes my thought on the slowing growth prospects.
[Click to enlarge]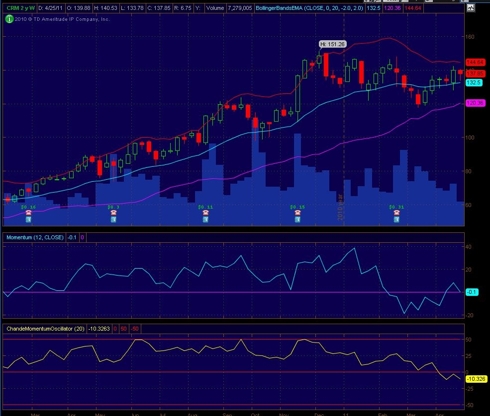 These graphs are momentum indicators. It seemed appropriate since CRM has been termed a "momentum" stock. Both indicators seem to be in a downtrend.
To repeat yet again, I think this stock can be shorted right now. If you are prepared to be patient, you should be rewarded. If you do not feel comfortable shorting now, you could wait until after earnings to reassure yourself that the new CRM salespersons have not suddenly accelerated earnings. If you wish to short through earnings, but you do not want to take too big a risk, you could use a put spread to capture some of the down movement with less risk and less expense.
Disclosure: I have no positions in any stocks mentioned, but may initiate a short position in CRM over the next 72 hours.