By Angus Robertson
Yet another blockbuster quarter from Apple (OTC:APPL) has provoked another round of price target upgrades for the company. And while Apple clearly has a very positive outlook, there are signs that it will be challenge to match the performance of the last few quarters. Still, Apple's guidance is so consistently conservative, there's no chance the company will fail to handily beat its own forecasts.
The median 12-month price targets of 20 analysts tracked by Alacra Pulse who have updated their outlook since Apple announced its results has risen to $465 from $425 after the last earnings report. The mean target is up to $473.65 from $430.36 and is 35% above Monday's closing price of $350.15.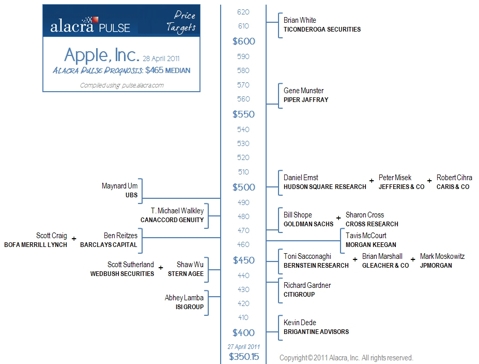 Click to enlarge
(Click to enlarge)
Brian White of Ticonderoga Securities has the highest target at $612, up from $550. He's so bullish he sees today's launch of a white iPhone 4 as a sales catalyst. The aptly named White thinks it could spike sales by as much as 1.5 million units per quarter.
Apple will face some tough year-over-year comparisons in coming quarters, Reuters notes. Its double-digit growth rate on sales, which skyrocketed 83 percent to nearly $25 billion last quarter, may be hard to sustain.
"They are going to have comparison issues on the growth side," said Michael Walker, portfolio manager at WP Stewart. "They can't grow 83 percent forever. There's no way."
Apple sold fewer-than-expected iPads, at a little under 5 million versus estimates of up to 6 million, as the transition to a new model and Japanese supply chain tangles triggered shortages of critical components.
Digitimes reports that manufacturing issues at Apple led to a shortfall in iPad 2 shipments in the first quarter, prompting IHS iSuppli to reduce its forecast for 2011. IHS iSuppli now forecasts Apple will ship 39.7 million units for all models of the iPad this year, down 9.1% from the February forecast of 43.7 million.
Another sign of the growing challenge Apple faces is news that Google's (NASDAQ:GOOG) Android has now overtaken the iPhone as the leading smartphone OS in the U.S., according to a Neilsen survey. Stifling startups, attracting lawsuits and bad publicity over iPhone tracking are small indicators of Apple potentially heading down the path of Microsoft (NASDAQ:MSFT), where market domination eventually translated into distrust and resentment. The phone-tracking issue was serious enough to drag the ailing Steve Jobs in to address it.
Apple no doubt will continue to prosper, but may have passed its peak in terms of the sweet spot of financial performance combined with widespread adulation.
Sources: Alacra Pulse, Reuters, AllThingsD, Barrons TechTraderDaily, WSJ MarketBeat, TechCrunch, BusinessInsider, Digitimes, New York Times.