Emerson Electric Co. (NYSE:EMR), a diversified global technology company, engages in designing and supplying product technology and delivering engineering services to various industrial and commercial, and consumer markets worldwide. The company operates through five segments: Process Management, Industrial Automation, Network Power, Climate Technologies, and Appliance and Tools. The company is member of the S&P 500 and the S&P Dividend Aristocrats indexes. Emerson Electric Co. has paid uninterrupted dividends on its common stock since 1947 and increased payments to common shareholders every year for 54 years. Only a handful of companies have managed to raise distributions for over 50 consecutive years. The most recent dividend increase was in November, when the Board of Directors approved a 3% increase to 34.50 cents/share.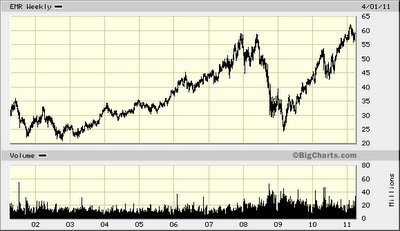 Over the past decade this dividend growth stock has delivered an annualized total return of 6.60% to its loyal shareholders. The company has managed to deliver an impressive increase in EPS of 9% per year since 2001. Analysts expect Emerson Electric to earn $3.28 per share in 2011 and $3.85 per share in 2012. This would be a nice increase from the $2.61/share the company earned in 2010.
Emerson will be able to generate near term earnings growth due to the rebound of the global economy. The company generates a larger portion of its sales from outside the US. Longer-term, the growth would come from strategic new product initiatives through innovation as well as strategic acquisitions to strengthen the company's product portfolio. Growth in emerging markets economy could also result in increased earnings for the company.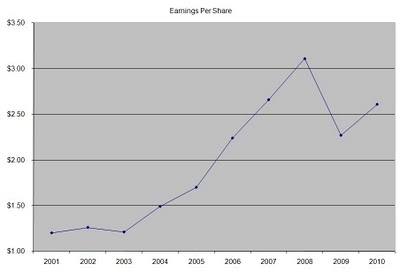 The return on equity has mostly remained above 20 over the past decade. Rather than focus on absolute values for this indicator, I generally want to see at least a stable return on equity over time.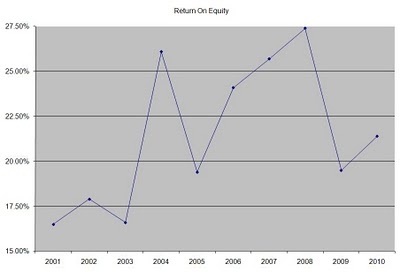 The annual dividend payment has increased by 6.30% per year since 2001, which is lower than the growth in EPS. A 6% growth in distributions translates into the dividend payment doubling every 12 years. If we look at historical data, going as far back as 1983, we see that Emerson electric has actually managed to double its dividend every nine years on average. As the world economy rebounds, I expect Emerson to start growing distributions at a higher rate.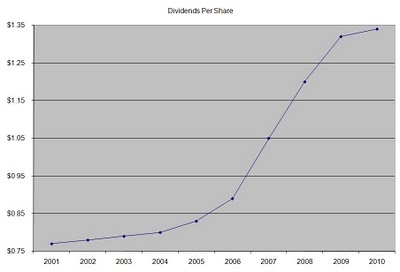 Over the past decade the dividend payout ratio has been in decline until the 2007-2009 recession, when it briefly hit 50%. A lower payout is always a plus, since it leaves room for consistent dividend growth minimizing the impact of short-term fluctuations in earnings.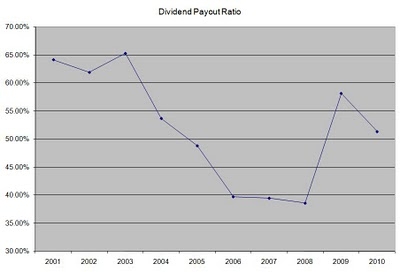 Currently Emerson Electric is trading at 20.60 times earnings, yields 2.30% and has a sustainable dividend payout. The stock would meet
my entry criteria
if it falls under $55.
Disclosure: Long EMR