U.S. central banker Ben Bernanke is caught between a rock and a hard place. The U.S. Federal Reserve has a dual mandate: employment and inflation. Speaking this week, Bernanke admitted that despite its efforts, the U.S. unemployment rate, though down from last year, is still too high. At the same time, gasoline and food prices are pushing up inflation. That means he can do little to stimulate the economy and get consumers to spend. That's the bad news.
Now for the good news. The Fed expects inflation will ease in 2012. Makes sense: if consumers cut back spending, then prices will fall. If the Fed expects inflation to fall, then it will not raise interest rates for some time. High unemployment will suppress wage inflation. Both are good for business. If interest rates remain low relative to others - euroland, Australia, Emerging Markets - then the U.S. dollar will remain weak. That is good for U.S. exporters.
All this re-affirms our view that with weakness at home, a full U.S. recovery will need to be driven by exports. OEF, with its 100 large, global companies, remains our preferred U.S. equity ETF. Since we bought the iShares S&P 100 ETF in mid-January, it is up about 7%. This earnings season has been great, with 77% of large companies beating expectations. The price-earnings valuations remain low. P/E for the OEF and the Dow is at 13; slightly higher at 14 for the S&P, but well below their historic levels and far below the current 20x P/E on the TSX 60. True, the weak U.S. dollar has hurt our position but we expect the U.S. dollar will strengthen as soon as the Fed signals that rate increases are on the way, possibly late this year or early 2012.
Click to enlarge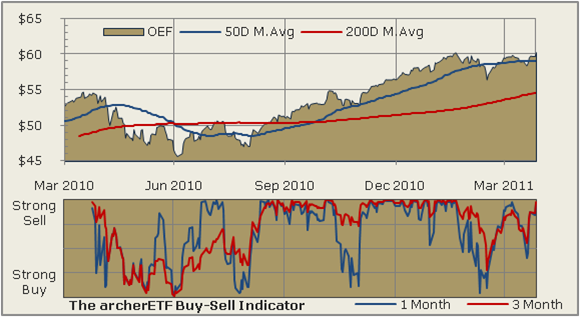 | archerETF Metrix | OEF |
| --- | --- |
| Category | US Equity |
| Benchmark | S&P 100 |
| Total Holdings | 100 |
| 52 Week High | $60.19 |
| Recent Price | $60.60 |
| 52 Week Low | $45.69 |
| Avg Daily Volume | 0.95 Million Shrs |
| Avg Daily Volume ($) | $57.75 Million |
| Total Market Cap | $3.04 Billion |
| ETF Annual Fee | 0.20% |
| ETF Trading Currency | USD |
| ETF FX Exposure | USD |
| Annual Volatility | 23.9% |
| Correlation to S&P 500 | 97.6% |
| Return to Risk Ratio | 0.22 |
| Use of Leverage | No |
| Use of Futures | No |
| 6 month Return | 14.23% |
| 1 Year Return | 13.37% |
| 2 Year Return | 55.69% |
| 3 Year Return | -1.92% |
| Dividend Yield (TTM) | 1.80% |