Caterpillar (NYSE:CAT) reported Friday a surprising five-fold jump in first quarter profits, reaching an all-time quarterly record as the company benefits from a recovering economy and a resulting boost in construction equipment demand.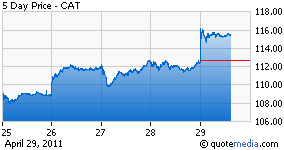 For the first three months of 2011, the Peoria, Illinois-based machinery manufacturer reported a profit of $1.23 billion, or $1.84 per share, compared with $233 million, or $0.36 per share, a year earlier. Analysts expected earnings of $1.31 per share.
First-quarter revenue was $12.95 billion, up 57% from $8.24 billion in the first quarter of 2010, reflecting significantly higher volumes and favourable pricing. Caterpillar said improvements were partially offset by higher manufacturing costs, as well as greater selling, general, administrative and R&D expenses.
Machinery and power systems sales increased 63%, due to higher end-user demand and dealers adding inventory during the period, the company said.
"Demand continued to improve, we increased production, cost control was excellent, and our operating profit margin improved," said chairman and CEO Doug Oberhelman.
The company improved its 2011 outlook, and said that sales are now expected to be in the range of $52 to $54 billion, higher than the more than $50 billion previously announced. Profit is also anticipated to be higher at between $6.25 to $6.75 per share, up from the earlier forecast of near $6.00 per share.
Caterpillar said the improved outlook would have been greater if not for the impact from the earthquake in Japan, where many of the company's suppliers were affected. As a result, production disruptions are expected to have a $300 million negative impact on sales in 2011.
Shares of the company were up 2.5% today (Friday) to trade at $115.48 as of 12:10pm EST. Its stock has nearly doubled in the last year.