From CNBC: RIM Shares Plunge After Firm Lowers Guidance
Research In Motion (RIMM) shares were hammered in after-hours trading Thursday after the BlackBerry maker lowered its earnings and revenue guidance for the first quarter. Shares resumed trading at 4:30 pm ET after being halted for more than 20 minutes.
The company said it expects first-quarter earnings of between $1.30 to $1.37 a share, short of analyst expectations of $1.48 a share. Also, RIM said it sees first quarter revenue slightly below its previous guidance of between $5.2 and $5.6 billion.
RIM blamed the move on weak shipments of its BlackBerry phones and a shift toward handsets with lower price points. The firm has been struggling to compete against Apple's (NASDAQ:AAPL) popular iPhone and other rivals of the smartphone market.
From Bloomberg: RIM Plunges as Analysts See Lost Credibility With Forecast Cut. Research In Motion Ltd. plunged in late trading yesterday (Thursday) as analysts said a reduced profit forecast hurts management's credibility and raises pressure on the company as it heads into an annual trade show next week.
"This further damages already low credibility, making them the 'poster boy' for a show-me story from here," Mike Abramsky, an analyst at RBC Capital Markets in Toronto, who has a "top pick" rating on the company, said in a research note.

"Management needs to deliver on the product side," said Taylor, who manages about $14.5 billion including RIM and Apple shares. "That includes competitive next-generation smartphones and building out the app library."

Apple offers more than 350,000 software applications, or apps, and Google's (NASDAQ:GOOG) Android Market has more than 150,000, compared with more than 25,000 in BlackBerry App World. RIM fell $6.17, or 11 percent, to $50.43 in late trading yesterday, after closing at $56.59 on the Nasdaq Stock Market. It has lost 2.7 percent this year as of yesterday's close.

'Aging' BlackBerrys

Co-Chief Executive Officer Jim Balsillie told analysts on a conference call yesterday that he wished the new products would come sooner to replace current BlackBerry devices. "The issue is an aging that happens in your higher-end products and it affects margin," said Balsillie. "All things being equal we would love to have these products earlier and not be having this call. Because it's such a big upgrade, it takes longer."

In updating its forecast, RIM said BlackBerry shipments will be at the lower end of the range of 13.5 million to 14.5 million it projected last month, and the mix of devices will shift toward cheaper models. Sales in the quarter ending May 28, will be "slightly below" the $5.2 billion to $5.6 billion the company had forecast. Analysts had predicted earnings of $1.50 a share on sales of $5.44 billion, the average estimates compiled by Bloomberg.

'Off a Cliff'

"The sales on their existing devices must have fallen off a cliff," said Matt Thornton, an Avian Securities LLC analyst in Boston who has a "neutral" rating on the stock. "They are getting hit by a combination of a stale portfolio and heated competition on devices." RIM said shipments of its PlayBook tablet computer, which started selling in the U.S. April 19 to challenge Apple's iPad, are in line with its previous estimates.

The Playbook pales in comparison with the competition. The iPad 2 owns it! Asus has come out with an Android Honeycomb tablet that literally enables you to do REAL work with 16 hours of battery life and a realistic keyboard. Samsung has come out with a tablet under 9 mm thick, thinner, lighter and faster than the iPad. LG is pushing glasses-free 3D tables. And then there are about 200 other competitors. RIM is lost!

Sliding Share

RIM's share of worldwide smartphone sales slipped to 14 percent in the fourth quarter from 20 percent a year earlier, according to Canalys, a British research company. Apple's share was unchanged at 16 percent, while Android's more than tripled to 33 percent. The forecast shows that higher-end BlackBerrys like the Torch, designed to compete with the iPhone and Android devices, are missing estimates, said Michael Walkley, an analyst at Canaccord Genuity Ltd.

"Higher-end phones have not sold so well," said Walkley, who has a "hold" rating on the stock. "The investment community was already skeptical about the full-year guidance of $7.50 and this gives them reason to be more skeptical."
Now, let's do this by the numbers – reverse chronology to be exact.
Research in Motion Drops 10% After Hours, Precisely As We Warned Two Months Ago – MARGIN COMPRESSION!!! Thursday, March 24th, 2011.
Blackberries Lost More Market Share Than We Bearishly Anticipated While RIMM's Share Price Spikes: Is It Time To Revisit the Bear Thesis? Thursday, January 20th, 2011.
And from the valuation section of our Forensic Report (those who have downloaded it can refer to page 30).
(Click graphics to enlarge)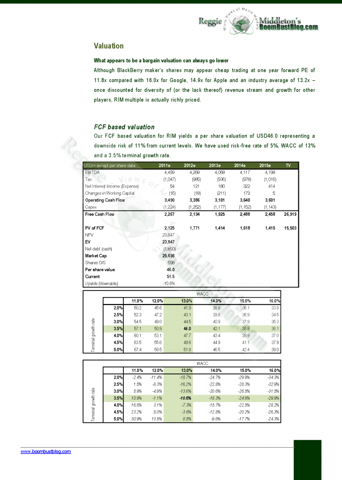 Click to enlarge
As you can see, we did a phenomenal job anticipating the share price fall and the practical floor. Those of you who used options and/or leverage with proper risk management should have benefited handsomely. Of course, this particular industry segment moves much more rapidly than most, which is why we have taken the opportunity to add flexibility in our valuations and analysis.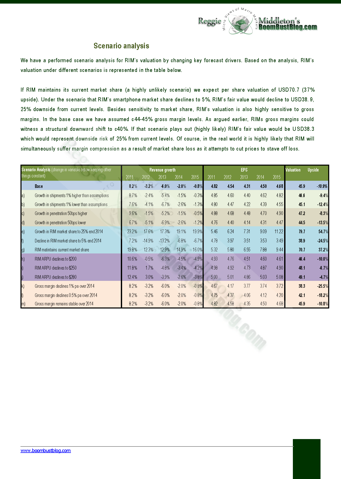 Click to enlarge
Please keep in mind that the Research in Motion story is not over by a long shot. It looks as if they may have pulled a much needed rabbit out of their hat with their new tablet, but at this point it is still vaporware from our perspective since I have yet to get my hands on one. If it is what it is chocked up to be, it will then be up to management to execute. Their track record over their last 3 attempts at larger screen form factors has been wanting, at best, but maybe the fourth time is the charm.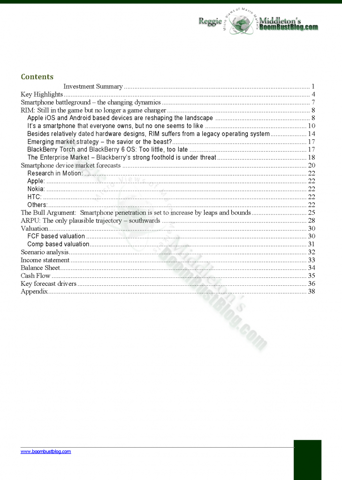 Click to enlarge

Disclosure: I have no positions in any stocks mentioned, and no plans to initiate any positions within the next 72 hours.