Here are three out of favor large caps that have consistently delivered strong cash returns for every dollar they've invested into operations.
Many investors rely on Return on Invested Capital or Return on Equity as indicators of quality management. We would like to suggest one that is known by many as a result of Joe Ponzio, author of F Wall Street and owner of Ponzio Capital: Cash Return on Invested Capital (CROIC). We believe it's a more accurate indicator of how well a company generates returns on capital invested into operations, as it's not based on earnings, which are known to be less than reliable. For more details, see What the Heck Is CROIC?
We've defined companies with excellent CROIC, as those with a five-year average CROIC above 15%. Each of these companies have a market cap above $5B and are undervalued according to a discounted cash flow valuation with a 15% discount rate.
We hope you'll use this list as a starting point for your analysis:
1. Cisco Systems Inc. (NASDAQ:CSCO)
Cisco is a world leader in the enterprise networking and communication space. It's currently in transition from routers and switches to a more cloud-oriented focus. There are concerns about the encroachment of new products and associated services in data centers, virtualization, video, collaboration and mobility (source).
It's no surprise that it's currently out of favor with Wall Street (source).
Over the past five years, it has maintained an impressive average Cash Return on Invested Capital of 49.10%. Being a huge corporation (market cap: $95.58B), that is no easy feat.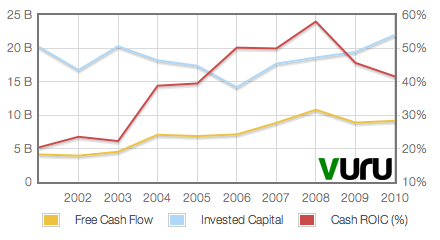 The best part of the story is that this behemoth is significantly undervalued.
Growth Price (DCF): $25.23
Current Price: $17.29
Margin of Safety: 45.94%
Additionally, our proprietary grading system, which has been fine-tuned to deliver strong results and provide accurate assessments of the quality of stocks, has given CSCO a very high grade.
CSCO's Vuru Grade: 87.96/100
2. Diamond Offshore Drilling (NYSE:DO)
Diamond is a global offshore oil and gas drilling contractor. Due to the BP (NYSE:BP) oil spill, like many other offshore drillers, Diamond suffered and its stock price dropped accordingly.
The good news is that the crisis has been resolved and offshore drilling is picking up again. The even better news is that DO's price still hasn't fully recovered from its drop and is still trading at a discount to its intrinsic value.
Growth Price (DCF): $99.68
Current Price: $75.46
Margin of Safety: 32.09%
Additionally, it has a Vuru Grade of 84.83/100.
Over the past five years, it has averaged a respectable 17.75% CROIC.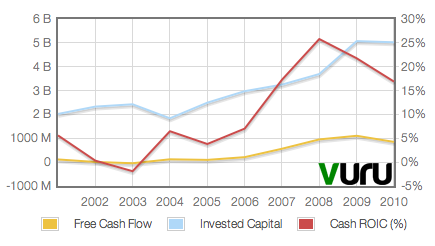 3. Eli Lilly and Company (NYSE:LLY)
Eli Lilly manufactures and sells pharmaceutical products. It's a major player in the space. It has achieved a solid five year average CROIC of 33.35%. See the chart below.
It looks like it's out of favor due to concerns around expiring patent-expiring products, like its No. 1 selling Zyprexa.
But, based on its current price, it looks like the market has overreacted. As stated in this article by David Trainer, investors have discounted LLY to a price that assumes a 54% drop in profits. That's far too extreme. Read David's article for more details.
Eli Lilly is significantly undervalued:
Growth Price (DCF): $77.17
Current Price: $37.33
Margin of Safety: 106.71%
Vuru Grade: 77.54/100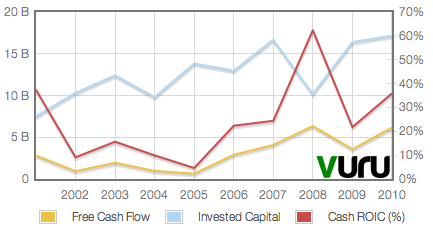 Disclosure: I have no positions in any stocks mentioned, and no plans to initiate any positions within the next 72 hours.