Intel (NASDAQ:INTC) stock is currently hot, with the chip giant reporting another record quarter in revenue and profits. Intel is a manufacturing powerhouse, with almost monopolistic levels of market share in computer microprocessors. Inevitably though, Intel seems to be dogged by the question "Where will the growth come from?" as Intel's powerful chips have traditionally been meant for bigger, less mobile computers which are increasingly viewed as obsolescent.
It seems every quarter Intel's stock price slows and then retracts after reporting, even as the dividends and earnings continue to rise. This has led many investors to avoid Intel, focusing on hot growth companies tied to more mobile devices such as Qualcomm (NASDAQ:QCOM) and ARM Holdings (NASDAQ:ARMH).
However, I believe growth is a very likely prospect at Intel, and I'd like to point out 4 areas where this growth will come from.
Servers
Solid State Drives (NYSE:SSD)

Emerging Market PCs

Mobile (yes mobile)
I'll be referencing Intel's recent 2011 conference call several times during this article for quotes.
Servers
This is probably the most well known area of growth for Intel. There's two parts to the internet; The computer asking for information (The Client) and the computer giving the information (The Server). We as consumers are most familiar with the client devices, such as Smartphones, tablets, laptops and PCs. However, as the world goes more mobile and more internet connected, their has to be a proportional increase in server computing to match the client computing.

Servers need performance much moreso than being concerned with attributes like power savings. This arena of computing is growing and growing fast, and Intel owns this space, currently with their Xeon chip.

Let's take a look at what Paul Otellini, CEO of Intel has to say here.
What we are witnessing is an explosion of computing devices that connect to the Internet and Intel is a big part of this trend. We not only participate through selling our products into these device categories, but we also profit from the wide array of products that we sell in the build-out of the Data Center capacity required to serve all of these devices.

During the quarter, we launched Sandy Bridge Xeon platforms for the single-socket market and early demand for this product has been very strong. Looking ahead, we are very bullish about our Data Center business and expect it to be a major growth driver for years to come.
How does this translate into money? Take a look at the year on year revenue. Here is what Otellini says
Revenue for the data center business was up 32% from a year ago with operating profit improving nearly 50%.

This is Intel's strength, continually driving operating efficiency through progressively more powerful chips. This should be an area of increasing revenue and profits for many years.
Solid State Drives

Now let's talk about Solid State Drives, known as SSDs. SSDs are essentially a really big flash drive that acts in place of the current magnetic hard drives. They store less information (for now), but since they don't have moving parts are vastly superior access times and power usage stats and are less prone to breakdown. This makes them ideal for both servers and mobile devices.

I'll go out on a limb here and say that Hard Drives are slowly transitioning to a legacy product, just like in my youth, magnetic Tape did (and I suppose punch cards before that). Here's a couple quotes
Overall the percentage of SSD sales in comparison to hard disk drives is still small. SSD sales are predicted to hit 15 million units by the end of this year, compared to 161 million hard disks sold just in the first quarter of 2011.
Strong demand for solid state drives (SSDs) from the enterprise market saw sales nearly double in 2010, according to the latest data.
Overall sales grew 93 per cent to $4.4bn and the outlook is just as strong in the first quarter of the year. While growth is slowing, the overall market will be worth over $7.2bn within the next three years.

Now take a wild guess who the leader in SSDs are? Intel, of course. They just announced their Third Generation SSDs. Typical with Intel, they are cheaper, faster and store more than the previous generation.

Performance, reliability upgrades enhance solid line of high-performing SSDs with up to $100 price drop over current Intel® X25-M SSD model.

This, in my opinion, is not only going to be a huge driver of revenue, but it's a real sleeper many in the financial world haven't noticed. Last year Western Digital's (NYSE:WDC) Revenue was 9.8 billion and Seagate's (NASDAQ:STX) will be about 11.4 billion. For the sake of argument, let's say Intel took even 1/3 of that revenue in today's dollars. It would take Intel's 43.6 billion and make it 51 billion, about a 20% increase!

This the area I am personally most excited about, but again, it's still a bit under the radar.
Emerging Market

Sure, we all know the PC market hasn't been real exciting in the US lately. But the rest of the world has plenty of catching up to do! Let's talk to Paul O again.
Like many of you, I noted that some of the third-party research firms issued reduced forecast for PCs in 2011. I want to be clear that our views differ from some of theirs. The PC business has evolved into a global industry that is approaching 400 million units this year. While some channels like PC sold through consumer retail outlets in mature markets have deep visibility, other channels, especially in emerging markets, are not well reflected in the forecast of third-party firms until shipments from Intel and its competitors have been reconciled.
In plain English, he's saying that the developed world is a mature PC market with easily estimated stats, but analysts are missing the fast growing emerging world as it is much harder to estimate. China alone will have tripled PC purchases since 2005 by next year.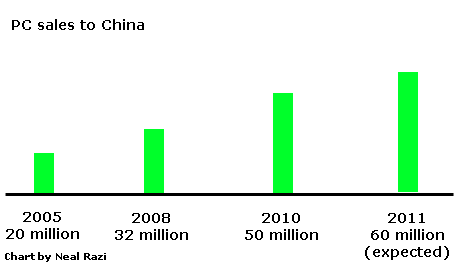 I think Otellini is right here, and that the rest of the world does have a lot of growth ahead. Growth in which that Intel will take part.

Mobile

Ah, and herein likes the thorn in Intel's side. Quarter after quarter we hear it "Intel is behind in the fastest growing area of computing: Mobile". And, well, they are. Let's just get it out of the way, there is no doubt Intel overlooked power saving chips while focusing on Operating Systems, Anti Virus software, battles with Nvidia (NASDAQ:NVDA) over integrated video and any other number of silly distractions.

Intel has always focused on power: on Moore's Law, building faster and faster microprocessors every year to stay ahead of rival AMD in the PC world. But with the advent of truly mobile computing over the last few years via smartphones and now tablets, Intel has been caught with their pants down. Surfing the internet doesn't really require a lot of performance. These chips need battery life instead, and this mindset snuck right by performance-minded Intel.

Intel, though, now actually gets this, spending a good chunk of their ample money to research new chips. Otellini again.
Secondly, we are increasing our forecast for CapEx spending this year. This reflects the widening of our process technology lead and the incremental opportunity that advantage will provide our business.

The increased CapEx is focused on both 22- and 14-nanometer capabilities. As we tailor our product plans to meet the needs of emerging notebook, tablet and phone usages, we see a need for more platform features to be integrated into the microprocessor taking advantage of our leading-edge silicon capability for power management, performance and smaller lighter devices.
This, to me, is a far better use of money than buying companies at huge premiums like McAfee or developing operating systems.

Let's turn to Otellini one more time.
We also launched Oak Trail just last week, which is a platform designed specifically for tablets. We are seeing very good design momentum with Oak Trail across multiple operating systems. Over the course of this year, Intel will have tablet platforms that run Windows, Android and MeeGo. (Note: MeeGo is a total waste of time and money)

We remain committed to success in the smartphone segment and we're actively working with a large number of handset manufacturers and carriers around the world on Medfield-based designs.
And after Oak Trail (which I don't expect a lot from)? Cedar Trail. The 32 nm Cedar Trail should use much less power than the 3 watt Oak Trail, and is being bandied about for several Android based devices.

The point here is that Intel now cares about Mobile. To me, this makes Intel's mobile chip entrance (and quite possibly dominance) a matter of time; it's a when, not if. Intel has the manufacturing expertise to compete with any company once they get in the game. If Intel can stick to their strength, and that is their ruthless pursuit of improving chips, they'll be very successful in this new mobile computing world.
Conclusion

Intel has been called a low or no growth company, but I believe for long term investors, that is just plainly untrue. There's plenty of current avenues of growth available, and Intel is historically extremely cheap, at 10.5X earnings. It's become almost a classic dog of the dow stock at this point, with a yield of 3.2% and people discounting growth from this cash generating, manufacturing juggernaut. They'll still be near term issues to work out, but with a good dividend, it's painless to wait for the turn around.

Disclosure: I am long INTC.