"Watch the downside, the upside will take care of itself" – Marty Gruss, former boss and mentor of John Paulson.
Once in a while you come across an investment whose prospects look very bleak, everything that could have gone wrong has gone wrong, and most investors have thrown in the towel. That is how you know the asset price may have reached a bottom. Lakes Entertainment (LACO) may be an investment that perfectly fits this category.
Business model:
Lakes Entertainment (Lakes) is a developer, financier and casino management company with historical emphasis on Native American-owned casinos. Lakes typically participates in the full-cycle of a casino development: lobbying local politicians to approve new casinos, leading a development project, and then running day-to-day operations for several years after the casino's opening. The company provides only a small contribution to the actual development costs: most projects are financed externally with Lakes retaining a junior unsecured debt portion.
Lakes usually generates revenues only after casinos start operating (interest on a loan is accrued until then). The government/tribal interests usually get paid first, followed by the project lender (senior debt), and, finally, Lakes' junior debt. The casino's actual profit is split between Lakes and the involved Native American tribe. Therefore, the company derives its revenue from three sources: interest payment on the debt advanced to the Native American tribe, casino management fees, and profit sharing.
One can think of each investment as a convertible preferred stock whose face value represents the initial investment, the coupon - interest payments and management fees - and an "equity kicker" - profit sharing. Lakes usually allows a Native American tribe to buy out a casino after a few years of operations, for a multiple of the prior year's net income.
Recent history:
Lakes has been around since 1998, when it was spun off by Grand Casinos, Inc. Due to its cyclical business, the company did best in 1998-2000 and 2005-2008, and worst in 2002-2003 and 2009-2010--at the tail-end of the last two recessions. The business is very volatile as it depends usually only on a handful of projects – the stock quickly appreciates when a new contract is signed and collapses when one of its casinos runs into difficulties.
click to enlarge images
Fig 1: LACO stock price: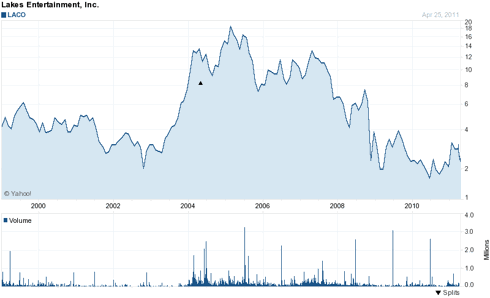 Today, Lakes actively manages only two casinos: Four Winds in Michigan, 75 miles east of Chicago, and Red Hawk in CA, 30 miles east of Sacramento. Both casinos are mid-to-large size with over 3,000 and 2,000 slot machines respectively, and over 60 gaming tables. The target customers are mostly locals representing the lower-income/working class,
The management contract with Four Winds is set to expire in August 2012 while the Red Hawk contract will last until December 2015.
Lakes is actively pursuing several projects. Most promising is Jamul Casino 20 miles east of San Diego, about half the size of the two existing casinos. The project has been delayed several times due to various regulatory hurdles, and Lakes puts a 50/50% chance of the casino opening in January 2016. Lakes believes that the project will eventually succeed but may be delayed further.
In addition, Lakes has a 7% option to participate in development and management of two Ohio casinos in Cincinnati and Cleveland (more about this project in the "catalysts" section). Lakes already contributed $2.4 million to this project.
Lakes has some smaller interests in a Vicksburg casino in MS, but that project is less likely to proceed according to Lakes' own filings.
Why the price is so depressed:
Lakes' business is surrounded by uncertainty and prospects look grim today. Four Winds Casino is doing well, but its contract is set to expire next year. Red Hawk Casino is struggling due to the local depressed economy and competition from nearby casinos. Lakes has already agreed to deferral of principal payment on the Read Hawk's loan, and is currently receiving only interest and casino management fees.
In the worst case scenario, with Red Hawk going bankrupt and Four Wind's casino contract expiring, Lakes may not have any sources of revenue in the second half of 2012.
Finally, Lakes CEO Lyle Berman is 69 years old and may want to retire soon after a long and distinguished career. The company seems to have its best days well behind it.
Valuation model:
After even a cursory glance at a balance sheet, a very different picture quickly emerges. Lakes has over $45 million in free cash and equivalents and no long term debt, and trades at a fraction (0.56) of its book value.
Lakes marks all its investments according to two models: "fair value" for not yet operating casinos and "held-to-maturity" for operating ones. The fair value approach estimated future cash flows discounted for interest rates and probability of repayments.
When casinos are operating, all investments are carried at face value adjusted for impairment. The loans that generate interest are "notes receivable" while the future cash flow from management fees are "intangible assets".
Lakes and its auditor give a very detailed description of their fair-value and impairment model in their 2010 10-K statement, including discount rates, assigned probability of repayment, and potential impact of further delays. One may question their models' assumptions, but not their transparency.
Let's take a look at Net Working Capital discounting various current receivables by 25% according to Benjamin Graham's "net-net" formula:
Table 1: Working capital (in millions):

Net working capital and cash represents over half of Lakes' market cap.
I developed two scenarios to evaluate long-term assets: a base scenario where I take Lakes models at "face value", and an adverse scenario, where I assume that any uncertain investment will be written-down or liquidated at fire-sale price.
Long-term assets are mostly notes receivables (loans "held to maturity"): $30.9 million representing loans given to Red Hawk casino which is currently capable of paying only interest. In the baseline scenario I will use auditor's assumptions, which already impaired $16.7 million in 2010. In the adverse scenario, I will assume a casino bankruptcy with a 33% recovery rate of an already-impaired face value and worthless intangible assets representing management fees. Lakes' Red Hawk loan is pari passu with other unsecured loans. (According to Moody's, senior unsecured recovery rate is 47% for hospitality industry overall and 45% for debtors that missed a principal payment. It's worth noting that all receivables are already significantly impaired – by over $16 million in 2010).
Since Four Winds Casino seems to be doing well, I will not impair any long-term assets in the adverse scenario.
In an adverse scenario, we assume that the Jamul project will never happen, but the land held for development and third-party payables will be recoverable at 50% of the current balance sheet amounts:
Table 2: Long term assets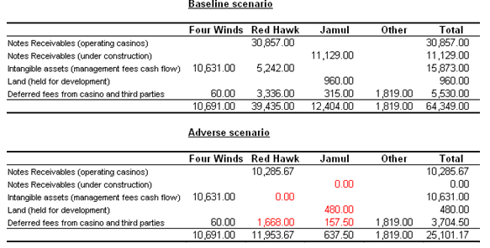 The adjusted book value under an adverse scenario is $33.0 + $25.1 = $58.1 million (market cap is $61.3 million on 04/25/2011).
Catalysts:
Lakes is a minority investor in two Ohio casinos planned in Cincinnati and Cleveland in 2013. It has a 7% overall option on a project co-managed by Rock Ohio Ventures LLC (70%, or 63% if the option is exercised) and Caesar's Entertainment (30%). This option is in proportion of Lakes' expected investment contribution of probably about $15 million (7% of $213 million).
Lakes successfully teamed-up with Penn Ventures LLC to pass an initiative in a referendum in October 2009 authorizing casino gaming on non-Native American land. Unfortunately, the newly elected Ohio governor John Kasich is applying pressure to amend the agreement in order to collect a higher up-from fees or a higher commercial tax (already set at 33% in Ohio vs. 18% nationwide average).The Cleveland will have 2,100 slot machines and 65 table games and Cincinnati will have 2,300 slot machines and 70 table games.
The Horseshoe in Hammond Indiana, a Caesar's property of a similar size, last year generated $558 million in gambling revenue. I estimated that Lakes can expect its 7% share to produce up to $81 million a year in hypothetical revenue from two Ohio casinos that could produce $1.26 billion in revenue overall. This may not compare directly to paltry $26 and $24 million revenues Lakes generated the last two years because Lakes recognizes part of the revenue indirectly by increasing its balance sheet items.
Conclusions:
Lakes Entertainment may be a compelling investment for a patient investor who can ignore bleak near term business fundamentals and appreciate the fact that the company is trading at its tangible book value, adjusted for very adverse conditions. With potential catalysts of renewed work on Jamul Casino and an option exercise on the Ohio casinos, the upside may be tremendous.
Disclosure: I am long LACO.