After the short holiday week, the final week in April was much more eventful in the U.S. markets: Lots of economic data, a press conference with Fed Chairman Bernanke following the FOMC meeting, another slide in the U.S. Dollar index, extended gains in risk assets, and more indifference in the bond market. Let's get into the numbers and then look at where we might be going in May and beyond.

Week in Review

Stocks: The major U.S. indexes posted another week of solid gains, with most advancing in the 2% range or better. The NDX was a bit of a laggard, gaining only 1.1%, as it was held back by the rebalancing of the index as well as poorly received earnings outlooks from the likes of Microsoft (NASDAQ:MSFT) and Research in Motion (RIMM). The Dow transports powered ahead with a better than 4% gain to confirm the move in the Industrials. Volume increased from the holiday week but was nothing spectacular. S&P sector leadership looked a bit odd, with healthcare out in front followed by industrials and utilities, and with materials and tech bringing up the rear in something of a reversal from the prior week. Every sector, however, gained at least 1%. Financials managed to put in a weak rally attempt on light volume, but overall continued to struggle. In foreign stock markets, the MSCI EAFE index gained 2%. But the emerging markets posted a small loss, held back by weakness in the BRICs. The Sensex 30 in Bombay fell more than 2% while the Shanghai Composite dropped more than 3%.

Bonds: Treasury yields fell across the curve following the FOMC, but the curve steepened as longer maturities the smallest moves. The benchmark 10 year closed the week under 3.3%. It was a good week all around for bond investors, as nearly all sectors were marked up to some degree.

Commodities: The CRB index picked up more ground last week, rising another 0.85%, but the internals show groups moving in different directions. Energy and precious metals continue to rally, with gold reaching another new high, natural gas up another 5.5% and WTI closing just under $114. Food commodities and copper went the other way, the latter falling 5.4%.

Currencies: The U.S. Dollar index fell every day last week, moving below 73 before recovering slightly to finish at 73.04. In his comments, Fed Chairman Bernanke stated support for a strong Dollar, but when questioned about its recent weakness, he expressed the view that it was returned to what he seems to view as an appropriate level after rising on safe haven buying during the financial crisis. In other words, he sees no problem here. The markets took this as a green light to continue selling USD, even though the Fed indicated that they saw an end to ZIRP coming.

The Week Ahead

Stocks: We are now well into earnings season with two thirds of the S&P500 having reported, 74% of them beating estimates. A solid performance by almost any measure, which has stocks moving up again after a two month consolidation. We have now seen four significant corrective phases since the March 2009 bottom by my count (excluding Oct. 2009 and Nov. 2010). Each has been followed by a strong rally. A number of commentators have remarked that stocks are "due" for a significant correction, apparently for reasons that amount to stocks having come too far. A number recommend selling in May and going away on this basis. I'm not so sure, although to be fair, market internals and some of the technical indicators do give us cause for concern.

Stocks have come a long way since the extraordinary financial panic in which the system seized up, liquidity vanished, and assets were being dumped into illiquid markets. Even so, the S&P500 P/E ratio based on the most recent quarter reported earnings in the mid 16s. Hardly nosebleed territory, and I don't see bubbles in any of the stock sectors. To be sure, there may be individual companies with absurd valuations, but that is pretty much always going to be the case. This argument that we are "due" for a serious correction is really a variant of the gambler's fallacy dressed in the guise of mean reversion. Does it overcome the positive earnings trend, or upturns in industrial production, capacity utilization, commercial bank C&I lending, or any number of other economic data series? As always, time will tell, but it's hard to make a case that the market is outlandishly overpriced against the fundamentals.
Click to enlarge: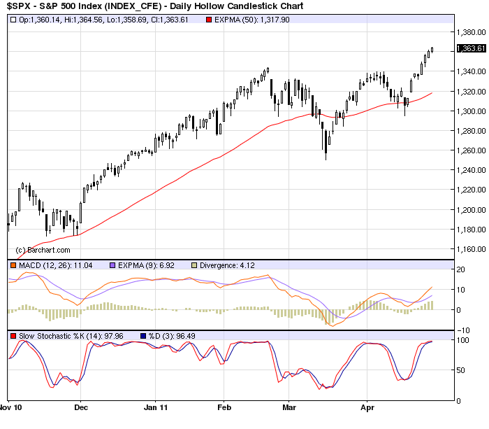 Click to enlarge

Bonds: Yields are surprisingly low and trending down. The rates for 30 year mortgages have slipped back under 5%. Demand at Treasury auctions continues to be robust. Corporate issues continue to sell at low premiums - particularly the lower grades. Great for new borrowers and existing bond holders but not so hot for lenders or new bond investors. This remains a difficult environment for income portfolios, but I think you have to stay with normal fixed income allocations as appropriate. We just don't have any signals that there will be an imminent inflationary threat, though I do think it would be prudent to keep durations on the low side.
Click to enlarge: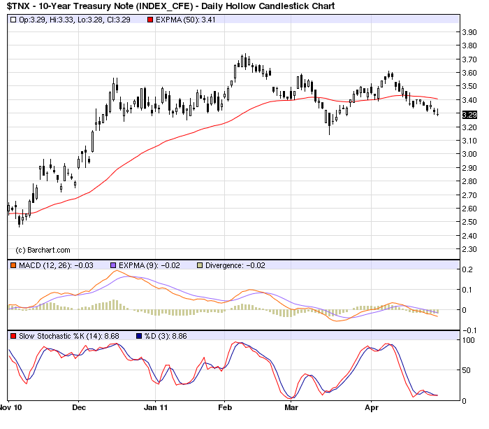 Click to enlarge

Commodities: Another week of losses in the U.S. Dollar has kept the commodity rally going. In my instablog post Thursday I remarked that the rally looks to be on its last legs, and that view still stands, though I don't expect a reversal this week. If we take out energy and precious metals, it has already ended. Those commodities aren't trading on fundamentals however, so it's difficult to say how or when the end will come. But commodity prices - unlike stocks - are self-correcting. My suspicion is that Dollar index support at 72 will be the catalyst. One area that I do like as a short term trade, as noted last week, is natural gas.
Click to enlarge: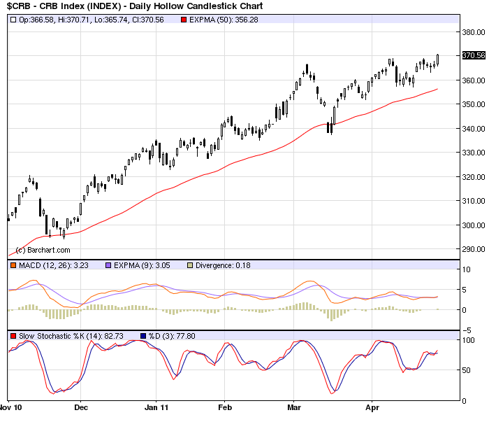 Click to enlarge

Currencies: The U.S. Dollar index has now declined in 13 of the last 16 weeks and is off 7.6% in 2011. It is very probable that it will go to the next support level in the 72 area as early as this week. Major support levels tend act as a sort of magnet for markets; when they get close, they almost invariably hit those levels. This is likely to produce more short term gains for commodities and stocks, but we will be watching what happens beyond that point. If the Dollar breaks through that zone and keeps going down, all bets are off, and we are likely to face significant headwinds in the U.S. economy from high energy prices.
Click to enlarge: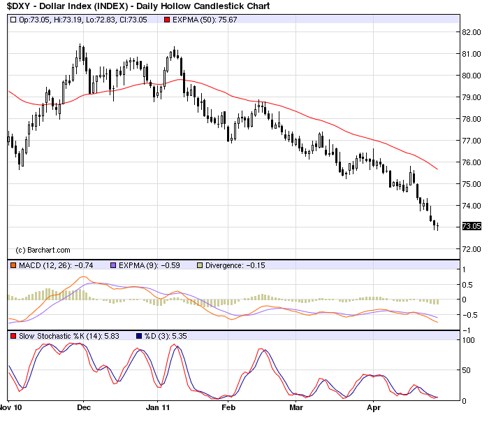 Click to enlarge

Good luck, and happy trading.

Disclosure: I have no positions in any stocks mentioned, and no plans to initiate any positions within the next 72 hours.