For obvious reasons, it's better to own the disrupter than the disrupted. Take Apple (NASDAQ:AAPL), a company which has been upsetting Research In Motion's (RIMM) blackberry cart. The latest shock came when RIMM, in a surprise announcement, drastically lowered its guidance range for next quarter from $1.47-$1.55 to $1.30-$1.37 because of tepid demand for its "aging" high end line of smart phones ("aging" being the word RIMM used in the conference call). RIMM promised that, once new products come on line, sales would be back on track.
Pardon my skepticism, but RIMM hasn't been on track for quite a while. The company was once the leader in smartphones. Since Apple entered RIMM's market in 2007 with the launch of the iPhone, RIMM's share price has dropped from $126 to $48. Against probably the greatest competitor on the planet, RIMM had to cut the prices of its phones and increase marketing costs, squeezing operating margins. Forced to respond to Apple's iPad, RIMM rushed into tablets with an inferior product.
We nailed this one, warning about RIMM's weak future. RIMM has been earning less and less on each phone it's sold. That's not necessarily the kiss of death. Lots of companies do quite well despite dropping prices simply by increasing sales volumes. That strategy doesn't work against a fierce competitor like Apple. Apple has been increasing the amount of money it makes on every device it sells, and has been doing that in spades. It's a disruptive competitor, one that has kept RIMM trailing the whole way. That is a death rattle for RIMM.
Let's look at the metric that I've used to forecast RIMM's demise, operating income per device, or OPD. OPD is simply operating income divided by the number of devices sold. In RIMM's case, it's the company's smart phones; with Apple, OPD covers iPhones, iPads, iPods, and computers. RIMM has seen its earnings per phone drop while Apple's have been skyrocketing.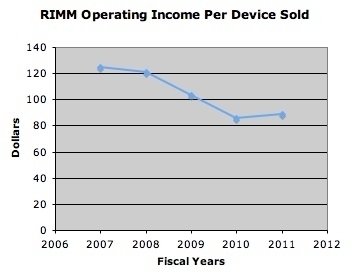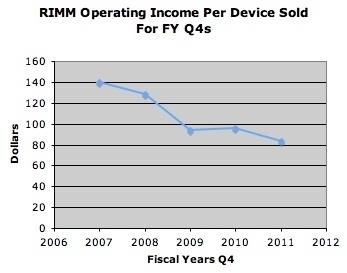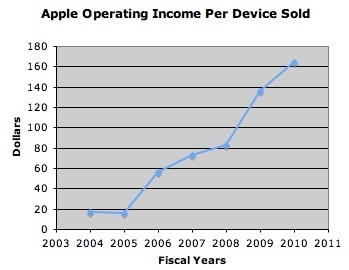 RIMM will deliver a horrible operating income per device number for the upcoming quarter. That's guaranteed by the company's weak guidance, indicating lower cost phones predominated. In contrast, Apple has seen its operating income per device accelerate; last quarter, OPD reached $219 a device, far higher than even the 2010 figures and far higher than any other quarter in its history. RIMM is doomed to dwindle as Apple roars ahead.


Disclosure: I am long AAPL.