As conservative investors we scrutinize our potential investments very, very closely. We aren't generally looking to make a 'killing' on a given investment---but more likely we are hoping to garner a total return of at least 7-10%-- NOT a quick 30, 40 or 50%. Our investments are mainly preferred stocks, exchange traded debt issues, a limited number of REITs and on a rare occasion, a common stock.

When we venture into the land of REITs we are looking for not only a fair distribution, but for a reasonable capital gain in the months or years ahead. Obviously we want to be paid for the risk we take when buying a REIT, so we are looking for a 'story'-- something special about a given REIT that can potentially give it a boost, even in a flat market. We are not looking to buy the same old junky REIT that looks just like a dozen others. Unfortunately, most often we find red flags. The red flags are not necessarily something bad -- rather they are indications of something negative in the year ahead.

Recently we wrote about Whitestone (NYSEMKT:WSR)-- a smallish Mixed Use REIT with a higher than normal yield with a story we liked -- one that could provide a decent capital gain in the next 18 months. While there could be some acquisition related short term indigestion with WSR, we think the company has a story that we are looking for in a REIT we buy.

Our research more than likely turns up the cookie cutter REITs -- those with very limited upside and more than enough downside potential-- and it is 2 of those, in the Retail REIT sector, we wish to write about today.

The first company we want to cover is Kite Realty Group (NYSE:KRG). Kite most recently reported financials in February for the quarter and year ending 12/31/2010. What did the company report? Funds From Operations (FFO) of 11 cents for the quarter and 42 cents for the year versus 12 cents and 43 cents respectively for 2009. Where's the recovery?? I thought we had an economic recovery going in the U.S.? Total revenues for the quarter and year were $26 million and $101 million versus $29 and $115 million. RED FLAG: This is a meaningful drop in revenue. The company did increase occupancy by 2% overall and this is a positive.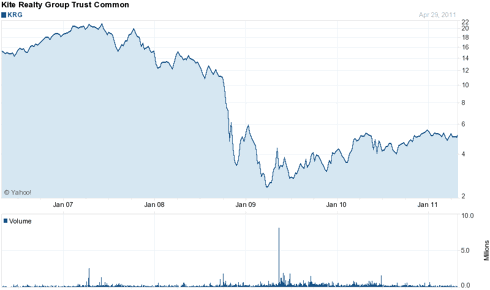 On the financing end Kite issued 2.8 million shares of 8 1/4% preferred shares and used the most of the proceeds to pay off a term loan which was coming due in July, 2011. The term loan had an adjusted interest rate of 5.92%. (Wow -- nothing gained on that deal!)

Kite's 5 largest tenants (based on space leased) are Lowe's (NYSE:LOW), Target (NYSE:TGT), Wal-Mart (NYSE:WMT), Publix and Federated Department Stores. If I were negotiating leases, I could think of several companies I wouldn't want to try to negotiate with in a tough economy, and some of these would lead the list.

Kite has a number of properties under renovation as well as a couple of properties under construction. The company has recently acquired a couple of properties for which it paid a bit over $60/SF, which should give the company a bit of upside as this is an attractive purchase price.

Additionally, Kite has now made a forecast for 2011 of FFO in the 40-45 cent range.

To us the most attractive item about KRG is the 6 cent per quarter distribution (4.6%), however this does not outweigh the minefield that the company must walk in the year ahead, while trying to maintain the payout. If we owned KRG now we would be watching to make sure that the business moves ahead -- not backwards. One thing is for certain-- if we didn't own it we wouldn't buy it. There simply is no real new story here--just the same old stuff.


Next is Cedar Shopping Centers (NYSE:CDR). Cedar is a REIT that owns generally smaller properties which are almost all anchored by grocery or drug stores. Cedar is similar to Kite above in that for every dollar you invested in 2006 you now have around 40 or 50 cents (not counting dividends received).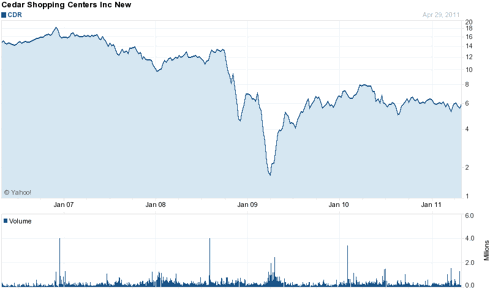 A somewhat unique item with CDR is that it had 28 properties (out of 111) which were for sale (or have recently been sold) and large writeoffs taken on the properties.

Another item which CDR managed to accomplish in 2010 was having a negative FFO due to discontinued operations and related writedowns.

As you might expect, the company has had no growth in revenues over the last 3 years, while at the same time interest expense continues to grow, as does the number of common shares outstanding. The company had almost 50% more shares outstanding at 12/31/2010 as compared to 12/31/2008. The company also sold some preferred shares during 2010 (at 8 7/8%), nearly doubling the number of shares outstanding. Over $150 million worth of common and preferred shares have been sold in 2009 and 2010, yet the company still only has a market cap of $397 million.

Interestingly, the company paid out $22 million in distributions to common holders in 2010 and over $9 million to the preferred holders. Good thing the company was floating new shares like crazy. What is going to happen if it can't get its act together relatively soon? Will it float more shares of common? More shares of 8 7/8% preferred shares?

The company is now paying a 9 cents/quarter common distribution (a whopping 6.1% yield). Don't be fooled into thinking this distribution reflects strength.

CDR has been doing some joint ventures with RioCan (Canada's largest REIT), which is the one positive item we can find with CDR. We are not sure what the longer term prospect is for CDR, unless someone whips the company into shape. The grocery business is one tough business to have as your prime tenant.

What is new or different here? Nothing much, although the RioCan joint ventures may provide some lift.

While as conservative investors we wouldn't touch either of these companies, a buyer of more speculative issues may find a story here -- a good yield while waiting for the company to get its act together. Of course, one must consider the implications of the economy taking a turn for the worse.

We know that we haven't touched on all the factors affecting these REITs, but for a conservative investor we think we have touched on enough items.

Both CDR and KRG will be reporting financials in the 1st week of May and we look forward to see their progress (or lack thereof).
We
believe
there
are
a
number
of
solid
Retail
REITs
out
there
that
fit
our
conservative
style
quite
well
,
such
as
National
Retail
Properties
(NYSE:
NNN
)
or
Realty
Income
(NYSE:
O
), and hope to
address

these

companies

in

a

future

article

.