Equinix (NASDAQ:EQIX) reported Q1 results that exceeded both consensus and company's guidance, announced several new expansions, and an increased guidance for the year.
Let's go through some of the highlights:
Revenues were $363.0 million, a 5% increase over the previous quarter and a 46% increase over the same quarter of last year, ahead of consensus of $355 million;
Adjusted EBITDA reached $167.3 million, a 12% increase over the previous quarter and a 43% increase over the same quarter last year, also beating Street forecasts of $ 152 million;
The company increased 2011 annual revenue guidance to greater than $1,525.0 million (from > $1,500 million) and increased 2011 adjusted EBITDA guidance to greater than $685.0 million (from > $675 million);
Net income for the first quarter was $25.1 million, or $0.54 per share ($0.53 diluted), well ahead of analysts consensus;
Strong cabinet additions in all markets [over 2,000 in North America (combined company, including about 350 cabinets from former Switch and Data locations), about 900 cabinets in Europe and 330 cabinets in Asia Pacific];
Healthy bookings in all regions, firm pricing;
Expansions announced in the New York metropolitan area, through a new build, and plans to expand existing IBX data centers in Chicago, Ill., and Frankfurt, Germany.
Equinix also set the target to exceed $2.0 billion in annual revenues in 2013.
The company issued guidance for Q2. Equinix expects revenues to be in the range of $376.0 to $378.0 million, with cash gross margins expected to be approximately 65%. Adjusted EBITDA is forecasted between $166.0 and $170.0 million.
As we quickly mentioned, the company also increased yearly guidance – or, better, increased the floor that it set for 2011, as total revenues are now expected to be greater than $1,525.0 million, with cash gross margins expected to range between 65% and 66%.
We believe that even this guidance might be conservative. Assuming Equinix delivers about $ 377 million in Q2 (mid point of company's Q2 guidance), revenues for the first half of 2011 would be about $ 740 million. To exceed the floor of its guidance, Equinix would need to achieve revenues of $ 785 million in 2H 2011, or, said in a different way, to report sales of $ 387 million in Q3 and $ 398 million in Q4, a sequential increase of just about $10 million per quarter, while the company has already delivered $ 17,8 million in Q1 and is forecasting $ 14 million in Q2. We believe Equinix management may be back to guide and beat, assuming no major road bump going forward (although we realize there's no high end in the company's yearly guidance, so that it could be considered a stretch to call it a beat).
Even the target set for 2013 (to exceed $2.0 billion in annual revenues) sounds like a nice round target, but fully achievable, as it would need Equinix to deliver roughly a 15% revenue increase in the next two years, something we believe is organically possible, even excluding any contribution from acquisitions (ALOG alone might bring additional revenues of about $50-60 million per year).
A quick look at revenue and adjusted EBITDA performance (click on the charts to enlarge):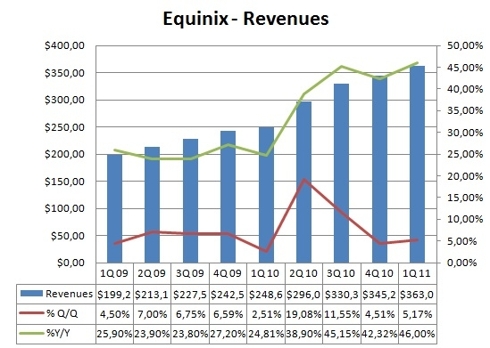 Click to enlarge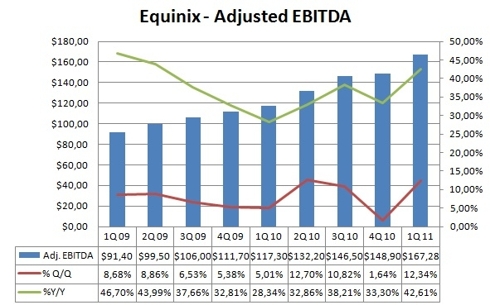 Click to enlarge
Equinix also increased CapEx guidance from $400-500 million to $ 615-655 million, to accommodate need for more capacity (healthy expansion CapEx). As a side effect, we believe that the company will not be able to fully fund its 2011 CapEx needs from cash flow.
The Switch and Data integration was one of the biggest concerns after the Q3 2010 revenue warning that caused a 26% free fall in stock price in a single session (by the way, the stock is now back to three digits as it was trading before the small revenue miss was pre-announced).
In Q1 2011, the former Switch and Data assets delivered a solid performance, adding about 350 cabinets, the first incremental growth since the Q2 2010 acquisition: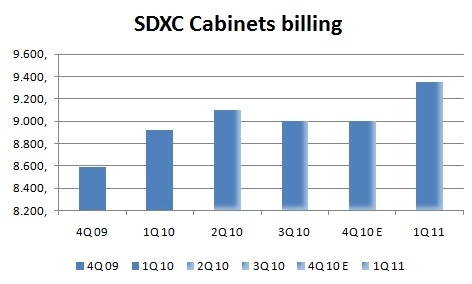 On average, analysts reacted positively to Equinix's numbers, with a few of them upgrading the company and/or the target price. Here is a short summary, taken from American Banking News:
Kaufman Brothers analysts raised their price target on shares of Equinix, Inc. from $83.00 to $85.00. They now have a "hold" rating on the stock.

RBC Capital analysts raised their price target on shares of Equinix, Inc. from $105.00 to $115.00. They now have an "outperform" rating on the stock.

Stifel Nicolaus analysts raised their price target on shares of Equinix, Inc. from $110.00 to $120.00. They now have a "buy" rating on the stock.

Piper Jaffray analysts raised their price target on shares of Equinix, Inc. from $112.00 to $115.00. They now have an "overweight" rating on the stock.
A couple of notes related to the announced expansions. New York metro doesn't really come as a surprise to those following the company. Back in May 2010, Data Center Knowledge reported about Equinix leasing an additional property close to its Secaucus facility. Recent reports from Citi also confirmed that the existing data center was approaching full occupancy, a sign of the enormous success obtained especially in the financial vertical.
Equinix's intention to expand the Chicago data center in Elk Grove (company owned) is also a very positive sign, as the facility was supposed to rank among the few "slow movers" in Equinix's portfolio. The data center was originally opened in Q4 2007, with the first phase accommodating 2,500 cabinets. Afterwords, Equinix expanded downtown both in Q3 2009 and Q1 2010, as financial customers seemed to prefer that specific facility location, hosted in a building owned by Digital Trust (NYSE:DLR). The forecasted expansion of CH3 is both a confirmation that the facility has finally attracted a good number of customers, and a positive cost-wise, as the second phase will be relatively cheaper to build.
Having reported excellent top line growth (even excluding some one-time benefits), solid metrics, robust cabinet adds, good progress integrating Switch and Data assets, slightly improved churn and with new expansions announced and increased 2011 guidance, Equinix might now be in a position to restore investors confidence into its strong momentum going forward.
Disclosure: I am long EQIX.