Last week's bullish market action keyed off the positive response of stocks like Caterpillar (NYSE:CAT) and Goodyear (NYSE:GT) to better than expected top-line revenue gains. This reinforces our belief that a further extension of the bull market of 2009-2011 is dependent upon companies reporting earnings gains based on revenue growth not cost-cutting. Companies that report top-line revenue growth and raise guidance for analysts will be handsomely rewarded. However, companies that miss on the revenue side, even while earnings are robust or play a more conservative tune going forward will be punished.
Investors want dynamic sales growth going forward, anything less is already priced in.
The 9 companies listed below are due to report earnings early this week. It is important to look beyond the E.P.S. comparisons and focus on revenue vs. prior year and revenue vs. analyst's expectations. Company guidance is also important as the market has already rallied more than 100% from the March 2009 lows and the skeptics are ready to use any excuse to exit the party.
If revenue disappoints or guidance is tepid then sell or avoid that stock. If on the other hand revenue beats estimates and guidance is up-beat hang on as with AAPL, IBM, INTC, CAT and GT and look to add to positions on pullbacks.
Tuesday
Comcast Corporation (NASDAQ:CMCSA): $26.23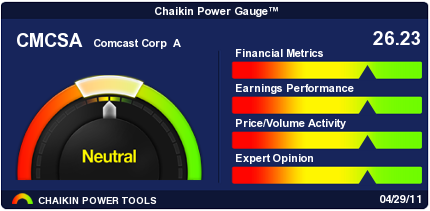 Driven by surging ad sales and high demand for value focused packages, Comcast beat expectations handily when it reported 4th quarter 2010 earnings as revenues were up 7%. The results were well received as the stock continued to make 52-week highs. Our 20 factor power gauge shows overall bullish numbers but the rating is currently neutral based on money flow trends.
However, momentum is on CMCSA's side – the company is expected to benefit from the NBC Universal (NYSE:GE) deal and a price increase for its offerings. If revenues come in at or above $11.4 billion, watch for the stock to barrel ahead. On the other hand, if the company misses even slightly, it is vulnerable short term as the price is over-extended.
Cognizant Technology Solutions (NASDAQ:CTSH): $82.89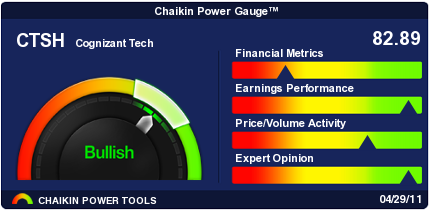 CTSH's bullish rating is driven by consistently strong earnings performance and a very bullish expert opinions metric. Positive money flow activity has contributed to bullish price/volume activity. The company has been one of the leaders in the outsourcing boom and we saw earnings as well as revenue beat expectations in 2010. For the 1st quarter and full year 2011, Cognizant guidance suggests continued sequential growth exceeding analyst expectations again. Shares are at an all-time high; expect some profit taking when the company reports – but if revenue is above $1.36 billion, look for an opportunity to get in because management continues to deliver what it promises.
Dole Food Company Inc (NYSE:DOLE): $13.81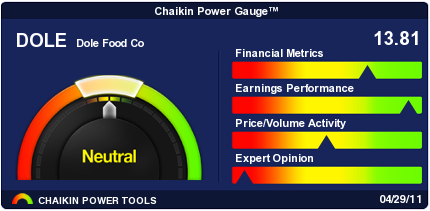 Hurt by rising costs in its fresh fruit segment, Dole Food Co. reported a loss during its 2010 4th quarter, even though revenues were up by 2%. Analysts revised their expectations for the current quarter downwards contributing to a bearish expert opinions rating on the power gauge, resulting in a neutral rating overall. After posting a 50% rise in the Nov-Jan time frame, shares have traded sideways since. Institutional investors seem to want to verify the company's direction before they get off the fence. Look for higher revenues, controlled costs and a Q1 profit or a lower sequential loss or stay on the sidelines on this stock. If the company misses again, shares may test or break recent lows at $12.77.
First Solar Inc (NASDAQ:FSLR): $139.57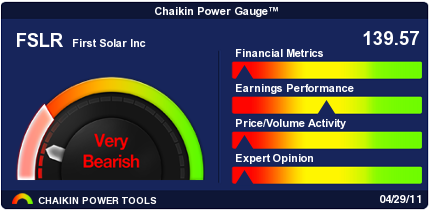 After a 60% rally that started in June 2010 and lasted thru February, FSLR shares have dropped 18% primarily attributing to a 5% revenue drop and higher operating costs, even as the company posted a 10% increase in profits. The Solar Industry is currently out of favor after gains in the 2nd half of 2010. Bearish analyst sentiment, a very high short ratio and insider selling including a significant sale by the company's chairman have contributed to a very bearish expert opinions metric.
To add to this, the company has named a new CFO and its head of operations has departed. Currently very negative price/volume activity strengthens a very bearish power gauge rating. If the company posts increased revenue while curbing costs, it could trigger short covering. Keep a very close eye on this earnings report, if you are short FSLR, with revenue as the key metric.
Mastercard Incorporated (NYSE:MA): $275.24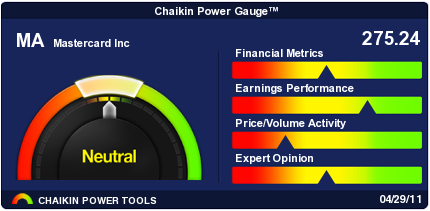 During the 4th quarter of 2010, Mastercard reported a 41% earnings increase and a 10% revenue increase driven by growth in international consumer card use and a rebound in business travel within the US. This contributes to a bullish earnings performance metric on the power gauge. However, federal regulations including debit fee caps, if imposed in full force, stand to hurt the company's top line going forward and although the company plans to minimize the impact and take actions to make up for lost revenue, much is still unknown. Analysts have mixed sentiment about the company's future earnings, which is evident in the neutral expert opinions metric. The recent expansion of its share repurchase program along with the announcement of a regular quarterly dividend shows a management confident in the company's future. Shares are near 52-week highs. Look for post-earnings profit-taking to occur unless both the top and bottom line are robust.
Pfizer Inc (NYSE:PFE): $20.96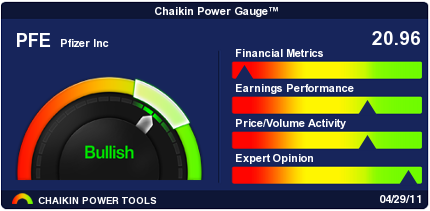 Pfizer, along with other pharmaceutical companies continues to face increased pressure from the weak global economy, pricing pressures from European governments and the U.S healthcare overhaul. Additionally, Lipitor's patent protection expires later this year and the company must find ways to fill any void in revenue. The bullish power gauge rating is driven by a low P/E ratio on projected 2011 earnings, positive money fow activity and bullish expert opinions. Revenue estimates are $16.6 billion for this quarter but pay close attention to an update on cost cutting efforts, plans to efficiently execute the King Pharmaceuticals acquisition and pipeline for 2012. Any negative guidance could trigger profit taking.
Wednesday
Kellogg Company (NYSE:K): $57.29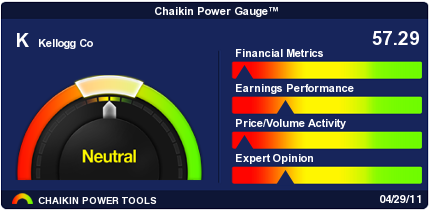 Kellogg expects to grow revenue by 3% to 4% driven by price increases and cost cuts as it hopes that to minimize the higher cost of grains that continues into 2011. The underlying factors in the power gauge model are bearish but since the stock is in an uptrend making higher highs the rating is automatically adjusted to neutral. The company announced plans to raise its already healthy dividend by 6% in Q3. Watch for higher highs if revenue exceeds already raised expectations of $3.4B, but run for the hills if revenue disappoints.
Time Warner Inc (NYSE:TWX): $37.86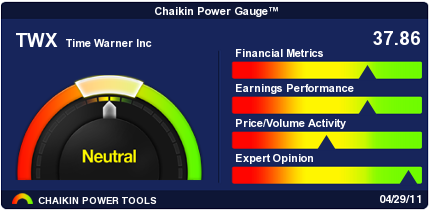 Although the 20 factor power gauge rating shows mostly bullish numbers, neutral money flow trends have pushed the power gauge to neutral. Revenues rose 8% in the 4th quarter 2010 driven by higher ad sales and continued strength of its film studio and television properties, including CNN, HBO and TNT – HBO driving demand in Europe as well. Earnings and revenues both beat expectations leading to a very bullish expert opinions metric. TWX announced a $5B buyback and raised its dividend by 11%. If 1st quarter revenue registers $6.47B or above, expect the rally to continue with 40 – 41 as a target.
Vonage Holdings Corporation (NYSE:VG): $5.16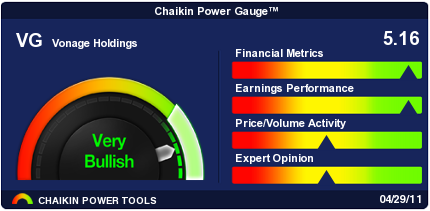 Although Vonage posted a 4th quarter 2010 loss, shares jumped 20% on news that the company added subscribers for the first time in two years while the churn decreased from 2.8% to 2.4% YOY. The bullish power gauge rating is driven by strong financial metrics and an improved earnings performance rating. VG's successful debt restructuring in the 4th quarter has improved the company's balance sheet while strong cash flow, improved customer loyalty and recent subscriber growth round out a bullish picture. Weak revenue growth this quarter might be a problem for the stock unless the company guides analyst revenue expectations higher for the 2nd half and/or the company continues to add net new subscribers.
* Our rating is based on a 20-factor model incorporating financial metrics, earnings performance, price/volume activity and expert opinions to determine a stock's potential over the next 3-6 months.
For more in-depth analysis on these stocks, please click here.
Disclosure: I have no positions in any stocks mentioned, and no plans to initiate any positions within the next 72 hours.