When Benjamin Graham, the father of value investing philosophy, passed away in 1976, Warren Buffett wrote this about Graham's teachings:
In an area where much looks foolish within weeks or months after publication, Ben's principles have remained sound – their value often enhanced and better understood in the wake of financial storms that demolished flimsier intellectual structures. His counsel of soundness brought unfailing rewards to his followers – even to those with natural abilities inferior to more gifted practitioners who stumbled while following counsels of brilliance or fashion.
Mr. Buffett's words remain undeniably true today. Investing is most intelligent when it is most businesslike, and investors who follow Graham's principles will continue to reap rewards. In The Intelligent Investor, Benjamin Graham sets forth the principles that form the foundation of "value investing." In this article, I will attempt to explain Graham's timeless principles and also provide an analysis of Realty Income (NYSE:O).
Because a guiding rule of value investing is first and foremost preservation of principal, the margin of safety is an important concept for making investment choices. Benjamin Graham was aware that prices fluctuate based on emotions, interest rates, news, and outside forces. To protect the investor, an adequate "margin of safety" is necessary. All of the following elements can contribute decisively to strengthening the robustness of the "margin of safety":
Characteristics That Protect Shareholders and Position the Company to Create Value
Realty Income recently announced its most recent first quarter 2011 results. Included in these results, Realty Income has again rewarded its shareholders with some exceptional results. To start, the company's revenue increased 18.4% to $97.8 million (as compared to $82.6 million in 2010). FFO increased 21.2% to $56.6 million and FFO per share increased by 6.7% to $0.48. AFFO per share increased by 6.5% to $.49. Net income available to common stockholders per share increased to $0.25.
Of course, the above mentioned results are indicative of the extremely healthy balance sheet. A low debt to equity ratio is one way to safeguard a company against unforeseen events and allow it to jeopardize its competitive positioning.
Realty Income capitalizes its platforms with a variety of credit lines, bonds, and stock issuance. The company has completed several common stock offerings (most recently a $286 million offering in March 2011) and that has allowed the company to maintain an enviable "mortgage free" balance sheet. Also, as of April 28, 2011, the company has zero drawn down on its $420 million credit facility. Of course, we cannot forget that cash is also a significant part of the "margin of safety".
Currently, Realty Income has approximately $129.7 million (as of March 31, 2011) in cash and the above-mentioned $420 million credit facility makes Realty Income an extremely well capitalized REIT (Realty Income has investment corporate credit ratings from S&P, Moody's, and Fitch IBCA credit rating agencies).
Here is a chart showing Realty Income's common and preferred stock positions relative to the outstanding debt (click to enlarge images):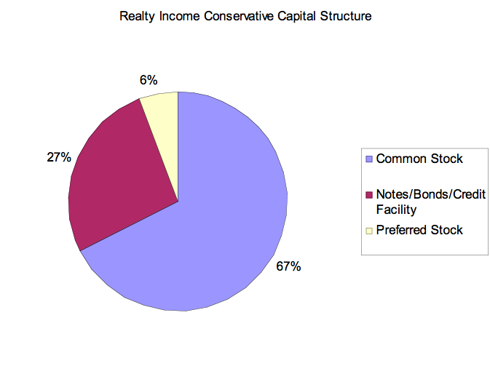 Quality of Assets on the Balance Sheet
The quality of the assets can be another source of investment security. Most tangible assets can be easily measurable, contributing to greater certainty in assessing the value that shareholders have in a company's balance sheet which combined with low debt, and taking into account market prices, may represent a safe investment strategy.
As of March 31, 2010, Realty Income's portfolio of freestanding, single-tenant properties consisted of 2,519 properties located in 49 states, leased to 125 retail chains and other commercial enterprises doing business in 32 industries. The properties are leased under long-term, net leases with a weighted average remaining lease term of approximately 11.5 years. The company's portfolio continues to perform well and provide dependable lease revenue supporting the monthly dividend (of 5.1%). As of March 31, 2011, the portfolio occupancy was 96.8% (up from 96.6% on December 31, 2010).
During the first quarter of 2011, Realty Income invested $150.7 million in 26 new properties and properties under development. The new properties are located in 15 states and are 100% leased with an average lease term of 16.6 years. Many of the newest property acquisitions are leased to investment grade rated tenants and Realty Income is continuing to build a diversely successful portfolio – an essential element for the "margin of safety" concept. Mr. Graham recognized that no investor is perfect in his or her decision making, and unforeseeable market forces can cause unfavorable market turns for an investment even with a margin of safety. Proper diversification of a portfolio offers additional protection against these events.
As mentioned in Realty Income's recent earnings call, the net lease REIT is growing its acquisition model to include new tenant categories while still focusing on its core "net lease" platform. For example, last year Realty Income closed on a most strategic and innovative sale-leaseback transaction of approximately $304.1 million by purchasing 14 wine vineyards (primarily in Napa Valley) all leased to Diageo Chateau & Estates Wine Company (NYSE:DEO). This transaction was a fabulous expansion of capital funding and it allowed the REIT to further diversify its core product tenant profile and category footprint (hence adding a new category named "wine and spirits").
Also, and more recently, Realty Income closed on a $544 million net lease transaction ("the ECM" portfolio) that consists of quality tenants like Caterpillar (NYSE:CAT), Fed-Ex (NYSE:FDX), Coke (NYSE:KO) and Walgreens (WAG) (note: the "ECM" transaction has not been fully funded as there are a few remaining due diligence matters to complete). As Realty Income continues to access low cost capital and grow its diverse model, investors should be pleased with the increasing "margin of safety" provided by a strategically diverse and well managed portfolio.
As of year-end 2010, Realty Income has increased the diversification of the portfolio to 122 commercial enterprises and 32 industries (categories):
Realty Income - Industry Diversification

For the Quarter Ending December 31, 2010

Apparel stores

1.50%

Distribution and office

1.0

Office supplies

1.0

Automotive collision services

1.0

Drug stores

3.9

Pet supplies and services

0.8

Automotive parts

1.5

Entertainment

1.1

Private education

0.8

Automotive service

4.5

Equipment rental services

0.2

Restaurants

19.1

Automotive tire services

5.9

Financial services

0.2

Shoe stores

0.2

Book stores

0.1

General merchandise

0.7

Sporting goods

2.9

Business services

(*)

Grocery stores

1.5

Theaters

8.6

Child care

5.9

Health and fitness

6.7

Travel plazas

0.2

Consumer electronics

0.6

Home furnishings

1.2

Video rental

0.0

Convenience stores

17.4

Home improvement

1.6

Wine and spirits

5.6

Crafts and novelties

0.3

Motor vehicle dealerships

2.4

Other

1.6

(*) Less than .1%
Site Selection Within the Circle of Competence
The selection of an investment within the circle of competence of the investor can raise confidence level of the firm's valuation. Simple business models, well defined, with clearly defined products, consistent profit margins and visible growth prospects, facilitate the "margin of safety" analysis.
Indeed, Realty Income has a very simple and sustainable business model. The REIT was founded in 1969 and it has recently announced its 54th consecutive quarterly dividend increase, which is the 61st increase in the amount of the dividend since the company's listing on the NYSE in 1994. The annualized dividend amount, as of March 31, 2011 was $1.73475 per share. The amount of the monthly dividends and, for the first quarter, increased 0.9% to $0.433 per share from $0.429 per share in the same quarter of 2010.
Through March 31, 2011, Realty Income has paid 488 consecutive monthly dividends. Registering its name as The Monthly Dividend Company ®, Realty Income has clearly defined its core business model as a reliable and sustainable dividend REIT. With over forty (40) years of experience in the net lease industry, Realty Income has well defined its core competency and product offering.
Here is a chart summarizing the company's steady and consistent dividend platform: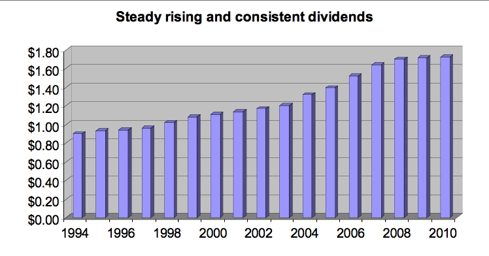 Realty Income joined the FTSE NAREIT index in November 1994. From that date through December 2010, the compounded average annualized total return was 17.39%, which was the 5th highest among the 68 publicly traded REITs. For the FTSE NAREIT All Equity REIT Index it was 10.96% and the FTSE NARIT All REIT Index it was 10.48%, and for the FTSE NARIT Free-Standing Retail REIT Index it was 15.47%. The Sharpe ratio (average excess returns divided by volatility – the leading measure of risk-adjusted returns), for Realty Income was 0.760, highest among all 68 REITs. Equity REITs was 0.455. All REITs was 0.433, and Free-Standing Retail REITs was 0.714.
Investing With a Margin of Safety
If you had asked Benjamin Graham to distill the secret of sound investing in three (3) words, he might have replied, "margin of safety." Those are still the right three (3) words and will remain so for as long as humans are unable to accurately predict the future. All of the above mentioned characteristics contribute to a strong "margin of safety", which is also the basis for investing in this most innovative and exceptional Real Estate Investment Trust - Realty Income, The Monthly Dividend Company ®.
Realty Income, The Monthly Dividend Company® recently launched an updated and innovative web site. You can link to the site by clicking here. Also, I have summarized below the company's financial highlights for years 2005-2010:
Realty Income

Financial Highlights ($ In Thousands)

2010

2009

2008

2007

2006

2005

Total Revenue (*)

$346,709

$328,794

$331,701

$297,396

$240,626

$197,751

Funds from Operations (FFO)

$193,713

$190,444

$185,524

$189,675

$155,799

$129,647

Dividends Paid to common shareholders

$182,500

$178,008

$169,655

$157,659

$129,667

$108,575

Per Share Information:

FFO per share (diluted)

$ 1.83

$1.84

$1.83

$1.89

$1.73

$1.62

Net Income per share (diluted)

$ 1.01

$1.03

$1.06

$1.16

$1.11

$1.12

Dividends paid per share

1.722

1.707

1.662

1.560

1.437

1.346

Common shares outstanding (in thousands)

118,059

104,287

104,212

101,083

100,746

83,697

(*) Includes amounts reclassified to income from discontinued operations, but excludes revenue from Crest
Disclosure: I have no positions in any stocks mentioned, and no plans to initiate any positions within the next 72 hours.