Data center-related stocks scored, on average, another positive month in April, as the first earning calls delivered some solid results and contributed to good gains in the sector.
Here is a quick look at YTD returns (Click to enlarge):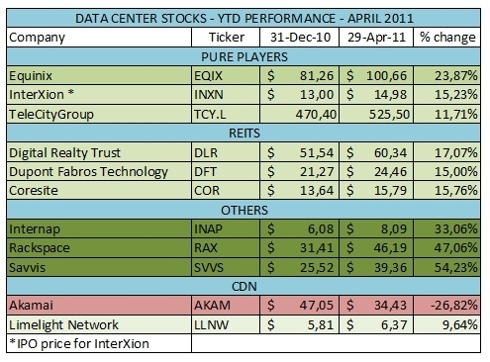 As you may notice, all is well in "DataCenterLand", with a single exception represented by Akamai (NASDAQ:AKAM), the only stock in the red. The company suffered another setback after last week's conference call, as its guidance disappointed investors.
If we exclude the CDN players, all other stocks delivered solid double-digit returns.
Savvis (NASDAQ:SVVS) is the absolute winner, as the company agreed last week to be bought by CenturyLink (NYSE:CTL) at a price of $40 (a combination of cash and CenturyLink stock).
Savvis joins Terremark and Navisite as the third cloud computing-related company to be acquired in 2011. While Savvis' premium was only 11% over its closing price before the acquision was announced, its performance from the beginning of year exceeds 50%.
As we may see from the following chart, even the other acquired companies delivered returns of around 50% since January 1st:
(Click to enlarge)

Last week also saw the beginning of earnings season in the sector, with a few bellwethers like Equinix (NASDAQ:EQIX) (among network neutral players) and Digital Realty (NYSE:DLR) (among REIT wholesalers) delivering solid results.
Here is a quick look at earnings performance, so far:
(Click to enlarge)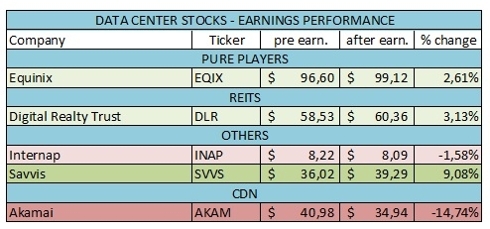 Both Equinix and Digital Realty got a positive push from earning, while Internap (NASDAQ:INAP) had a very strange trading day. It opened at $7.05 (-14%), but then succeeded in gaining back most of the lost ground before closing. It should be noted that Internap enjoyed some very positive trading days, prior to earnings, as the Savvis buyout brought the company under investors' attention as one of the few remaining acquisition targets in the sector.
Here is a quick look at all the data center related stocks performance in the month, which shows mostly positive returns, with the exception of the CDN sector, i.e. Akamai and Limelight Network (NASDAQ:LLNW). Pure players like Equinix and Interxion (NYSE:INXN) get some of the best performances, while Rackspace (NYSE:RAX) also enjoys another positive gain that adds to a very good Q1 performance.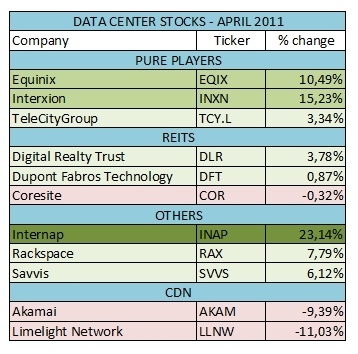 Disclosure: I am long EQIX.