It doesn't matter whether you are a fan of gold or not, there is no logical way to justify buying Allied Nevada Gold Corp's (NYSEMKT:ANV) stock at today's prices. ANV closed last Wednesday at 41.82 per share, giving the company a $3.72 billion valuation. ANV is up almost 150% in the last year and up over 1,000% since early 2009. Buying now is buying high. Very high.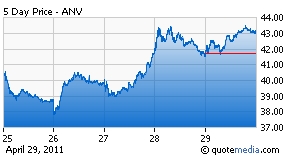 In all of 2010 ANV reported a profit of just .41 per share. That puts the current P/E just over 100, higher than Netflix (NASDAQ:NFLX), Chipotle (NYSE:CMG) and Lululemon (NASDAQ:LULU). Sure, gold's been hot, but unless it gets hotter ANV isn't going anywhere but down. ANV is valued so high that if gold just stops rising at its current rate, let alone decline, ANV will take a major hit.
In 2011 ANV is projected to bring in $201.37 million in revenue, and profit .74 per share, which gives ANV a forward P/E of over 56.5, and that .74 number is assuming that gold stays at these record prices for all of 2011. Any dip in gold cuts directly into ANV's profits. All of ANV's plans for expansion in 2012 (where we see revenue estimates top $400 million) are counting on the fact that gold stays above $1,500 an ounce.
A comparable gold stock to ANV in many regards is Freeport-McMoRan Copper & Gold Inc (NYSE:FCX). FCX has also rallied big-time on rising gold prices, but it has done so rationally. It trades with a P/E of 10, meaning, when you buy a share of FCX you get 10 times the earnings of ANV. FCX's revenue is also about 50% of its market cap, while ANV's is 5%. These numbers make it clear ANV isn't just a little overvalued, it's 10 times overvalued compared to stocks in the exact same sector.
Bulls will tell you ANV's growth is off the charts, but ANV will need to see a 1,000% increase in earnings and revenue before being on par with stocks like FCX. Lofty 2012 projections have ANV's earnings up a little less than 100%, which is a huge increase but still no where near enough to give them a rational valuation anywhere near $40 per share.
Here's why I believe ANV has seen better days. Let's say gold is trading at $3,000 per ounce, about a double from today's current prices. ANV still looks bloated, revenue would only be $400 million for 2011, a measly 10% of their market cap. Profits would most likely more than double because of costs staying the same and be around $1.50 per share. At the end of 2011, with gold at $3000, we'd be looking at a 27 P/E, which is still almost triple FCX's P/E with gold at $1500.
Gold is up about 30% in the last year. If we see another 30% increase it will be trading around $2000 an ounce, which continues to give ANV a very irrational valuation. That is why for ANV to be deemed logical at today's prices you have to anticipate not only an increase in the price of gold, but an increase at more than quadruple its current annual rate.
ANV seems to be solely built on the maniacal jubilee of gold, not on fundamental valuations that guide stocks in the long term. That is why I do not like ANV at $40, or even $30 for that matter. Although in the long run it looks clear to me that ANV will decline, it is very hard to say when it will lose steam. That's why I'm considering buying puts, more specifically LEAPS, and hedging them by buying FCX or DGP.
Disclosure: I have no positions in any stocks mentioned, but may initiate a short position in ANV over the next 72 hours.