NRG Energy (NYSE:NRG) has had a 30% run-up in 2011, but there's still value to be captured. As I outlined here, NRG has attempted to differentiate its product line by expanding into renewable energy. This is a bold move in the usually price-based utilities business. NRG has been able to bypass the higher costs of renewable energy by entering into long-term contracts with businesses and government agencies that view renewable energy as important. This is just what NRG is looking for. The main concern is that this isn't helping the bottom line. Thus the company continues to borrow money to finance more innovation, which could be a great bet or a dangerous spiral.
NRG Energy has been consistently profitable since its bankruptcy in 2003, after which David Crane took over as CEO. Although the company has not achieved sustainable growth, this consistent profitability makes the P/B of 0.8 unjustified. NRG is also trading at 13x the last 12 months' earnings. NRG has, historically, beaten the industry averages in growth and returns on invested capital.
Here's a look at the ROIC numbers:

NRG Energy (10-yr. Avg.): 2.71%
NRG Energy (TTM): 3.64%
Independent Power Producer: -1.35%
Diversified Utilities: 6.40%
Pay Group: 2.81%

NRG has a goal of increasing ROIC by 20 basis points in 2011, which would put it above its pay group, its industry, and its own 10-year average. It is not truly a diversified utility yet, although it expanded into retail with the acquisition of Reliant Energy.
[Click all to enlarge]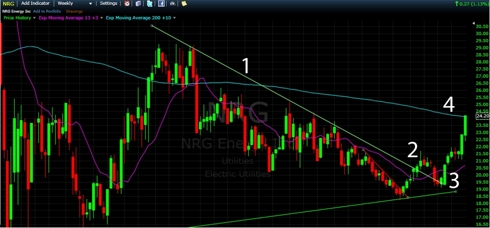 Not only is NRG fundamentally cheap, it is also technically strong. After a multi-year downtrend (1), NRG broke out of the trend in January (2), and then pulled back to the trend line (3). Now NRG has shot up to the 200-week EMA, where there is likely to be resistance. It looks overbought based on the weekly chart (above), but the monthly oscillators show a healthy uptrend. Looking forward, there should be support between $20.75 and $22, and the uptrend looks healthy. The rally seems to have been started as 2010 results were posted and NRG announced it would terminate involvement in the STP 3&4 nuclear project.
In 2010, net generation was up 2.7% YOY due to the $1 billion spent on acquisitions. The major acquisition of 2010 was the Cottonwood plant, which runs on natural gas. This will provide relatively clean and cheap generation in the future, and added over 1,200 MW to NRG's 2010 production, which represents 5% of the total. This deal cost $500 million, and the rest of the $1 billion spent on acquisition went to renewables.
The other big acquisition of 2010 was Green Mountain Energy, which, among other things, supplies power to the Empire State Building. I covered this acquisition in the article linked to above.
NRG is on track to become the US's largest solar power generator in the next few years. Its three main projects are Agua Caliente in Arizona and Valley Solar Ranch and Ivanpah in California. The focus on California is due to that state's ambitious renewable energy goals.These three projects should all be online within the next four years, and will add 5-6% to net generation.
The flip side of these projects is their high costs. Collectively, these three could cost up to $1.5 billion, three times as much as the Cottonwood plant. Meanwhile, emissions have only fallen at NRG because net generation has fallen. It remains to be seen whether or not the company can raise generation and continue to drive down emissions.
One of the most ambitious projects NRG has taken on in the last year is the eVgo electric vehicle (EV) fleet of charging stations in Houston. The company has partnered with retailers such as Best Buy (NYSE:BBY) and Walgreens (WAG) to host charging stations, and with Nissan (OTCPK:NSANF) and Hertz (NYSE:HTZ) to support EV sales and rentals. The system is a flat-rate monthly fee to use the system. While there are no reported results yet, the company plans to expand the system across Texas in the coming years. While this project seems far-fetched, the potential payoff is worth the risk, as NRG is committing around $10 million to the project. This willingness to take risks does not always pay off, as seen with the STP 3&4 nuclear project.
After the widely reported upheaval in the nuclear industry as a result of the Fukushima Daiichi disaster, NRG has pulled funding for its big nuclear project. While this project had significant potential and was costly, it was a risk worth taking. Had it gone through, it could have added up to 10% to NRG's generation without any additional emissions. The upside is that NRG can now use the resources allocated to this project in other places, and possibly wind down the assets of this subsidiary. The market also seemed to like the news, as the stock is up 13% since the announcement as I write this. The market clearly knew the project would fail, and that giving up was prudent.
While this project winds down, there are other axes over NRG's head. The first is a long-running lawsuit with the California Public Utilities Commission, which could hold NRG liable for $500 million to $900 million. The Commission alleges that NRG overcharged it for power in 2001 and 2002. NRG does not think it will lose, but there's always a possibility.
There is also an outstanding lawsuit against the U.S. government regarding emissions at the Big Cajun plant in Louisiana prior to NRG's purchase of it from then-bankrupt Cajun Electric; the company does not give a cost were it to lose.
These two lawsuits could materially impact NRG's capital expenditures in the future, and while NRG has $4.3 billion in liquidity, it cannot afford to pay out a $1 billion settlement.
Here's a look at NRG's financial health compared to its peers:

Debt-to-Equity Ratio:

NRG: 1.10
Independent Power Producers: 1.35
Diversified Utilities: 1.07
Both of the above combined: 1.13
Pay Group: 1.59

Is this a matter of NRG having lower debt, or is it just that NRG has more equity? Here's a look at the interest coverage:

NRG: 2.20
Independent Power Producers: 0.50
Diversified Utilities: 4.00
Both of the above combined: 3.18
Pay Group: 2.28

These numbers paint a different picture than the first set. NRG has less earnings to coverage interest payments than everyone except the practically-bankrupt independent power producers. Meanwhile, NRG issued $1.1 billion in debt last year. NRG's debt is below investment grade, so it pays on average 8.25% annually at the current libor of approximately 0.5%. 75% of NRG's debt has fixed interest rates of an average 7.5%, and the other 25% is the libor rate plus an average 2.4%. NRG, like most large companies, is entered in swaps to hedge against a rise in rates. NRG currently has $3 billion in cash compared to $10 billion in debt, of which nearly $6 billion is due in the next five years.This puts NRG in a situation that is a little worse than its peers.
NRG brought in nearly $9 billion in revenue last year, a tiny drop from 2009. This didn't stem a 49% decline in earnings. This drop was primarily due to a huge drop in the value of hedges. In 2009, hedges add $842 million to earnings. In 2010, they only added $111 million. If earnings are adjusted for this hedging, they would have been $366 million last year and only $100 million in 2009. That being said, the drop in earnings YOY didn't come as a surprise to the market. The more profitable hedges seem to have rolled off the books in 2009, leaving 2010 with lower hedged prices.This trend could continue as natural gas and thus electricity prices stay low.
NRG faces the liabilities of low gas prices, a leveraged balance sheet, and an ambitious, expensive renewable energy plan. On the other hand, natural gas prices could rebound, as it looks like they might be completing a reverse head-and-shoulders pattern.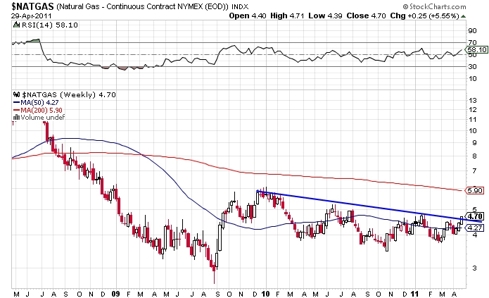 NRG seems to be using the low-interest-rate environment to lock in cheap borrowing costs. Lastly, the green bets NRG has made have done well (see Green Mountain's 10th consecutive year of double-digit growth), and it's definitely ahead of the learning curve in the utilities industry. With consistent profitability and a 24% discount to book value, NRG is still attractive for the risk presented.
Disclosure: I am long NRG.