Over the past year and a half, insurance companies have presented a fabulous opportunity for bullish options strategies. Briefly, many of them have been trading at prices under tangible book, meanwhile posting very respectable earnings. While the price moves have not been that big, they have been extremely consistent in one direction: Up.
By applying the right amount and proper kind of leverage, these small moves can create outsize profits on a consistent basis. With the market making new 52-week highs, it is reasonable to question whether the past trend can continue. This article presents a discussion of returns achieved to date, and concludes that further gains are possible. From there it digresses into a discussion of David Dreman's analogy of the Green Room.
Returns to Date
The following table presents returns to date for bullish options strategies that I have written up on Seeking Alpha:
[Click to enlarge]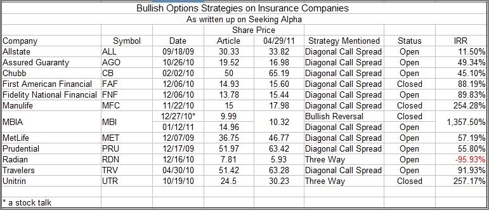 Click to enlarge
Typically these articles start with a review of a company, state the current price and future target price and date, and describe a possible options strategy. In some cases, detailed trades were offered for consideration; in others, the strategies were described in general terms.
The internal rates of return are a mixture of the results form the actual trades described with my own results in cases where the opening trade has been adjusted, extended or enlarged. They are intended to present fairly what a well-informed and conscientious options trader could achieve using the initial position as an opening gambit.
The bullish reversal for MBIA (NYSE:MBI) was an extreme outlier; I suspected it was going to be big, so I mentioned it in a stock talk in order to preserve bragging rights. It has been combined with a successor diagonal spread (in smaller size) in order to show the longer-term results for this speculative situation.
Results for Assured Guaranty (NYSE:AGO) are influenced by the fact that the position was enlarged considerably when the stock declined in the early going. Radian (NYSE:RDN) is the only losing trade; it remains to be seen if adding to exposure while it was down will ultimately result in a profit.
Why it Works
Unitrin (UTR) is a poster child for this approach. Trading well under tangible book, paying an increasing dividend, and posting respectable earnings, the most likely outcome by far was that the shares would soon trade at a modest premium to book value.
Chubb (NYSE:CB) and Travelers (NYSE:TRV) would also qualify as poster children. Both were trading at or under tangible book, had long histories of steadily increasing book value and respectable earnings, and had verifiable histories of trading at 1.2 to 1.4 X book.
Buying deep in the money calls, LEAPS if available, affords the investor the luxury of relatively safe leverage. The tangible book value, together with current earnings, provides margin of security. Selling shorter dated out of the money calls can be done such that the time premiums received are greater than the time premiums paid: The investor has time on his side, and enjoys a decent static rate of return if the stock goes nowhere.
The bullish reversal and the three way both rely on selling out of the money puts as a means of funding the purchase of either out of the money calls or a vertical call spread. These trades can be done at very low out of pocket cost, sometimes a net credit. The puts sold do require the commitment of capital to support the obligation, a consideration that was included when computing the internal rates of return.
The sale of puts at strikes that are well under tangible book value is a very cheap source of funds. While MBIA , Radian and Assured Guaranty are volatile and indeed speculative situations, the passage of time is beginning to confirm that their book values are accurate and defensible.
Clearly, the investor who is able to place bets on stocks that are trading below book value and making money has the odds on his side. If he can do so under terms that will allow him a profit in the event the stock stands still, his advantage is increased. Add to that the possibilities provided by leverage, and the investor enjoys a substantial advantage.
How Much Longer?
The insurance industry has not been popular -- too many headwinds. However, the headwinds are abating. The soft market in commercial P&C is showing signs of firming up a bit, judging by commentary on recent earnings conference calls. Warren Buffett took the asbestos liability off CNA's hands, and then went on to do the same for AIG. Asbestos liability can't be that bad, judging by the actions of the Oracle of Omaha.
The life insurers have been risky due to the guarantees they extended on variable annuity products linked to the performance of the equity markets. The equity markets have recovered, and the life insurers now have the opportunity to hedge at lower cost. Low interest rates are expected to go higher, if not in the immediate future, at least within the foreseeable future, a development that will improve fixed income returns when it happens.
RMBS, CMBS and CRE have shown signs of stabilization. Many of these companies have de-risked their investment portfolios: for those that have not, the stabilization will be helpful. Some, such as Travelers and Chubb, stayed with higher quality fixed income investments and were not burned at all.
Allstate (NYSE:ALL), CB and TRV reported excellent quarters and spiked on their earnings, drawing upgrades and/or target price increases. Lincoln National (NYSE:LNC) reported last week, and spiked up on improved earnings and outlook. MetLife (NYSE:MET) and Prudential (NYSE:PRU) will be reporting this week, and if they follow LNC's lead, life insurers will continue upward.
I recently added Hartford Financial Group (NYSE:HIG) and Loews (NYSE:L) to my insurance holdings, using diagonal call spreads. Loews owns 90% of CNA, an insurance company trading well below book. HIG trades well below book. Both trades are currently profitable.
I continue to invest on the basis that insurance companies will eventually trade at P/B multiples of 1.2 for good quality. P/B can't be used in isolation: it is important to review operations and assets prior to investing. Some of the stocks mentioned in the article are speculative. However, in my opinion the most likely outcome for the industry is a steady movement higher. As a risk tolerant and aggressive value investor, I think the continued use of options for leverage has a good risk/reward profile.
The Green Room
David Dreman uses the analogy of Wall Street as a Casino with two rooms: The Red Room and the Green Room. In the Red Room, the lights are bright, there is a buzz of excitement, and the gamblers crowd around the tables. Rolling and controlling them bones, hit me again, all on red, so on and so forth. Everybody loses: House odds.
The Green Room, in contrast, is dull and almost deserted. The gamblers sit quietly in front of the slot machines, methodically pushing buttons, feeding in money and quietly pocketing cash out vouchers. And everybody wins. No one knows why.
I don't know about you. But when I see 11 out of 12 winners, with outsize returns, I conclude the game is rigged. In my favor. I'm going to stay in the Green Room.
Disclosure: I am long ALL, CB, TRV, MET, PRU, HIG, AGO, MBI, RDN, FNF, FAF, L, predominantly by means of options, hedged with puts on XLF and SPY.