Healthcare stocks spent a good share of 2010 in the red, largely due to concerns over the healthcare legislation passed last year. However, that sentiment seems to have changed in 2011. Take a look at the 2011 sector gains in this table: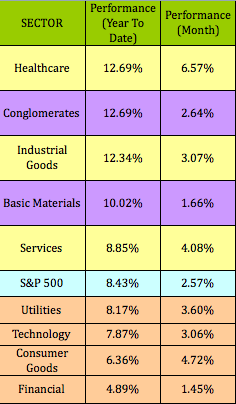 We screened for the top Healthcare dividend paying stocks with good ROE and low short interest, and came up with these 5 stocks: (Click chart to expand)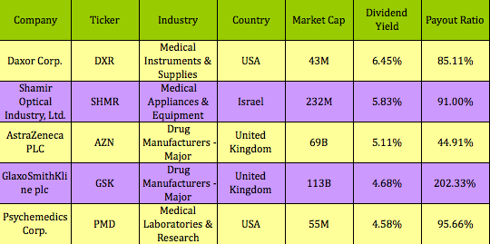 In terms of market cap, it's a mixed bag, ranging from micro caps Psychemedics (NASDAQ:PMD) and Daxor (NYSEMKT:DXR), to large cap Pharma firms Astra Zeneca (NYSE:AZN) and Glaxo Smith Kline (NYSE:GSK).
Daxor has the highest dividend yield, but has decreased its dividend payouts over the past 3 years, from $1.50 to $1.35 to $1.00. Also, its labs show operating losses, and the firm depends upon earning profits via sales of its investments thus far.
Shamir (NASDAQ:SHMR), which manufactures and markets progressive lenses to sell to the ophthalmic market, has paid annual year-end dividends over the past 2 years, paying out $.809/share in 2010.
Astra Zeneca has semi-annual ex-dividend dates in Feb. and August, with the majority of its dividend paid out in the earlier payment, while GlaxoSmithKline pays quarterly dividends. GSK's last dividend was $.615/share, and its next ex- dividend date should be approx. May 5th.
PMD pays $.12/share quarterly dividends, and its next ex-dividend date should be approx. June 3rd. AZN, GSK, and PMD are all listed in the Health section of our High Dividend Stocks By Sector tables.
Financial & Performance Metrics: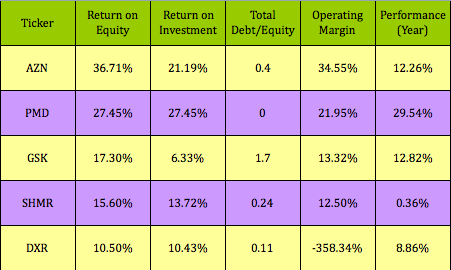 With the exception of Daxor, all of these stocks have pretty good ROE and margin figures. PMD and AZN have the best overall figures by far, however. Shamir has lagged the group in share performance in 2011.
Although it's up almost 30% year-to-date, PMD still has the lowest Next Year PEG ratio, currently at .90. PMD clearly has the best growth figures, past, present and future, although there aren't any Next Year EPS estimates for SHMR and DXR. SHMR has a fairly low 5-year PEG of 1.05.
Psychemedics was established in 1987 to provide testing for drugs of abuse using hair analysis and has been successfully operating for over 20 years. According to the company website, Psychemedics has obtained FDA clearance on all drug categories and is the only lab to have clearance not limited to head hair (including head and body hair clearances).
Only AZN and GSK both have options available, but only AZN has worthwhile options yields, which you can find more info on in our Covered Calls Table and in our Cash Secured Puts Table.
(Note: There is one other Healthcare stock with a higher dividend yield, PDL BioPharma (NASDAQ:PDLI), but its forward prospects were just dampened by a lab test just released, which found that one of its leading patented drugs, Lucentis, is no more effective than a drug just a fraction of its cost.)
Disclosure: No positions at this time
Disclaimer: This article is written for informational purposes only, and isn't intended as investment advice.