Historically, Van Eck has been known in the ETF space for its hard assets expertise and suite of targeted emerging markets funds. But recently the New York-based firm has also taken steps to develop other corners of its ETP lineup, including the introduction of the first investment grade floating rate debt fund (NYSEARCA:FLTR). In a recent SEC filing the company laid plans for what would be another unique ETF, detailing the Market Vectors Business Development Company/Specialty Finance ETF.
The proposed fund would seek to replicate the Market Vectors Business Development Company/Specialty Finance Index, a benchmark that is comprised of U.S.-listed business development companies ("BDCs") and specialty finance companies. According to the filing, BCDs are companies whose principal business is to invest in, lend capital to or provide services to privately-held companies. Specialty finance companies provide capital or financing to businesses and consumers within specified market segments.
BDCs are a unique type of corporate entity. Some publicly-traded private equity firms are registered as BDCs under the Investment Company Act of 1940. BDCs may enjoy many of the same tax benefits that REITs encounter if they meet certain criteria; they pay almost no corporate taxes as long as they pay out at least 90% of their profit and capital gains as taxable dividends. However, BDCs are not considered REITs under the Internal Revenue Code.
As a result of the company structure and tax incentives, BDCs may be appealing for investors seeking to maximize current returns. Dividend yields in excess of 8% are relatively common for BDCs, with some breaking into the double digits. There are a number of ETFs out there that can be used to capture attractive current yields, including several in the MLPs ETFdb Category and the relatively new PowerShares KBW High Dividend Yield Financial Portfolio (NASDAQ:KBWD).
There are a number of publicly-traded BDCs, including:
Because many BDCs invest in privately-held and early stage companies, these securities can be somewhat risky. But it's important to note that BDCs effectively give investors exposure to all of the investments and portfolio companies of that BDC - meaning that it's possible to quickly gain exposure to hundreds or even thousands of private companies.
PSP in Focus
PowerShares currently offers a Global Listed Private Equity Portfolio (NYSEARCA:PSP), which seeks to replicate an index consisting of about 60 publicly listed private equity companies, including BDCs and other financial institutions or vehicles whose principal business is to invest in and lend capital to privately held companies. PSP splits exposure between the U.S. and internationally, with the U.K., Sweden, France and Belgium receiving the largest non-U.S. weightings.
PSP sank during the recent financial crisis, as many private equity companies and BDCs wrote off investments or struggled to find liquidity. Between the beginning of July 2008 and the bear market lows in March of the following year, PSP lost more than 75% of its value. The fund then surged during the subsequent recovery, more than doubling in less than two months and adding close to 150% by the end of the year. PSP gained about 26% last year and has already added another 12% or so in 2011. Still, it remains far below its pre-recession peak:
Click to enlarge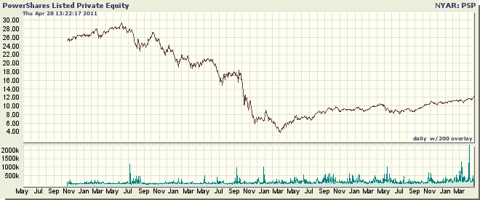 Last week UBS unveiled an exchange-traded note linked to an index comprised of U.S.-listed BDCs; the E-TRACS Linked to the Wells Fargo Business Development Company Index Profile (NYSEARCA:BDCS) replicates an index that includes about 25 BDCs. That product charges an expense ratio of 0.85% and has about $10 million in assets. PSP, which debuted in late 2006, has close to $500 million in AUM.
Van Eck didn't specify a ticker symbol or expense ratio in its filing for the future ETF.
Disclosure: No positions at time of writing.
Disclaimer: ETF Database is not an investment advisor, and any content published by ETF Database does not constitute individual investment advice. The opinions offered herein are not personalized recommendations to buy, sell or hold securities. From time to time, issuers of exchange-traded products mentioned herein may place paid advertisements with ETF Database. All content on ETF Database is produced independently of any advertising relationships.