Some Comments On The Blow-off Rally In Silver
The near parabolic rally in silver has continued with some verve, probably surprising bulls and bears alike with its persistence. Silver has now achieved a positive close in 13 of the past 14 weeks, rallying from a mid January low of just above $26/oz. to an intraday high at just below $50/oz., closing last week at $47.87. The long term target of $55/oz., which we mentioned as a potential long term target (see this chart from a previous update; at the time we said: "we'd be surprised if it gets that far in this move") has in the meantime become a possible short term target. However, it should be noted that the old high at just below $50/oz. from the 1979/80 Hunt silver corner rally represents formidable technical resistance. The market has an elephant memory when it comes to old highs or lows, even if they have been made more than thirty years ago and are merely nominal prices that do not reflect the true inflation adjusted height attained at the time.
As a general remark on blow-off rallies in commodities: a few weeks or even a few days can make a very big difference with regards to the final price high attained, as such rallies always tend to accelerate in their final stage. One of the warning signs usually indicating that the final stage is underway is a sharp increase in short term volatility, which could certainly be observed in silver lately.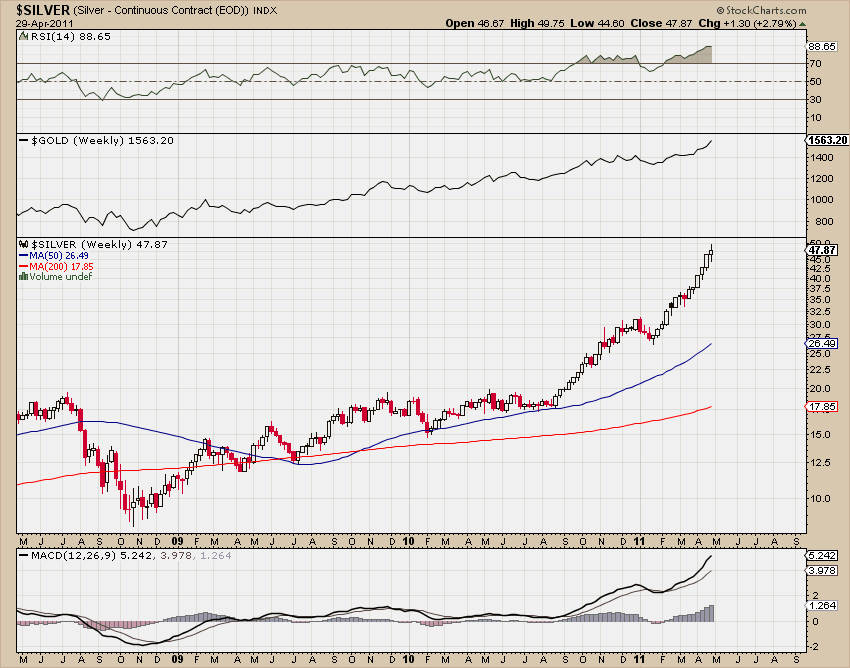 (Click to enlarge)
A weekly chart of silver (continuous contract chart) – the metal has closed higher in 13 of the past 14 weeks. Although it is very overbought with the weekly RSI at 88.65, there is as of yet not technical sell signal in evidence on the weekly chart.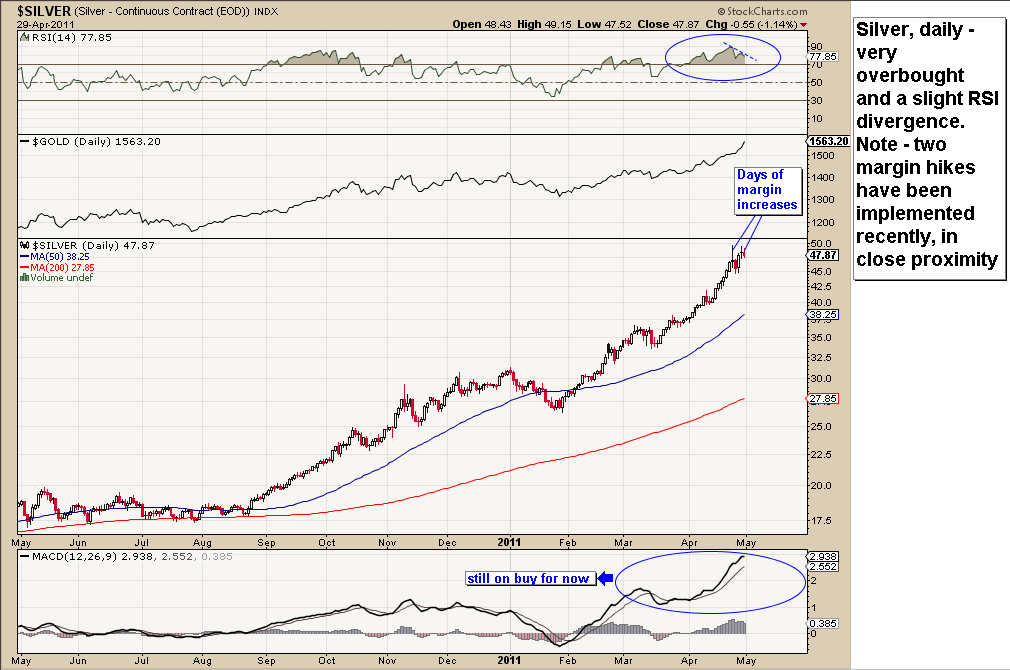 (Click to enlarge)
Silver, daily. One the daily chart, we see a small RSI/price divergence that has formed during the volatile trading last week. The chart indicates the days when the CME increased silver futures margins. As can be seen, the first margin increase led to a sharp increase in intraday volatility.
Although all that can be ascertained from a technical perspective in terms of the action in silver itself is that the market is severely overbought, there are now a number of other warnings signs in evidence as well.
Among these the most glaring one is the severe underperformance of silver mining stocks compared to silver itself. This is a sign that the market does not regard the current silver price as sustainable. Of course the market could err, in which case silver mining stocks would likely catch up with silver's price at some point. However, we regard that as a low probability outcome in the near term. Longer term the silver mining stocks may well resume their advance if the market becomes comfortable with silver trading in a higher range.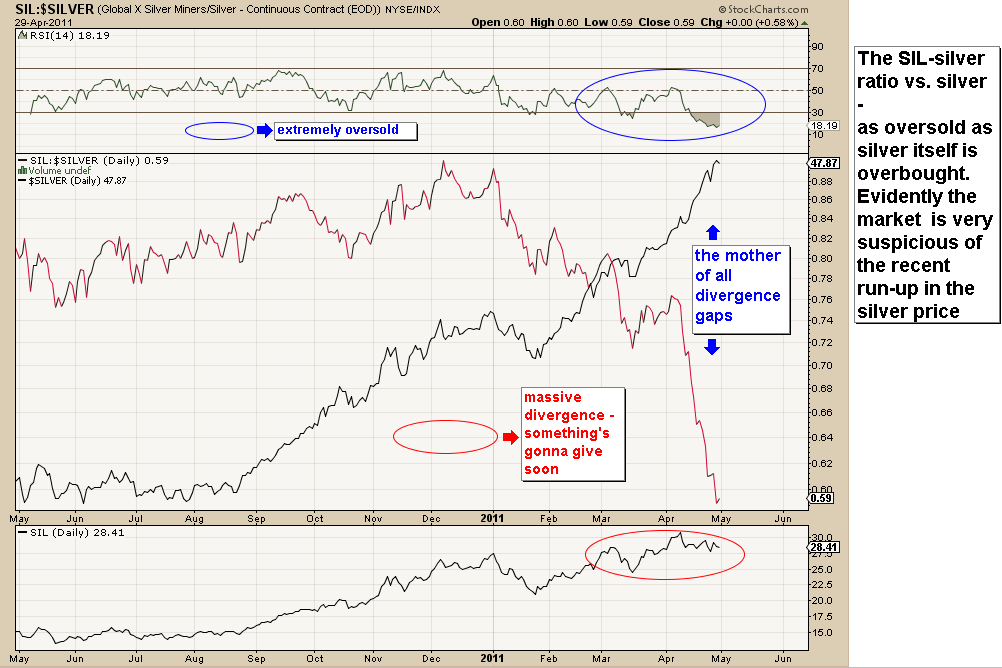 (Click to enlarge)
The ratio of the silver mining shares ETF SIL to silver, vs. the price of silver itself (solid black line). Silver mining stocks have severely underperformed silver in the most recent phase of the rally.
Another – as of yet subtle – warning sign is that late last week, gold has begun to outperform silver. The current rally phase will likely end after a number of divergences are in place, one of which would be a new high in gold accompanied by a lower high in silver and/or the silver-gold ratio.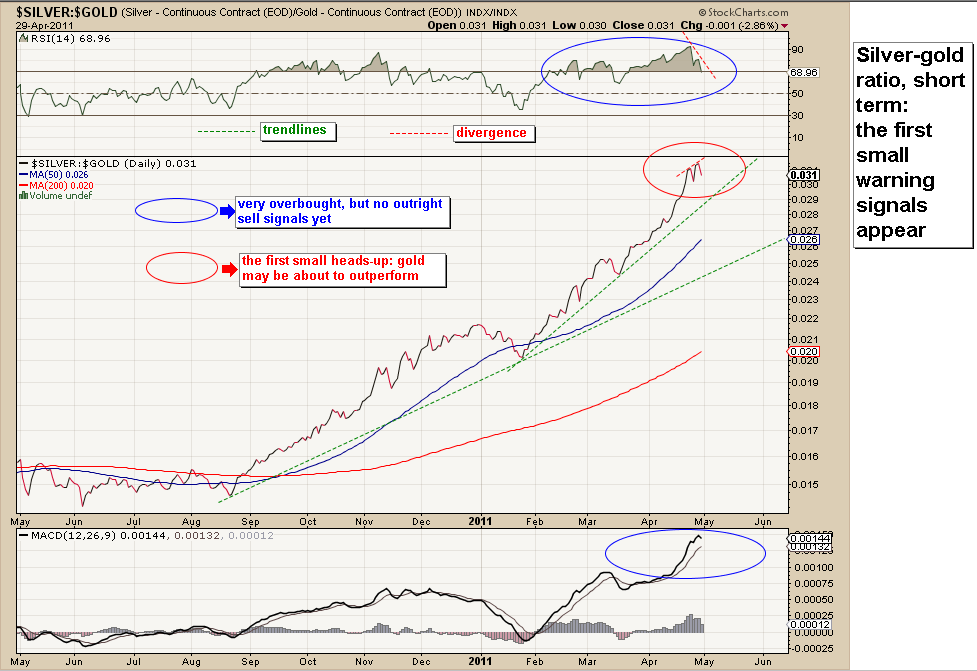 (Click to enlarge)
The silver-gold ratio, short term. The same RSI divergence visible on the daily chart of silver is in evidence here as well. However, the recent dip in the ratio may still turn out to be another routine pullback – it is too early to tell for sure, although we personally think that gold is likely to outperform silver for a while.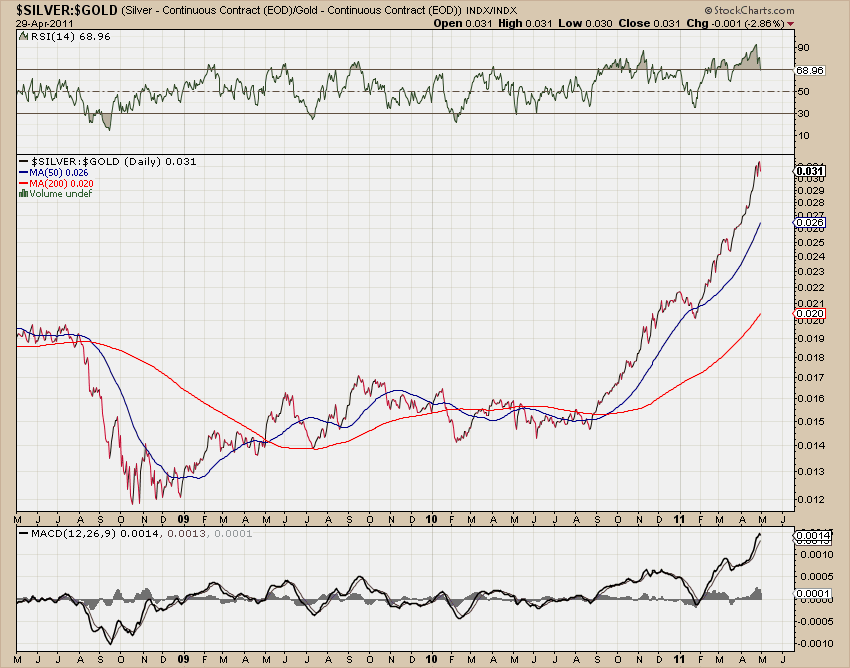 (Click to enlarge)
A longer term chart of the silver-gold ratio gives some perspective of how extreme moves in silver relative to gold can become. Note the plunge in the ratio in 2008 as economic confidence evaporated. In this sense, the recent rally in the ratio can be seen as representing a surfeit of economic confidence that is a bit at odds with economic reality.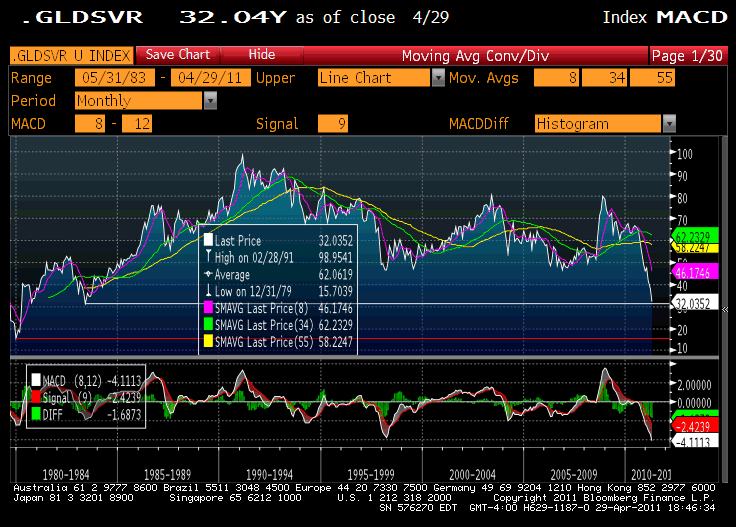 (Click to enlarge)
A very long term chart of the inverse of the ratio shown above, the gold-silver ratio. As can be seen, it has now reached a level of support established in the early 1980's at about 32, but is still far above the 1980 low in the 17 area.
As noted in the chart of silver above, the CME has increased initial and maintenance margins for silver futures twice last week. Such margin increases often precipitate short term price volatility, as they make life more difficult for futures traders that are sailing too close to the wind and do not possess the financial wherewithal to maintain their positions under more onerous margin requirements. Total open interest in silver futures at the COMEX has remained fairly stable in recent weeks at just above 143,000 contracts, but large speculators have begun to sharply reduce their net long positions while commercial hedgers have concomitantly begun to reduce their net short positions. This means that the most recent leg up in prices was driven by commercial short covering rather than speculative buying. We regard that as a warning sign as well. The phenomenon of shorts covering their losing positions often occurs in the final stages of a rally.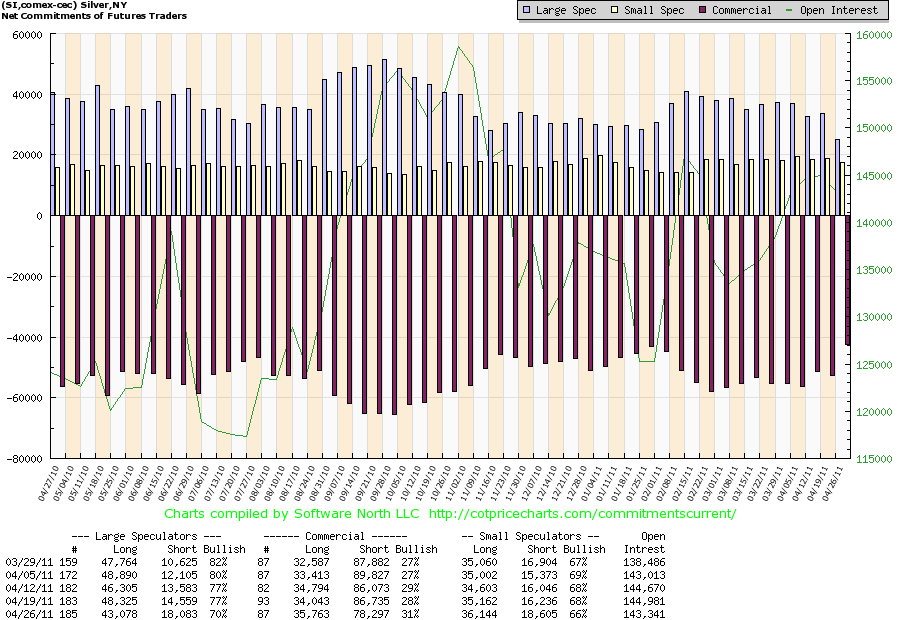 (Click to enlarge)
Silver futures, commitments of traders – recently large speculators have markedly reduced their net long exposure, while commercial hedgers have covered some of their short positions.
Lastly, a few words regarding silver's fundamentals. Silver is different from gold insofar as it has a relatively large industrial demand component. The most recent data on mine and scrap supply compared to industrial and fabrication demand show that silver is in a slight primary surplus this year. It is therefore clear that investment/monetary demand is the primary driving force behind the recent rally.
Many of the known above ground inventories held by governments and other identifiable repositories of tradable silver for investment purposes (i.e., silver in bar and coin form) have declined quite a bit over recent decades, as silver was in a primary supply-demand deficit for most of the period 1980 to 2010. A large amount of silver hoarded during the 1970's bull market by investors has been used up in industrial applications during that time period. However, with investment demand on the upswing for the past several years, a lot of silver has begun to flow in the other direction again and is once again hoarded by investors – whether as backing for silver ETFs or as coins and bars bought by private investors. There is certainly no shortage of silver, just as there can never be a shortage of gold. It is precisely because a large above ground supply of these metals exists that they are useful as monetary commodities.
Bob Moriarty has recently published an editorial at 321gold that takes issue with the shortage claims. While we can not vouchsafe for the numbers cited in his article, we agree that one should discount some of the wilder claims that have been made by some market observers. With money priced close to zero by the Federal Reserve there is very good reason for the price of silver to increase, but the world is certainly not running out of the stuff.
Needless to say, we also agree with Moriarty that anyone who claims that 'it's different this time' should be roundly ignored. It never is.
Alas, we certainly would refrain from picking a top. While there are a number of warning signs (see above) that indicate that the current rally may be close to a correction, picking tops is usually a fool's errand.
The 1979 rally in silver showed how dangerous trying to pick the top of a blow-off rally in the metal can be. As Sam Kirtley notes in a recent commentary at Kitco, the 1979/80 rally was five times as fast as the recent rally in silver. This is illustrated by a long term 100-day percentage change chart that Mr. Kirtley presents in his commentary: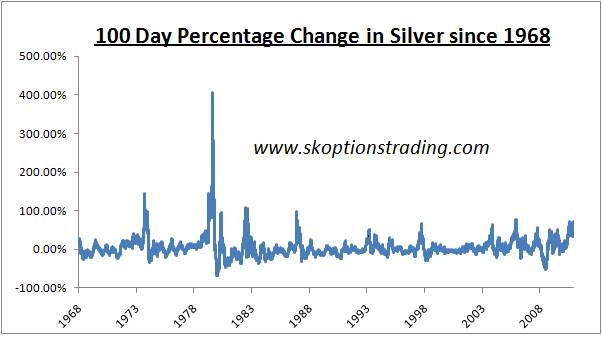 (Click to enlarge)
Silver's 100-day rolling percentage change – note that both the 1974 and the 1979/80 rallies experienced a sharper rate of change than the recent one. Of course these were exceptional events – however, we will only know for certain in hindsight just how exceptional an event the current rally is.
Gold – The Rally Accelerates
Gold's advance has so far been fairly orderly and tame compared to silver's, but late last week this appeared to change. While silver paused on Friday in the wake of the second margin increase, the rally in gold accelerated with a $25.20 jump to $1556.40 at the COMEX settlement, later adding another $9.30 in GLOBEX trading to go out at $1565.70/oz. – a new all time high.
We wouldn't be terribly surprised if some big traders were switching from silver to gold in the belief that gold's short term upside potential is now greater. In fact, looking at the FMX gold options reports from April 27 and April 28, a big buyer of the August 1600 call strike has patiently used every dip to increase his position last week. By Friday's close this buyer was already well rewarded, but calls remained active and well bid on Friday as well (the June 1550, 1575 and 1600 strikes as well as the August 1650 strike were the most active).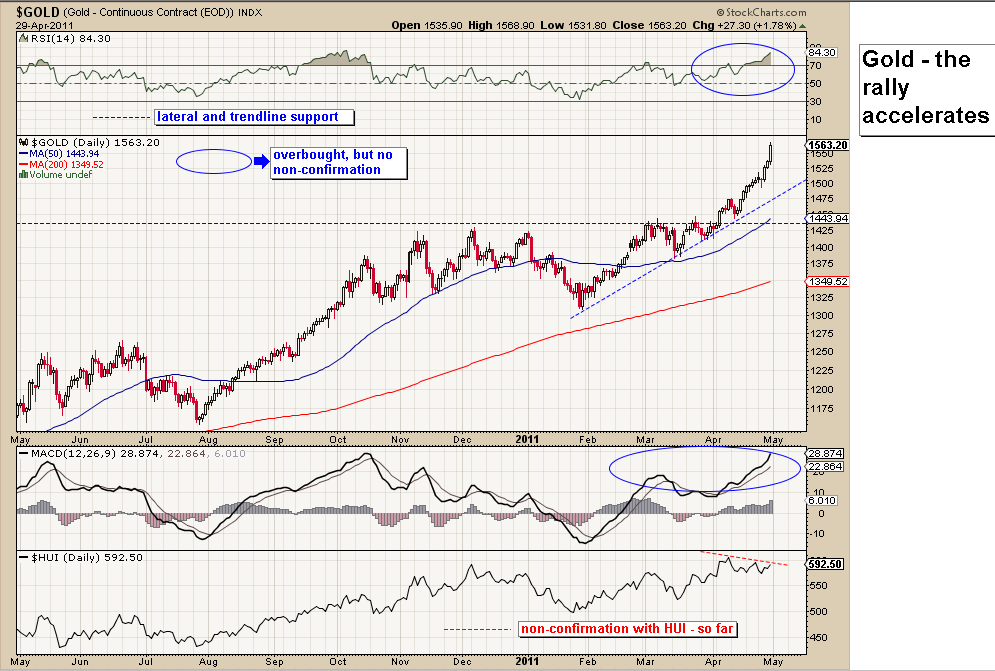 (Click to enlarge)
Gold, continuous contract, daily. Last week the rally accelerated, culminating in Friday's big gain to a new all time high. Note that the HUI index of unhedged gold stocks has so far failed to confirm gold's breakout – more on this further below.
While the persistent decline in the dollar's exchange rate seems to be a major driver of the recent rally, it is noteworthy that gold has broken out to new high ground in several other major and minor currencies as well. Notable exceptions are gold in euro terms and Australian dollar terms. In the euro's case, the bout of euro weakness in the summer of 2010 created a spike high that has just been bested for the second time, but the price is still slightly below the high reached in late 2010. The Australian dollar meanwhile has been exceptionally strong in recent months and weeks – in terms of this commodity currency, gold has yet to overcome the high it made in early 2009. However, even in terms of the currencies in which gold has yet to reach a new high, its chart tends to look quite constructive. In fact, gold's advance in non-dollar currency terms continues to proceed in a very orderly fashion.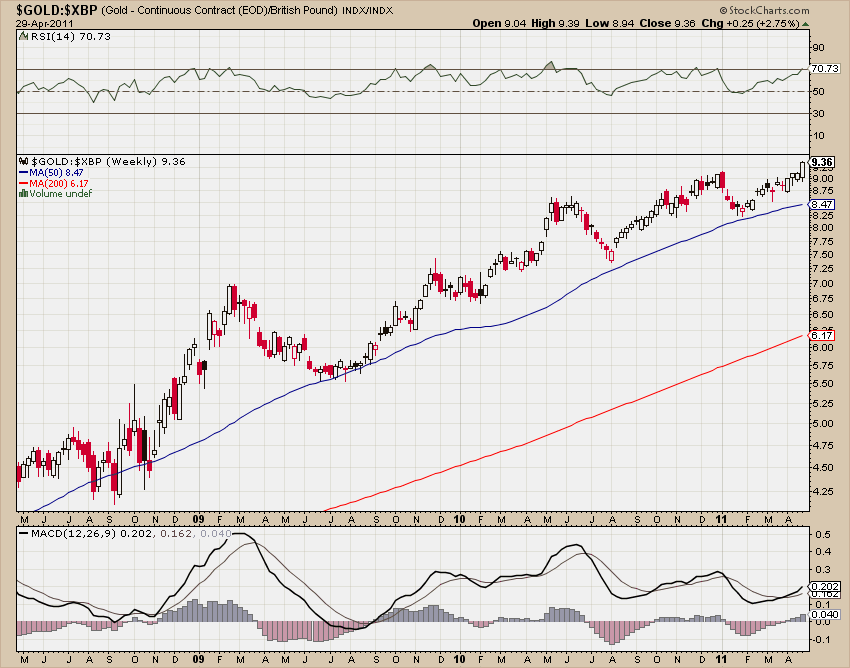 (Click to enlarge)
Gold priced in pound sterling – a new all time high has been reached last week.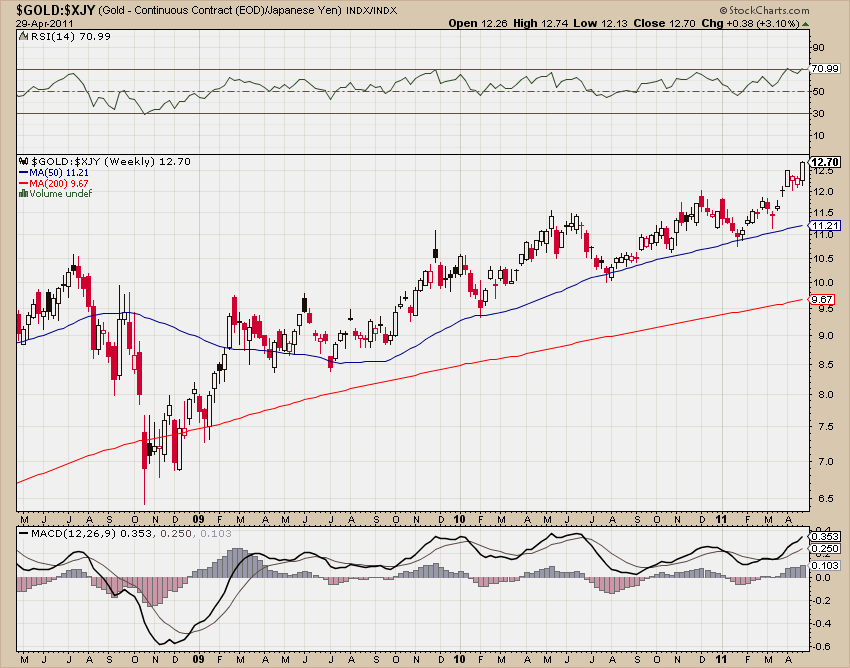 (Click to enlarge)
In terms of the Japanese yen gold is at a new high as well.
Gold in Canadian dollar terms – ending the week at a new all time high as well.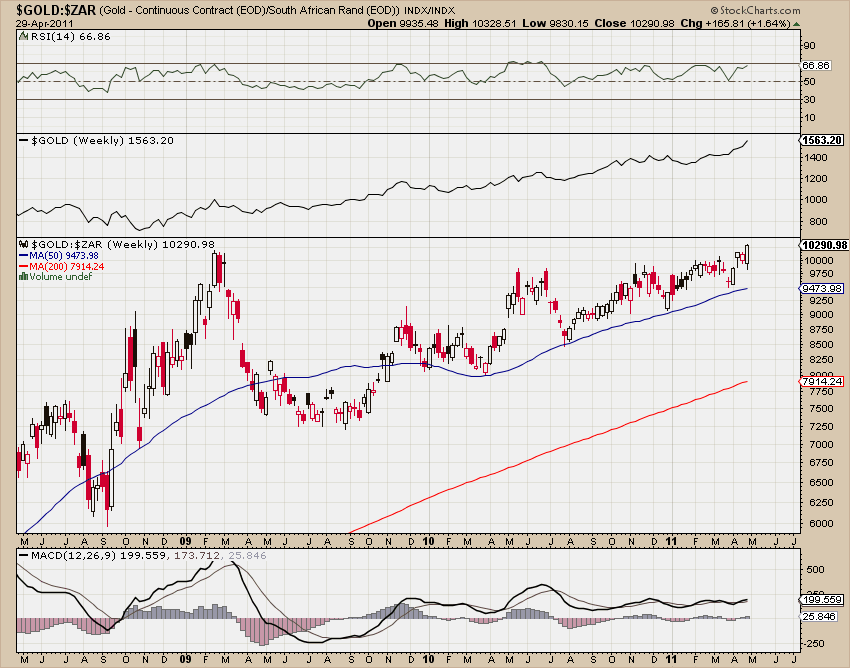 (Click to enlarge)
Gold in terms of the South African Rand – this is another recent instance of gold managing to attain a new all time high in terms of a so-called commodity currency. This is a great boon for South Africa's marginal gold producers, which have been struggling with rising costs amid a strong Rand.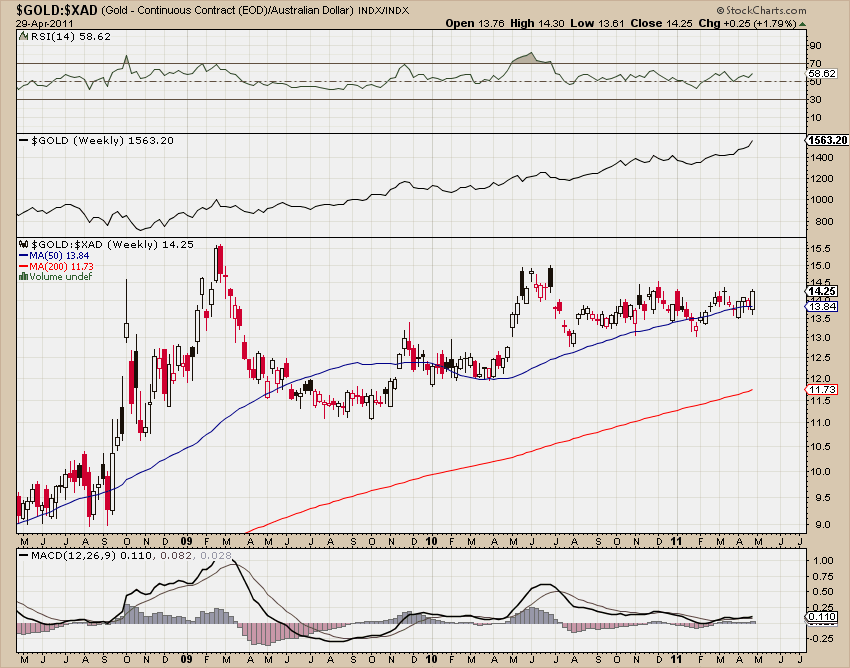 (Click to enlarge)
Gold in terms of the Australian dollar – it has not yet overcome the highs of early 2009 and mid 2010, but the chart nonetheless looks constructive.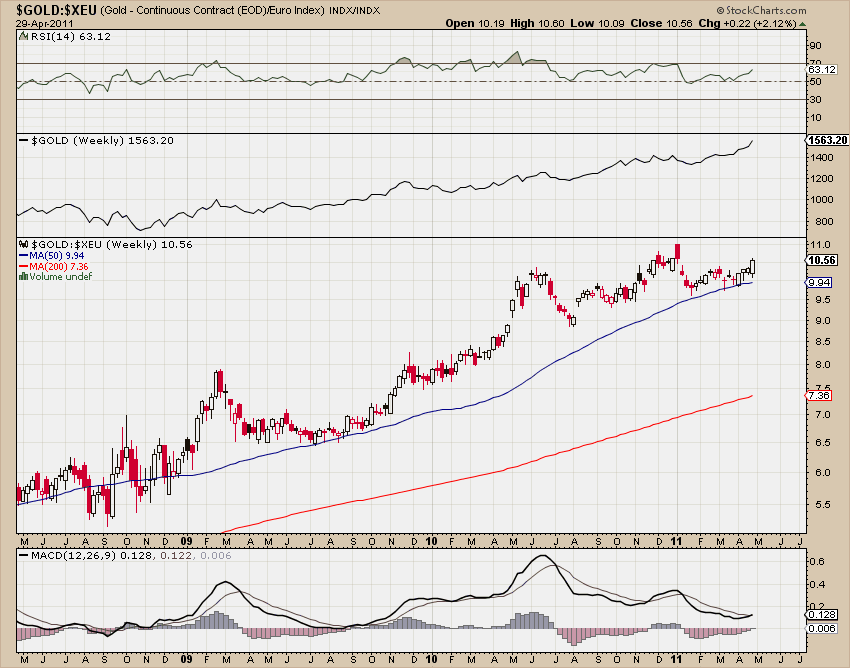 (Click to enlarge)
Gold in terms of the euro – it is not far from a new all time high, but slightly higher daily closes (at around € 1,070/oz.) were recorded in late 2010 and early January 2011.
Gold Mining Stocks
Unfortunately, gold's recent rally is at present still marred by a glaring non-confirmation from the gold mining stock indexes. In the early days of the bull market (2000-2003), such a non-confirmation was a sure sign that the rally was about to end and give way to an intermediate term correction. These days things are no longer so easy. While in the early stage of the bull market, gold stocks tended to both lead and strongly outperform the price of gold, they are nowadays lagging gold and have roughly performed in line with the gold price since early 2009. The sector requires careful stock picking these days, as a handful of individual issues have performed much better than the universe of gold mining stocks as a whole.
This has resulted in a bifurcated market, which has left some stocks overbought, while a great many others seem to offer good value, but have strained the patience of investors by their distinct lack of performance.
The HUI and XAU indexes both still trade slightly below their highs reached in December of 2010, as though they were reflecting gold/euro rather than the US dollar gold price. Over the past two years such divergences have often, but not always, resulted in short term corrections. This time the gap between the dollar gold price and the gold miner indexes has become exceptionally large. Since it still would not take much for the indexes to remove the divergence, it is not yet certain how meaningful it is. The longer the divergence persists, the more likely it will be that it represents a warning sign.
A short term chart of the HUI-gold ratio vs. gold (solid black line). For the past three weeks, gold stocks have strongly underperformed the price of gold – oddly this has not coincided with a correction in gold, but rather a strong rally, which differentiates this particular episode from previous declines in the HUI-gold ratio.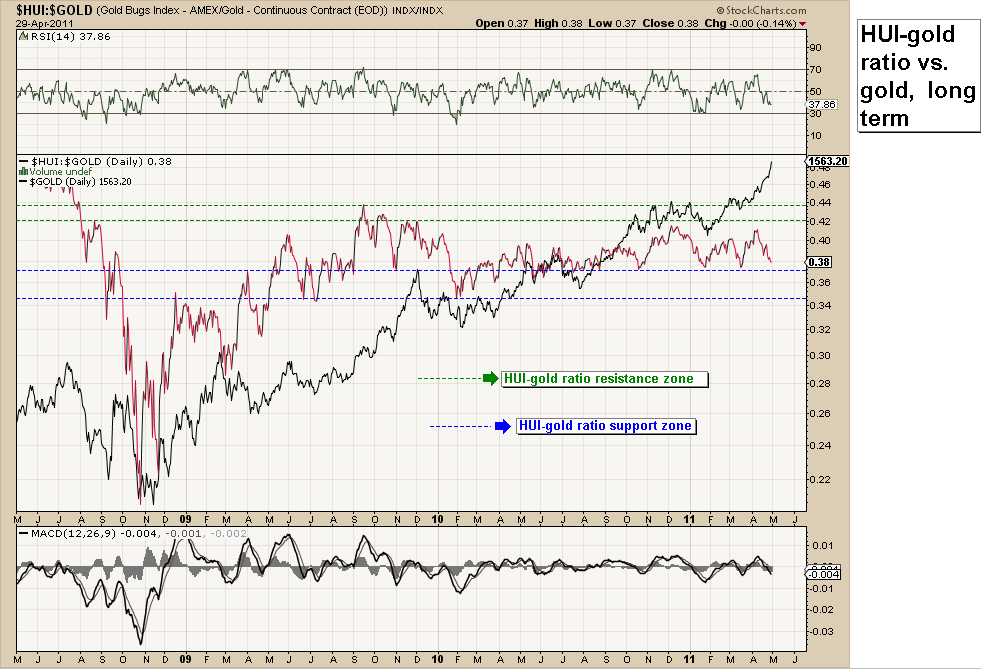 (Click to enlarge)
A longer term chart of the HUI-gold ratio shows that the ratio has been largely going sideways for the past two years, within a channel ranging from 0.34 to 0.44. The ratio is currently approaching the upper rail of a layer of support.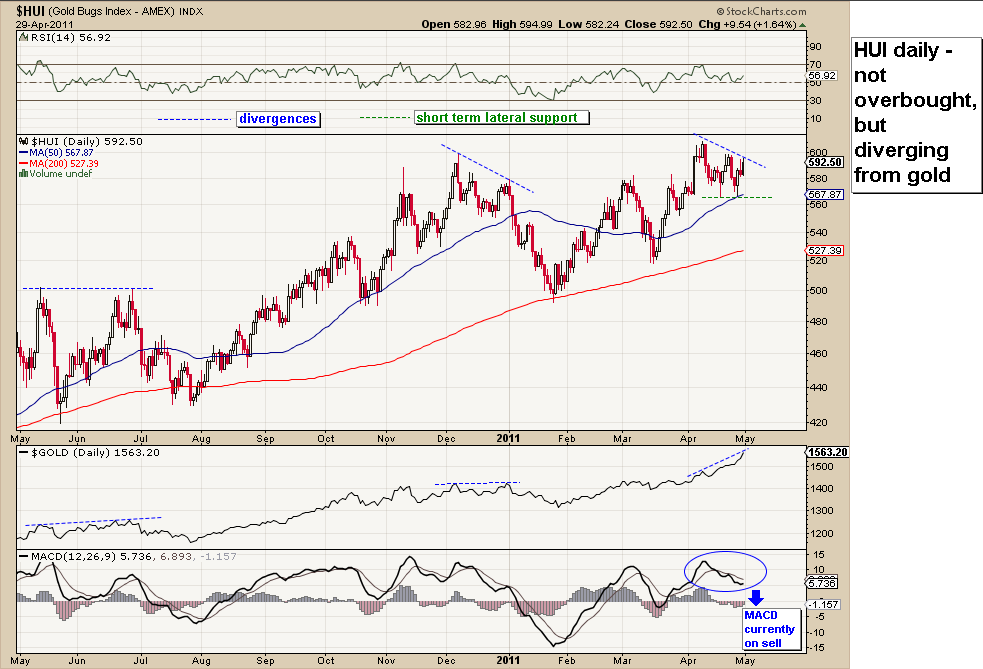 (Click to enlarge)
A daily chart of the HUI index, with three divergences with the price of gold indicated by the blue dotted lines. Usually a short term correction follows after a divergence has occurred, but the index is at the moment not too far from reaching a new high. The green dotted line represents very short term lateral support and currently coincides roughly with the level of the 50 day moving average.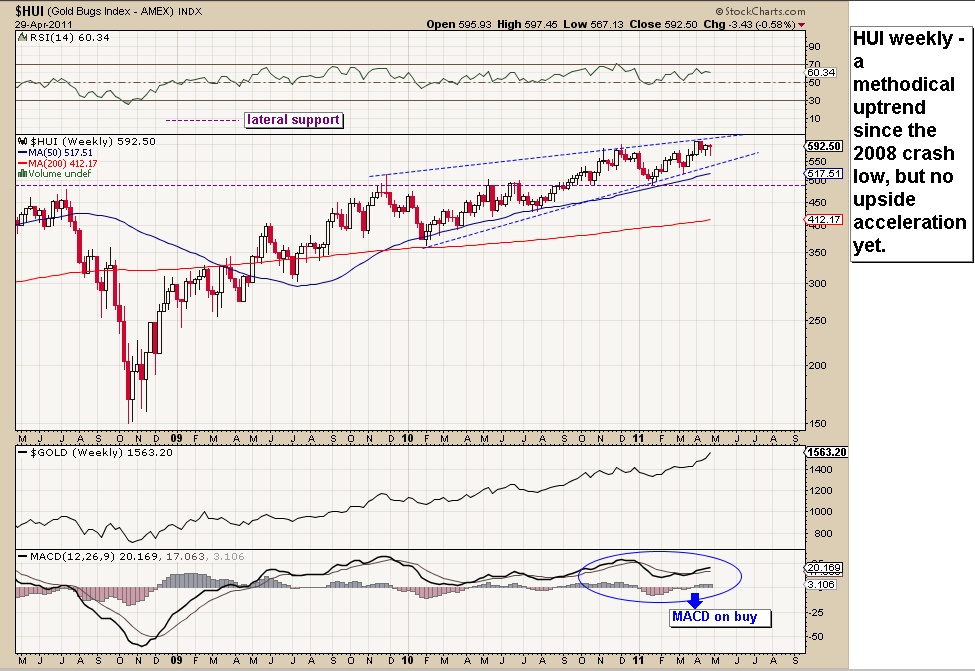 (Click to enlarge)
The weekly chart of the HUI looks very similar to the chart of gold in most non-dollar currencies, which suggests that the index is now reflecting the world gold price rather than the dollar gold price.