As I wrote back in February, one way to profit from the growing automotive manufacturing business is to invest in auto parts suppliers. With over 1,500 tire and service outlets, 57 manufacturing facilities, and 23 countries, Goodyear Tire (NYSE:GT) is an iconic brand with worldwide market share. As the worldwide automotive market continues to grow, Goodyear should continue to increase sales, decrease costs and build its US based world brand dominance.
Last week Goodyear's results provided further momentum that the Akron, OH, based tire and chemical supplier is on the right road to recovery. Strength in the tire giant's home market of North America was evident as all four of the company's global regions set quarterly records. The North American region posted a 30% increase as sales grew to $2.3 billion and European region sales were up 28%.
See the full earnings call transcript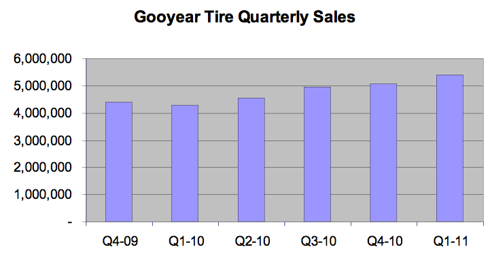 (Click chart to expand)
Shares rose to a 19 month high as Goodyear earned $103 million or 42 cents a share – up from a loss of $47 million a year earlier. Excluding one-time items, Goodyear earned 51 cents a share, topping analysts' estimates of 12 cents. As I reported in February of this year, Goodyear's 2010 annual sales were $18.8 billion….up 16% from $ 16.3 billion in 2009.
The stock closed Friday at $18.15, a 12% increase.
Disclosure: I have no positions in any stocks mentioned, and no plans to initiate any positions within the next 72 hours.