By Bryan McCormick
In dealing with chart patterns, we all tend to err on the side of finding the most interesting types. So-called cups and handles, heads and shoulders, flags, and triangles are usually the most heavily favored.
Sometimes, however, it is the charts that are not obvious and the least visually interesting that can really pay off. One of those could be for Yahoo (NASDAQ:YHOO), which has broken out today on news that David Einhorn's Greenlight Capital has taken a new stake in the company. (See DRJ's take on unusual YHOO option activity on InsideOptions.)
On the daily chart below, I have drawn in a resistance line at roughly the $17.80 area. This shows the top that has formed, with a couple of exceptions, through the last six months.
[Click to enlarge]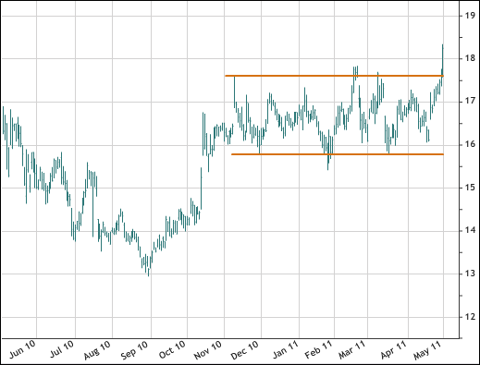 As you can see, any breaks above resistance to date have been small and faded quickly. Today's pop in price has cleared resistance far more strongly, which in and of itself is a bullish development. YHOO is up 2.71 percent to $18.18 in afternoon trading.
I have also drawn in a low area that formed the bottom of the trading range over the same period at the $15.80 area. The $2 difference between the top and bottom of the range is a relatively safe bet on the potential upside for the stock now that it has broken out. The "measuring implication" of the range indicates a possible move up to the $19.80 area.
A much larger move higher could come over time if we think of the range as being more of a "flag" pattern over a long period of time. The "pole" preceding the formation of the range six months ago would be roughly $4.80 and might see the stock rise to the $22 area over time. That level is roughly where the stock fell off a cliff in the summer of 2008.