Rising food prices heavily affects low-income countries more than developed markets. The following chart shows the food expenses share of the Consumer Price Index (CPI) for a few countries:
Click to enlarge: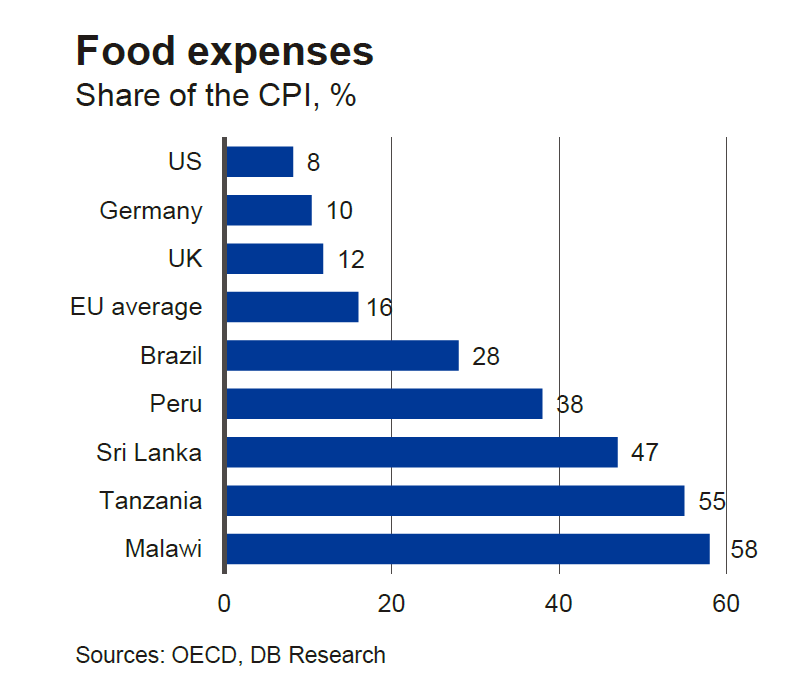 Source: Rising food prices - Short-term drivers, trends, implications, Deutsche Bank Research
From an article titled Asia Price Rises Imperil Growth in The Wall Street Journal:
Unchecked increases in oil and food prices could shave growth across Asia over the next two years, according to a report by the Asian Development Bank, imperiling economic gains among the poor in the globe's fastest expanding region.
Click to enlarge: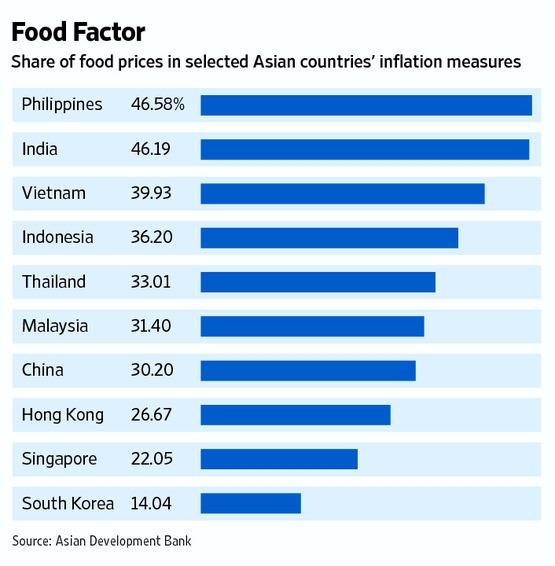 The ADB report warned Tuesday that if fuel and food prices continue to rise at their current pace, inflation could shave between 0.4 and 1.5 percentage points off gross domestic product in each of Asia's largest developing economies this year and next, including in China and India. Barring such price rises, the intergovernmental bank expects growth in the region overall to be 7.8% this year. Inflation has become the dominant economic challenge in the region, prompting widespread monetary tightening and other measures, such as price caps, fuel subsidies and tariff reductions. Several countries, including China, Indonesia and South Korea have allowed their currencies to strengthen recently, making imported goods, especially commodities, more affordable.

Inflation continues to accelerate despite these measures. This week, Vietnam announced its April inflation rate hit 17.5% compared with a year earlier, the fastest rate in over two years, as increased supplies and attempts by the government to cool lending failed to halt the rise in food and fuel prices.

Food prices, which account for 40% of Vietnam's inflation measure, rose 4.5% in April alone.
The takeaway for investors is that governments in emerging markets will try to rein in on inflation by raising interest rates which will adversely affect equity markets.