The earthquake in Japan and the subsequent nuclear energy crisis, as well as the spike in global oil prices, has sparked renewed interest in alternative energy sources.
A growing number of venture capitalists and corporate investors are announcing new renewable energy investment initiatives. The increased funding to support the commercialization of renewable energy comes after a period in which investors seemed to have tired of this sector.
Private-equity fund Silver Lake Partners says it will team up with George Soros' fund to create Silver Lake Kraftwerk, a new fund that will focus on providing growth capital to business innovators in the energy and resource sectors. Carmaker BMW has announced a $100 million venture fund for transportation innovation and application. Accel Partners, a giant venture capital fund, reports that it is looking to raise $2 billion in new funds to invest in energy companies in China. And VantagePoint Venture Partners says it has created a $100 million fund dedicated to renewables investing.
On Earth Day the American Wind Energy Association (AWEA) was proud to note that beyond being affordable and homegrown, wind is by far one of the cleanest forms of energy on the planet. As evidence, wind uses no water, requires no fuel, and has no waste.
Here is some proof that wind makes America cleaner:
Unlike nearly every other form of energy, wind uses no water – and by 2030, U.S. wind will save as much as 30 trillion bottles of water. If laid end-to-end, that's enough to go to Saturn and back – twice.
It would take a coal train 6,000 miles long (enough to cross the U.S. twice) to produce as much electricity as U.S. wind turbines generated this year.
It would take 210 million barrels of oil (almost 9 billion gallons) to generate as much electricity as U.S. wind turbines will generate this year.
Wind power in the U.S.
America's wind power industry installed 1,100 MW of new capacity in the first quarter of 2011 alone and entered the second quarter with another 5,600 MW under construction, the American Wind Energy Association reported last week. The under-construction figure is nearly twice the megawatts that the industry reported at this time in both 2009 and 2010; moreover, two-thirds of those megawatts are already locked in under long-term power purchase agreements with electric utilities, indicating an enduring industry that has proven both nimble and strong through a range of economic and policy conditions. The total wind fleet now stands at 41,400 MW—producing enough clean energy to supply 10 million American homes.
"American wind energy is ramping up, and these first-quarter figures indicate an industry poised for a renaissance. Refined technologies, affordable prices, and continued demand for clean, homegrown energy—these are all reasons why wind has consistently posted strong growth numbers, adding 35% of all new generating capacity since 2007," said Denise Bode, AWEA CEO. "In an economy in which gas prices have hit $4 a gallon and are still on the rise, America must implement long-term energy policies centered on homegrown sources. And wind delivers. By powering our electric cars using wind, Americans can pay the equivalent of 70 cents a gallon at the pump."
The first quarter's 1,100 MW of new capacity came online in 12 different states, with some seeing double-digit growth. U.S. states with the most capacity additions so far include: Minnesota (293 MW), Illinois (240 MW), Washington (151 MW), Idaho (119 MW), and Nebraska (81 MW).
Of the 5,600 MW currently under construction, one third is located in Oregon, Washington and California, making the West Coast a leader in wind project activity. "States continue to lead the nation with clear, strong policies," said Elizabeth Salerno, AWEA's chief economist. "For example, 10 years ago, California led the nation with 60 percent of U.S. wind capacity. With the recent passage of the strongest renewable target in the nation—calling for 33 percent renewables by 2020—California is poised to retake its leadership, as it already had over 600 MW under construction in the first quarter."
Wind power in China
But not only is the U.S. shaping up. Over the last decade, China has been strengthening its position in wind energy generation and gradually emerged as the first largest installed base of wind turbines in the world. The wind turbine manufacturing sector in China is experiencing rapid development, as lots of domestic manufacturers have emerged within a short span of time.
China is one of the world's pioneers in the wind power development. The country's progress can be viewed in three periods of wind power development. Chinese wind industry is active from last 20 years but it has a long history in itself. In the last few years it has shown good growth, before 5 years it was around 1.2 GW but now it has reached around 44.7 GW. It is now growing at a high pace of around 104%.
Wind energy in China has grown at a CAGR of 104% in the last 5 years (2005-2010) on cumulative installation basis and reached 44,734 MW in 2010. The market is expected to grow with a CAGR of 19% for the next five years (2011-2016) on cumulative MW installations. Various factors will drive growth of the wind industry. The government's support and generation based incentives for renewable energy, growing electricity demand and CDM support is expected to drive the wind energy market in China.
Global wind market
The global wind market is expected to grow again in 2011, with more than 40 GW of new wind power capacity to be added in 2011, according to a five-year industry forecast published today by the Global Wind Energy Council ((GWEC)).
By 2015, the global installed wind power capacity will more than double to 450 GW from 194.4 GW at the end of 2010.
Included in GWEC's 'Global Wind Report - Annual market update 2010', the forecast assumes an average growth rate of 18.2% per year, which is conservative compared to 28% cumulative capacity growth in the sector over the last decade.
By 2015, annual market additions are expected to reach 60.5 GW, up from 35.8 GW in 2010.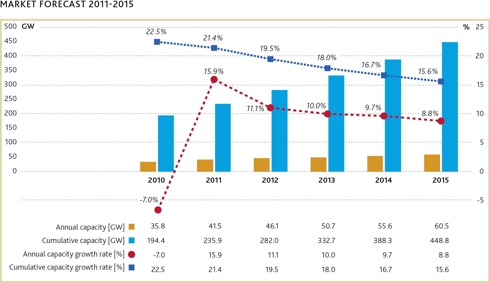 Click to enlarge
"2010 was a tough year also for our industry, but 2011 is looking up," said Steve Sawyer, GWEC's Secretary General.
"We've paid the price for the 2008/9 financial crisis last year, and now we're back on track."
This assessment is underpinned by strong investments in wind power in 2010, which were up by 31% compared to the previous year, reaching a record level of $96 billion.
This investment will translate into an increasing level of wind power installations in the coming years.
Wind energy stocks are considered one of the most promising green stocks.
Below there are 5 Wind Energy stocks that are good investments now and in the future.
GE Energy
Valuations / Ratios
| | | | |
| --- | --- | --- | --- |
| Dividend Yield (%) | 2.84% | EPS (curr. year) | 1.36 |
| Price/book ratio (curr. year) | 1.73 | EPS (next year) | 1.65 |
| ROE (NYSE:TTM) | 11.25% | P/E (curr. year) | 15.04 |
| YoY EPS growth (curr. year) | 18.26% | P/E (next year) | 12.39 |
Siemens Wind Power A/S
Valuations / Ratios
| | | | |
| --- | --- | --- | --- |
| Dividend Yield (%) | 2.95% | EPS (curr. year) | 7.39 |
| Price/book ratio (curr. year) | 2.62 | EPS (next year) | 7.99 |
| ROE (TTM) | 14.23% | P/E (curr. year) | 13.28 |
| YoY EPS growth (curr. year) | 42.78% | P/E (next year) | 12.29 |
Thomas & Betts. Corp.
Valuations / Ratios
| | | | |
| --- | --- | --- | --- |
| Dividend Yield (%) | 0.00% | EPS (curr. year) | 3.40 |
| Price/book ratio (curr. year) | 2.05 | EPS (next year) | 4.00 |
| ROE (TTM) | 10.03% | P/E (curr. year) | 16.82 |
| YoY EPS growth (curr. year) | 44.60% | P/E (next year) | 14.30 |
China Ming Yang Wind Power Group
Valuations / Ratios
| | | | |
| --- | --- | --- | --- |
| Dividend Yield (%) | 0.00% | EPS (curr. year) | 1.20 |
| Price/book ratio (curr. year) | 2.02 | EPS (next year) | 1.43 |
| ROE (TTM) | 34.56% | P/E (curr. year) | 7.23 |
| YoY EPS growth (curr. year) | N/A | P/E (next year) | 6.19 |
Vestas Wind Systems A/S
Valuations / Ratios
| | | | |
| --- | --- | --- | --- |
| Dividend Yield (%) | 0.00% | EPS (curr. year) | 11.30 |
| Price/book ratio (curr. year) | 1.59 | EPS (next year) | 14.43 |
| ROE (TTM) | 5.89% | P/E (curr. year) | 15.83 |
| YoY EPS growth (curr. year) | 75.40% | P/E (next year) | 12.39 |
Disclosure: I have no positions in any stocks mentioned, and no plans to initiate any positions within the next 72 hours.