In an article published by Seeking Alpha on April 26th, prompted by a comment submitted by a reader, I questioned a discrepancy in statements made by Netflix (NASDAQ:NFLX) VP of Investor Relations Ellie Mertz and CFO David Wells during the company's Q1 2011 conference call. Here is a copy of the exchange in question, which was taken verbatim from Seeking Alpha transcripts of Netflix Q1 2011 and Q4 2010 Q&A sessions.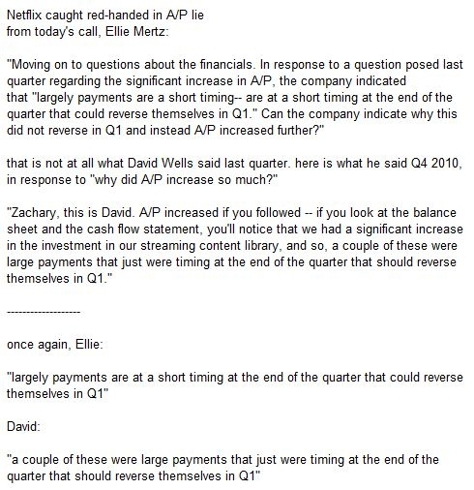 Click to enlarge
To clarify what occurred here, I emailed Netflix Investor Relations. It only makes sense to publish their response. I believe in being fair and giving the company the forum to set the record straight and generally illustrate how it does things. Investors deserve to see the result of this type of back and forth.



Click to enlarge

I presume I had this exchange with Mertz. If not, it still falls under her jurisdiction, given her title. I allowed for the possibility that the person who submitted the conference call question made the error and not Mertz or anybody else with Netflix. According to Netflix's response, that's exactly what happened. I am not the type of person to question this response. I appreciate that Mertz issued it and I take her on her word.

As I also noted in the other article, regardless of exactly what happened here -- and it all appears to be on the up and up -- this situation exposes major flaws inherent in Netflix's decision to run its conference calls the way it does. They amount to a scripted event, which does not allow for analysts to ask for -- and receive -- clarification on the statements made by other analysts and Netflix executives. While Mertz notes that "Questions come into us before and during the call and investors and analysts are free to send follow up... questions," the company ultimately has the power over which ones to choose, which ones to pass up, and how to organize them.

Investors have a right to hear a conference call that Netflix cannot completely control. As the inverse to the relative spontaneity of traditional calls, Hastings and Wells receive no pressure whatsoever to discuss hard numbers when they respond to questions. Vague responses to financial questions ultimately go unchecked. Investors should be wary of the notion that "investors and analysts are free" to "follow up," because Netflix is clearly free to take a pass on questions that highlight issues it would rather not showcase. The kicker here, however, is that these issues could serve as the culprit for a collapse in the Netflix stock price.

To that end, I must thank Mertz for letting me know that Netflix's Q1 2011 10Q hit the SEC's website. It contains a number I have been following that Netflix buries deep in its filing. As of March 31, 2011, Netflix counts $1.634 billion worth of "commitments... related to streaming content license agreements that do not meet content library recognition criteria." This number was $1.075 billion, as of December 31, 2010. This represents an increase of $559 million dollars or a 52 percent rise over the course of just three months. Here are the numbers and the note Netflix regularly includes in these filings about other yet-to-be-determined content-related expenses that "are expected to be significant."



Click to enlarge

As far as I know, these numbers do not impact the P&L today, but, as Wedbush analyst Michael Pachter told me, in the "black box" that is Netflix's convenient bookkeeping, these and all other previously deferred and otherwise tucked away expenses "will work [their] way through the income statement eventually, certainly within five years." Simplistically speaking, this is the corporate example of living way beyond your means. It's akin to a consumer buying something she cannot afford, but paying for a portion of it in cash and putting the rest -- the part of the lobster she won't eat for several years apparently -- on her credit card, over and over and over again. One day the chickens come home to roost.

I found one other note of interest while reviewing Netflix's SEC filings. As I reported, Fidelity recently trimmed its once-enormous NFLX stake. The 13G filing disclosing this information is dated April 8, 2011, on the SEC website. Netflix released its Proxy Statement announcing the date and agenda for its annual shareholders meeting on April 20, 2011, in a 14A filing. Below, you can see a portion of that filing which lists the company's top shareholders.



Click to enlarge

I glean two things from this information. (1) It must be nice to be Reed Hastings and (2) Netflix has a knack for conveniently timing the release of not-so-glowing news. Netflix notes that this is the most current information it knows as of April 5, 2011, just three days before the Fidelity filing appeared on the SEC's website. What Netflix says it knew as of April 5th reflects Fidelity's actual holdings as of December 31, 2010, which the firm reported in a February 14, 2011, SEC filing. The difference between what Netflix claims it knew on April 5th and what the rest of us found out on April 8th is about three million shares. I find it hard to believe that Netflix did not have more than three days' advance warning of Fidelity's intentions, giving it plenty of time to include the most current information in its Proxy Statement.

The filings Fidelity submits to the SEC with regards to its NFLX stake do not make it directly to NFLX shareholders. It takes somebody such as myself to bring them to light. I presume, however, that the Proxy Statement gets mailed to all shareholders as an invitation to the meeting and a notification of their right to vote. I am not sure if Netflix includes this list of its top shareholders in that document -- ones I have received through ownership of other company's stock have not contained such a list -- but either way, it looks better to have Fidelity's 8.09% stake appear in the official filing as opposed to its most recently reported 2.71%.

As far as I know there is nothing illegal about convenient timing. And I must make it perfectly clear that, to my knowledge, Netflix faces no requirement to disclose this information to investors in SEC-submitted or shareholder communications. What's key, though, is that Netflix appears to have a habit of presenting information in a somewhat disingenuous manner. It's not a case of whether or not Netflix should, or if the SEC requires Netflix to, disclose their top shareholders' details in the proxy statement. Rather, it's an issue over the day the company chooses to look at when it reports the number of shares Fidelity holds. I am not sure an explantion using protocol or logistics as an excuse would necessarily fly here.

Bottom line -- in many areas of its operation, Netflix continues along a path of providing investors with uncertainty in the form of poor communication methods and questioable timing amidst a lofty valuation, rising expenses, and increasing competition.

Sometimes I write with an around-the-way flare. In this case, I think it's time to go straightforward. If you've ridden NFLX this far, pat yourself on the back, do yourself a favor, and sell. If you're considering jumping into this thing long beyond a technically-driven day or swing trade, run away as fast as you possibly can. Consider the recent action in the stock.

Netflix reversed a bearish trend beginning with the week of April 11th, rising from that day's lower close of $228.16 to a period high of $254.98 intraday on Monday of this week. Post-earnings, the stock tanked reaching an intraday low of $227.30 on Tuesday and closing the session at $228.91. Not surprisingly, NFLX
rebounded on Wednesday, hinting at a bullish reverse on the charts, closing at $235.96. After trading down in Thursday's premarket, Netflix continued its southward move, closing the day down $1.59 at $234.37. While down in the last hour of trading Friday, Netflix traded in a relatively static range most of the day. Thanks to a Citigroup (NYSE:C) upgrade, NFLX ticked up nicely on Monday.

(Chart courtesy of Schwab's StreetSmart Edge)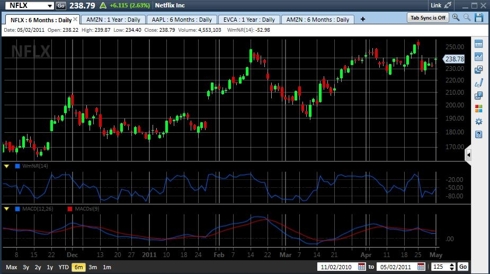 Click to enlarge

I remain long NFLX put options. If weakness continues to establish itself in the shares this week or early next, I will probably take some money off of the table, while remaining long LEAPS put options. Because I do not believe NFLX will see $250 again, I might consider initiating a bear put spread as another way to play the anticipated downtrend.

With a bear put spread, you purchase a put option and simultaneously sell a put option with the same expiration date, but a lower strike price. Your opinion on just how much the underlying security will fall between the day you open the position and the options' expiration dates dictates how wide of a spread you get yourself into.

As an example, as of Wednesday's close, the NFLX June $235 put ended the day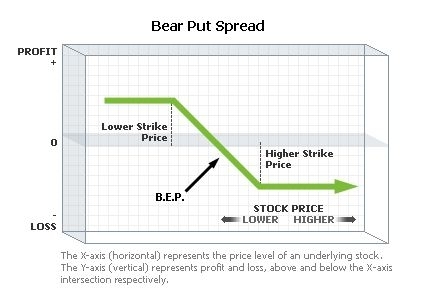 with a midpoint of $14.62. You could concurrently sell the NFLX June $225 put for roughly $10.20, resulting in a net debit of $4.42. In this scenario, you limit both your gains and losses. On the upside (or downside in the direction of the stock), you can earn the difference between the two strike prices minus the net debt paid. You cap your potential downside loss at your net debt paid. Of course you'll need to adjust the strikes to suit your own sentiment and where the share price heads over the next few days. You'll also need enough
equity available to cover the difference between the two strikes per spread at most brokerages. See this fine explanation of the strategy and the graphical illustration in this article from the Options Industry Council.

Before deciding what to do with my puts and whether or not I should open another position, possibly a bear put spread, I will watch how NFLX behaves early this week. Short-term gyrations aside, I think a long-term (six months and out) bearish play on NFLX, given it's on- and off-balance sheet ugliness will bode well for investors.
Disclosure: I am short NFLX.

Additional disclosure: Author is short NFLX via a long position in NFLX put options.